The Last Tree review - young, angry, and black in '90s UK |

reviews, news & interviews
The Last Tree review - young, angry, and black in '90s UK
The Last Tree review - young, angry, and black in '90s UK
Superb acting enriches Shola Amoo's story of a British-Nigerian boy exiled in London
Sam Adewunmi as the broody 16-year-old Femi
Putting a radical spin on a fish-out-of-water story, The Last Tree explores troubling aspects of the African diaspora experience in an England riddled with xenophobia and black-on-black racism.
Shola Amoo's
semi-autobiographical
second feature is distanced from Brexit by its early 2000s time frame, but its young protagonist's identity issues speak to the current moment.
The film begins with a sunlit idyll in the Lincolnshire countryside. An 11-year-old British Nigerian, Femi (Tai Golding) runs around outdoors and gets "all over mud" with his three schoolmates – but for the colour of his skin they could be Richmal Crompton's William Brown and his Outlaws reborn.
Without warning, Femi is plucked from this rural paradise, his loving white foster mother Mary (Denise Black), and his friends to live with his strict Yoruban birth mother Yinka (Gbemisola Ikumelo) in her flat on a decaying inner-London estate. Mocked for his overtly African first name on his first day at his new school, he gets into a fight with the boy who insulted him and is threatened with immediate expulsion.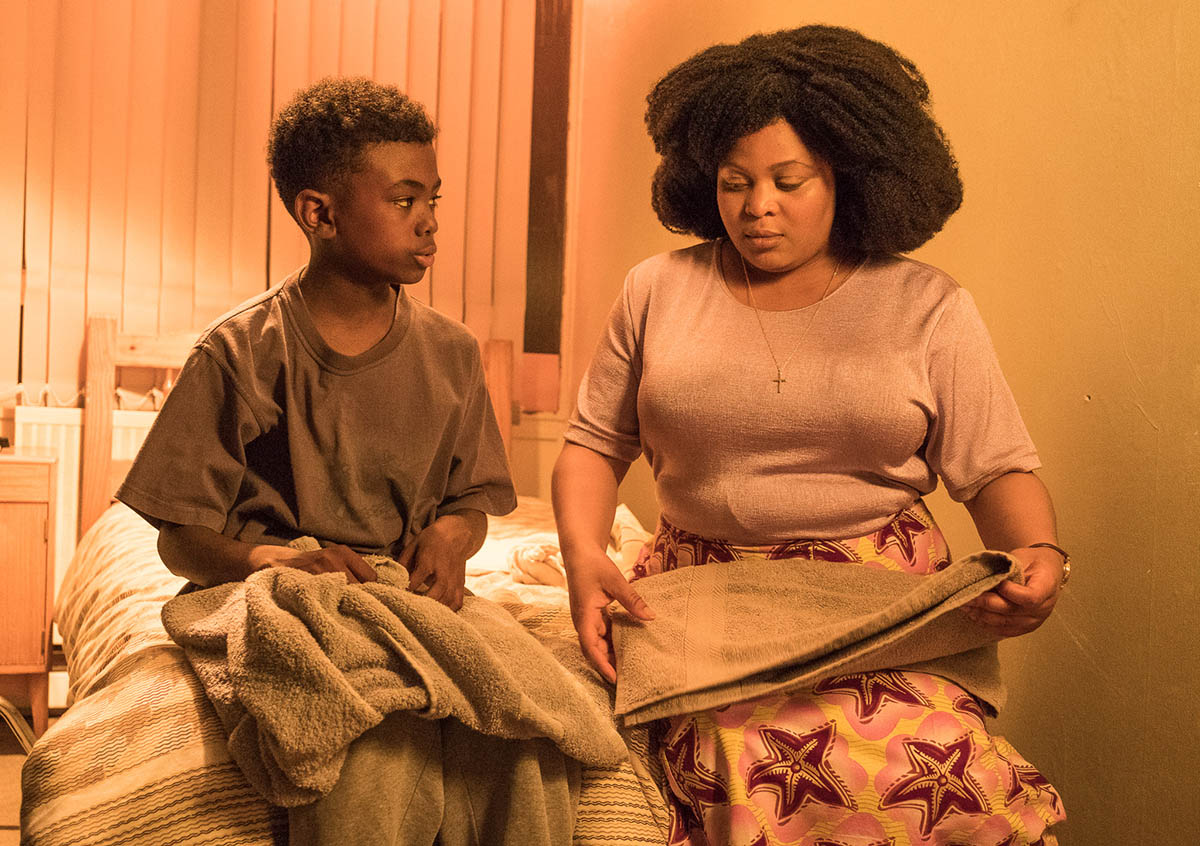 By the age of 16, Femi (now broodingly played by Sam Adewunmi) is an angry, weed-smoking troublemaker perplexed by his two black mates' harassing of his wary school crush Tope (Ruthxjia Bellenea), whose skin is darker than theirs. Resenting Yinka for removing him from Mary and disaffected from his school, despite his academic abilities and the efforts of a concerned teacher who empathises with his plight, Femi self-destructively becomes muscle for a local black gangster and drug dealer, Mace (Demmy Ladipo), who buys his services with the gift of a Mobile phone. Femi seems oblivious to the fact that Mace is exploiting and controlling him, but the viewer is unsurprised when the gangster turns nasty .
What is Femi looking for? Coming of age requires him to make peace with both his mothers, to find his father – the structuring absence of the film's first and second acts – and to embrace his African-ness. He visits Mary and elicits from her an apology for promising him he could stay with her forever and hears out Yinka when she tells him she thought she was doing her best for him when she fostered him out. Amoo is a little harsh on these well-meaning women, though Femi reconciles with both of them. When he and Yinka, growing closer, travel to Lagos, a revelation about her independent spirit and adherence to the traditional Yoruba religion has enormous emotional and spiritual consequences for Femi.
His transition into a muscly, misguided youth, his war with YInka, and his involvement with an older criminal link The Last Tree to Barry Jenkins's Moonlight. Like the 2016 Best Picture Oscar-winner, it disobeys the rules of social realism with its stylistic flourishes – Spike Lee-like closeups of Femi when he's stoned, red-lit evocations of urban hellishness – its bursts of majestic orchestral music in the Lincolnshire scenes, and its concentrated subjectivity. A scene in which Femi fantasises kissing Tope after he rescues her from her persecutors throbs truthfully of teen yearning. The Lagos sequence, which captures Adewunmi himself interacting with Nigerians, is rewardingly spontaneous.
The Last Tree is an advance on Amoo's gentrification film A Moving Image (2016) and announces him as an important British director – one whose work demands a multicultural audience. It can't be over-stressed how much he owes to his actors, especially Adewunmi (potentially a major discovery), Golding, Ikumelo, and Bellenea. The suspicion in Bellenea's eyes speaks volumes.
Coming of age requires Femi to make peace with both his mothers and to embrace his African-ness
rating
Share this article