LFF 2014: Foxcatcher |

reviews, news & interviews
LFF 2014: Foxcatcher
LFF 2014: Foxcatcher
Channing Tatum and Steve Carell in a must-see film that wrestles with the mind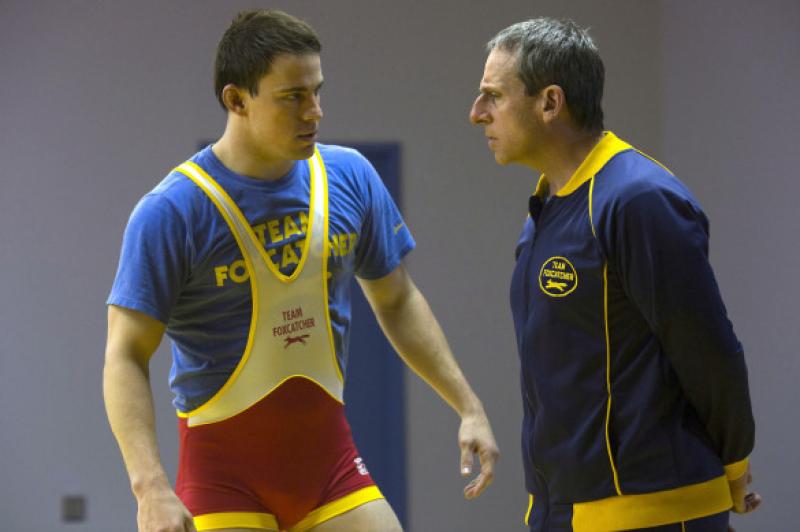 Channing Tatum and Steve Carell as Mark Schutz and John E. du Pont in Foxcatcher
There is loud Oscar talk surrounding the stellar performance by Steve Carell in director Bennett Miller's genuinely unsettling Foxcatcher. Miller (Capote) tackles yet another true crime drama, this time following the steps leading to the murder of David Schultz, an Olympic wrestling champion. Top athletes need patrons and Schultz's brother Mark (a truly exquisite performance by Channing Tatum) thought he'd found his in John E.
du Pont (Carell), the scion of the du Pont chemical fortune. This is the story of how two champion wrestlers and one very wealthy man end up on the road to tragedy.
Foxcatcher is a meticulously planned, intelligently shot drama that slowly unfolds into a thriller. Even at 134 minutes, Foxcatcher never flags. When du Pont first contacts Mark asking to fund his training, he seems merely eccentric. Carell's subtle portayal is like watching a door open very slowly. He raises his head, parts his lips and looks on with dead eyes. His tones are flat. An Olympic gold medal wrestler like his brother David, Mark is second fiddle to his more socially gifted sibling. Heavily muscled and wearing a constant frown, Mark shares a great deal with du Pont. Awkward silences for us are not awkward for them. David may be married (his wife Diana is played by Sienna Miller), affable and, above all, emotionally intelligent. But it is Mark's single-minded focus on wrestling that makes him valuable – to du Pont as a symbol of his leadership and to David as proof their past can be overcome.
Set in the Eighties (the real story takes place more in the Nineties), its colours and fashions of the time are complete. Insights into the world of wrestling fascinate too – the long training, the focus and the fine art of the pin. These silences and slower pace lend themselves to an ineluctable conclusion. It would be easy to say that Carell is pulling a Kidman in The Hours by sporting a false nose: this is clearly a move to alert us to this role. That idea is easy and wrong: Carell disappears into the character of du Pont, a damaged man further ruined by an imperious mother (Vanessa Redgrave, superb). If Carell never acted again, we would remember this performance. In fact, Foxcatcher has some of the best performances you'll see this year, along with Birdman and Whiplash!, two London Film Festival favourites.
Named for the du Pont family horse farm, Foxcatcher is not a jolly trip to the cinema. Writers E. Max Frye and Dan Futterman have constructed a tour de force in incremental steps. With superior production values, it is a memorable film while certain shots linger in the mind. There is one of a car driving up a tree-lined lane in autumn, seen through a distorted pane of glass. This is not a modern window. It is an original window from an old mansion, made before unwavering panes were possible. This is du Pont's warped lens of privilege. This is how Miller tells the story and breaks our hearts.
Foxcatcher has some of the best performances you'll see this year, along with Birdman and Whiplash!, two huge festival favourites.
rating
Explore topics
Share this article