London Film Festival 2023 - a mixed bag of dramas and documentaries |

reviews, news & interviews
London Film Festival 2023 - a mixed bag of dramas and documentaries
London Film Festival 2023 - a mixed bag of dramas and documentaries
New films from Sudan and Mexico surprise and impress alongside a lyrical portrait of an English farmland experiment
Eiman Yousif making her screen debut as the title character in 'Goodbye Julia'
The London Film Festival continues to pull in an eclectic selection of films from all over the world. And it's from the countries not known for their movie industries that some of the most impressive and engaging films have emerged.
Goodbye Julia is the first feature film to be made in Sudan to be submitted to Cannes (where it won the Prix de la Liberté award). It's also been entered for an Academy Award, another first for Sudan. A beautifully shot drama, it gives Western audiences a glimpse of life in a country that we normally only see in news reports and documentaries.
Writer-director Mohamed Kordofani has created an intricate story of friendships and betrayals which works as an intimate drama while also subtly giving us an insight into the divisions between the people of north and south Sudan that led to the country's division in 2011.
The singer/actress Eiman Yousif plays Mona, whose husband, a wealthy Northerner, kills a delivery man in a fit of pique and then covers up his death. Mona, suffering guilt for her part in the crime, seeks out Julia (Eiman Yousif), the delivery man's unknowing widow and young child and invites them to come and live at her and her husband's house in Khartoum and work for her.
A troubled friendship develops between the two women, both trapped by social restrictions around gender, religion and race. Mona has been forced to give up her singing career as it's not deemed seemly by her autocratic husband; her failure to fall pregnant threatens the marriage.
Meanwhile Julia is in limbo, not knowing what has happened to her husband or what the future holds for herself and her daughter. There are elements of a thriller here and Kordofani keeps up the pace throughout, aided by a dramatic score by Sudanese musician and activist Mazin Hamid and excellent camerawork. Eiman Yousif, a Sudanese fashion model who had never acted before, is totally convincing as Julia. Over the course of the narrative she matures into a woman prepared to challenge the racism Northern Sudanese people have displayed to Southerners. Kordofani tries to tie up a few too many loose ends in the third act but this doesn't detract from the overall impact of Goodbye Julia.
Equally impressive is The Echo, a drama documentary directed by the Mexican-Salvadorean director Tatiana Huezo. Filmed with non-professionals actors in the Mexican highlands, it follows the struggles of farming families to survive the seasons as climate change wreaks havoc on their way of life. Huezo often focuses on the children, who lovingly support their elderly grandma and struggle to get an education while tending to the sheep and crops on which they all depend, Huezo has found some wonderful faces and characters for her camera to follow. The Echo is very much in the tradition of European ethnographic films such as Etre et Avoir and The Truffle Hunters and would make a wonderful double bill with last year's Bolivian film about subsistence farming, Utama.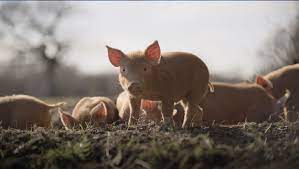 Climate change and the need to rethink how we treat the earth through farming is also the subject of a very beautifully made British documentary, Wilding (pictured above). It's based on Isabella Tree's 2018 memoir of how she and her husband Charlie Burrell completely overhauled the 1400 acre Knepp estate he had inherited in Sussex. Determined to rectify soil impoverished by industrialised over-intensive farming, the couple started in 2001 to research how trees interconnect underground through the mycorrhizal network. They introduce wild ponies from Dartmoor, let deer wander, and allow herds of pigs to roam freely. All their cows and sheep live outdoors all year round with little husbandry.
Letting nature take over didn't always go down well with their neighbours, alarmed by the disappearance of tidy fields and orderly animals. The couple's attempts to fund-raise by hosting wedding parties and polo games went awry when one of the Dartmoor ponies decided to challenge the mallet wielders and the pigs broke into the catering tent to scoff ice-cream mix.
This is not an observational documentary so much as a lyrical, filmic rendition of Isabella Tree's book. The stunning camerawork – a lot of scenes were filmed either at golden hour or as the sun rises on the misty landscape – and the fabulous wild-life photography that captures intimate portraits of the animals that have thrived after introduction at Knepp (turtle doves, beavers, storks) make this film a joy for anyone who loves natural history documentaries. Tree and Burrell's extraordinary project will give hope to anyone concerned about the challenges the earth faces after centuries of industrial farming.
Two European features failed to give me much hope for high-end dramas. Shame on Dry Land is set in Malta but is a Swedish thriller with a largely Scandinavian cast. Reminiscent of sun-bleached noirs like The Two Faces of January and Sexy Beast, It's a twisty tale of ex-pats with old scores to settle, tax dodges, the online gambling business and Eurotrash who enjoy the high life aboard their yachts.
Thrown into the thriller mix is one of those expensive weddings that go on for days featuring a startling karaoke rendition of Cher's Believe by the ageing Swedish rocker Tommy Nilsson, playing the proud father of the bride. At least Shame on Dry Land has the decency not to overstay its welcome. The Beast, the much anticipated new film from Bertrand Bonello, had those of us with press passes fighting for a seat at its first preview, only to garner no applause after almost two and a half hours of glossy, pretentious scifi melodrama.
Léa Seydoux is gorgeous as always, here beautifully dressed and stylishly coiffed to fit into three different time frames (1910, 2014 and 2044). George McKay as her love interest does his best but feels miscast, he's too innately sweet to play the sinister role he's given. The part was originally intended for the late Gaspard Ulliel, who appeared with Seydoux in Bonello's Saint Laurent. There are shades of Kubrick, Cronenberg and the Wachowskis in The Beast but its total lack of humour and its longeurs make it an endurance test.
It was a pleasure instead to watch Richard Linklater's Hit Man, a consummately well made screwball crime movie loosely based on a true story. Gary Johnson was a nerdy professor who taught philosophy at college but also helped the local Houston police fine-tune equipment used to covertly record suspects who want to hire a hit man.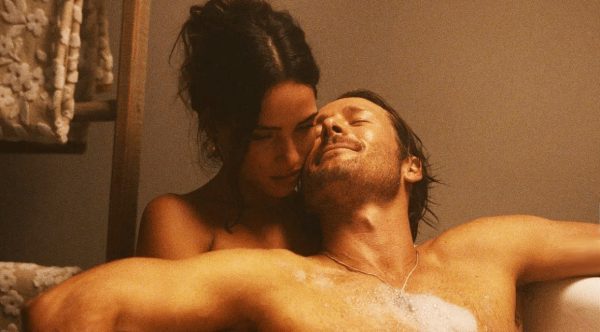 When the officer who usually conducts the sting is suspended for abuse, Johnson steps in to pose as a hit man himself. Johnson rather enjoys his success rate at putting would-be murderers behind bars until he's asked by Maddy, who is in an abusive relationship to take out her boyfriend.
The chemistry between Powell and Adria Arjona as the put-upon Maddy is sizzling (pictured above) and Linklater is on top form displaying all his skills in this fast-paced comedy thriller. Glen Powell, who plays Johnson, also co-wrote the screenplay with Linklater and has a brilliant time assuming various personas – imagine Kind Hearts and Coronets reworked for modern-day Texas.
It's a glimpse of life in a country that we normally only see in news report
Explore topics
Share this article