Loose Cannons |

reviews, news & interviews
Loose Cannons
Loose Cannons
This deliciously Italian coming-out story has its heart in the right place
Tuesday, 14 December 2010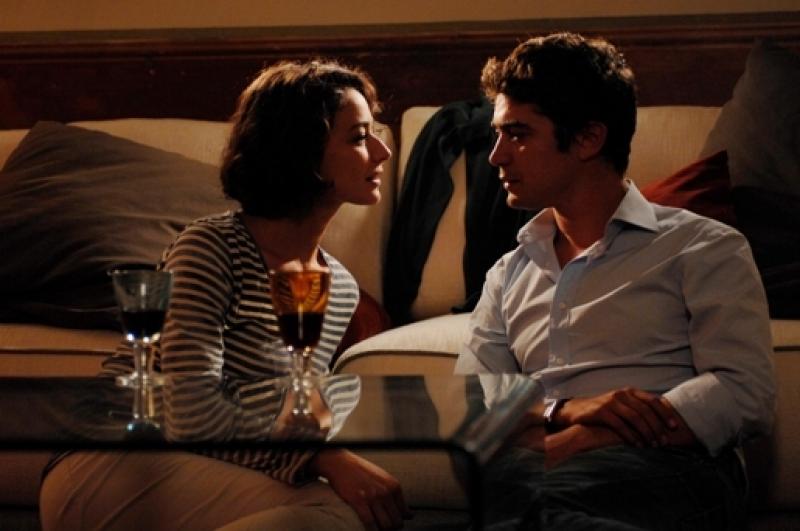 They'd have had beautiful children: Nicole Grimaudo and Riccardo Scamarcio in 'Loose Cannons'
There is a climactic moment in Loose Cannons when one of the characters has rather more dolci than is good for her. For anyone without a sweet cinematic tooth, the two hours' traffic of this soft-centred Italian melodrama may induce a similar kind of diabetic shutdown. For everyone else, it's a dessert trolley to feast the palate. But there is one intriguing discrepancy between this and other entertainments blown up from the bottom of Europe on warming southerly thermals.
While everyone here wears hearts on exquisitely tailored sleeves, one character has to keep quiet about the emotions which stir in his breast.
Why? Because he's gay. And he's not the only one. When Tommaso (Riccardo Scamarcio) returns to Bari from studying in Rome to attend a family gathering (pictured below), he takes the opportunity to come out to his big brother Antonio (Alessandro Prezioso), the sibling who has stayed behind to work in the family pasta factory. That night he's all set to make a clean breast of it to the rest of the clan when Antonio steps in and declares his own homosexuality instead. The admission ignites patriarchal fires of hell in his father Vincenzo (Ennio Fantastichini), who like some wrathful figure from mythology expels his traitorous spawn before succumbing to a comedy coronary. For young Tommaso, the chink in the closet door slams shut. If he doesn't want to kill off his father altogether, he must stay behind, mind the factory and keep quiet about not only his boyfriend but his almost as Oedipal ambition to write for a living.
It's an audacious role for Scamarcio to take on. A brooding heart-throb with glistening blue eyes, he's best known outside Italy for a more politicised parable of fraternal love, My Brother is an Only Child (2007). He played a communist in that one. Now he's a homosexual. Clearly he likes ruffling the establishment's feathers.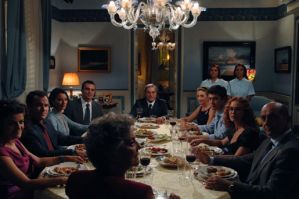 But director Ferzan Ozpetek makes it easy for everyone. As in that set-piece confrontation, the emotional landscape of Loose Cannons modulates freely between searing intensity, swooning romanticism and slapstick. If Mine Vaganti, to give it its more euphonious original title, had been shot in Scandinavia it would have cheerlessly lifted a heavy lid on a world of pain. But this is Italy, where emotions are easily accessed and pretence is second nature. Per fare la bella figura, for example, Vincenzo makes a hilarious effort to drink and be merry as he sits with Tommaso in the main piazza, only for chuckles to make way for tears as he imagines the malign gossip on everyone's lips. It's an effortless tonal glissando.
Ozpetek and co-writer Ivan Cotroneo people the canvas with the romantically disaffected, from the old grandmother (Ilaria Ochini) haunted by memories of marrying the wrong brother to the spinster aunt (Gea Martire) whose thwarted ardour redirects her to the bottle. Even Vincenzo has long had an ongoing fling with a bosomy old strumpet who visits him in hospital. And then there's Alba (the coal-eyed Nicole Grimaudo), an impossibly beautiful and sexy family employee who, it seems, is too much of a nut-job to hold down a regular relationship. When we first meet her she's scraping her key along the paintwork of an ex-lover's car; she drives her own red soft-top with reckless abandon. Naturally she falls head over heels for Tommaso, and thus for much of the film you are encouraged to wonder what colour pupils their catalogue-worthy children might have had.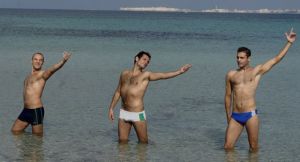 That this feels like a stick-on development is hardly the point. Unlike the darker amatory escapism of I Am Love, the entire confection is deliciously synthetic. Fleshed out with well-judged performances from an ensemble cast, the script brings out other succulent flavours – the bitchy superficial mother, the downtrodden maid, the despised son-in-law, the overweight grandchildren. In a canvas hardly lacking in it, there is a fabulous injection of colour when Tommaso's boyfriend Marco (Carmine Recano) and three camp-as-Christmas friends (pictured above left) turn up from Rome, ostensibly on the way to the beach, and must gamely don the cloak of raving heteros.
But in the end, Loose Cannons must find its aim and journey towards a resolution. The wider argument is that, in a country where entrenched notions of masculinity and the call of family honour prevent gay men from declaring themselves, old Italian values need a reboot. The grandmother's flashbacks, shot with heady romantic abandon, are the beating heart of Loose Cannons and, under all the tinsel, encapsulate a simple homily about seizing the day.
Watch the trailer for Loose Cannons
There is a fabulous injection of colour when three camp-as-Christmas friends turn up from Rome and must gamely don the cloak of raving heteros
Share this article