Love's Kitchen |

reviews, news & interviews
Love's Kitchen
Love's Kitchen
Dougray Scott joins Gordon Ramsay in a genuine celluloid trifle
What's cooking? Dougray Scott serves up romance - and more - to Claire Forlani
Foodies will have a good laugh at Love's Kitchen, the British rom-com that casts Simon Callow as a bibulous restaurant critic and Gordon Ramsay as, well, himself.
Foodies will have a good laugh at Love's Kitchen, the British rom-com that casts Simon Callow as a bibulous restaurant critic and Gordon Ramsay as, well, himself. But cineastes are likely to chuckle, as well, at the filmmaking-by-numbers predictability of it all. Small wonder the movie makes a big deal over the trifle served up by Dougray Scott, playing a chef who gets a fresh start in both the kitchen and the bedroom. On the pudding front, it takes one to know one.
That this is so trifling a film comes as a genuine shame, at least for those of us who salivate at the idea of venison fillet with elderberries given celluloid pride of place. (I draw the line somewhat at calves' tongue with celeriac remoulade, but that may just be me.) There's cinematic fodder doubtless worth gorging upon in the travails of a gastro-genius, though you'd hardly know it here. Instead, director James Hacking has chosen the recipe marked "formulaic" for a project that, on the big screen at least, comes across as decidedly small beer.
Large-scale tragedy rears its head early in a scenario that finds restaurateur Rob Haley at a loss on all fronts following the death of his wife in a car accident. Left to raise the couple's young daughter on his own, he forsakes London's mean culinary streets to rev up his career anew in a quiet country pub called The Boot. Word soon spreads about the wondrous cooking happening in a sleepy Hertfordshire town that isn't sure it wants the attention (and attendant traffic) prompted by Rob's newfound success.
A comparable conversion defines Rob's one-time critical nemesis, Kate (Claire Forlani), an American divorcee who before long is tearing Rob away from the stove and taking his daughter to feed the ducks. That Kate has a nasty English dad (played by Peter Bowles) who wants to give the boot to The Boot lends Love's Kitchen what minuscule drama it actually has. The eye-rollingly inevitable finish finds Rob chasing after Kate at the airport in an impassioned effort to get her to stay. Love - or at least that legendary trifle - conquers all, and if the powers that be can swing it, they might do well to serve mini-tubs of the stuff at cinemas showing this film.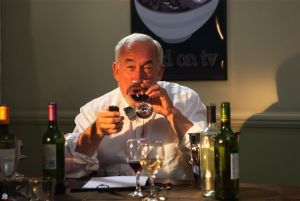 Scott and Forlani are a couple in real life and generate about as much chemistry as is to be reasonably expected from a screenplay in which Scott, for instance, at one point remarks, "I'm not interested in immortality; I just want to feed people." In the face of such, um, enthusiasm, no wonder Callow's character turns busily to the Chablis when not fronting a TV programme called Food for Thought. Playing a withering commentator by the name of Guy Witherspoon, Callow (seen above in full oenophilic splendour) brings to the movie a welcome gusto alongside relief that no one thought to put Michael Winner in the part.
Gordon Ramsay, meanwhile, turns up playing Gordon Ramsay (great casting!) and arrives on cue to urge Rob to get cracking. Or perhaps he said crackling, who can tell? That Ramsay's celebrated visage looks even more creased and anxious than usual may be professional jealousy at the self-evident meticulousness of all the desserts on (slow-mo) display. Or perhaps the uber-chef simply read the script in full, in which case Ramsay presumably wasn't the only one urging Callow to pass the Chablis.
Love's Kitchen opens on Friday
Devour the trailer for Love's Kitchen

The powers that be might do well to serve mini-tubs of trifle at cinemas showing this film
Explore topics
Share this article