Marlowe review - Liam Neeson wearily treads those mean streets |

reviews, news & interviews
Marlowe review - Liam Neeson wearily treads those mean streets
Marlowe review - Liam Neeson wearily treads those mean streets
Neil Jordan leans on threadbare noir pleasures, and his star's burnt-out private eye
Seeing too much: Liam Neeson as Marlowe
Neil Jordan's take on Raymond Chandler's Philip Marlowe is the first since Bob Rafelson's Poodle Springs (1998), itself a lone outlier after Michael Winner's misbegotten The Big Sleep (1978). No one seems to have considered why, or what they might add.
Jordan is an Irish magic realist at his best, a gauzy poet around bloody themes. His ambitions here are more modest on an honest job of work. Liam Neeson, his friend and star in Michael Collins and Breakfast On Pluto, wanted to play Marlowe, William Monahan provided a script from John Banville's Chandler estate-sanctioned novel The Black-Eyed Blonde (2014), and Jordan, hoping to see Neeson smoulder outside his action star shtick, signed on.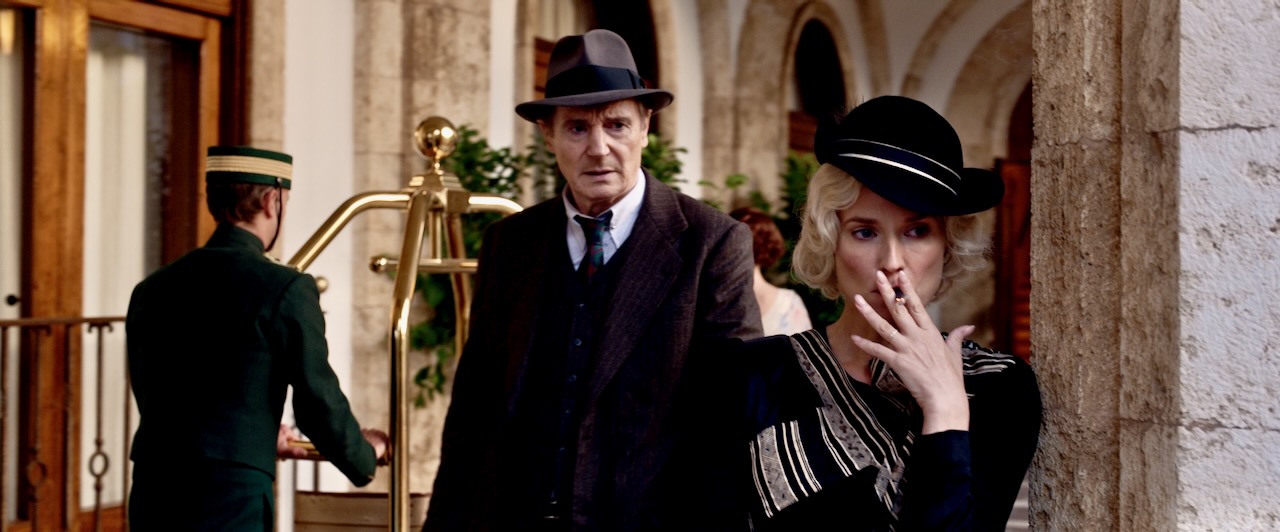 Chandler invites pastiche, latterly by himself, but his novels' landmark adaptations dug deeper. Howard Hawks' The Big Sleep (1946) defined Marlowe when he was new, filming Bogart and Bacall in contemporary LA; Altman's The Long Goodbye (1973) updated Chandler's elegiac novel as a farewell to hardboiled and hippie dreams, with Elliott Gould's Marlowe hip and horrified; Dick Richards' Farewell, My Lovely (1975) bagged Mitchum's perfect Marlowe too late for a glowing return to the Forties. Chinatown and sequel The Two Jakes, Blade Runner, Carl Franklin's Devil in a Blue Dress (1995), with Walter Mosley's black PI Easy Rawlins flipping Chandler's racist Forties LA, and Paul Thomas Anderson's version of Pynchon's freaky hippie noir, Inherent Vice (2014), did more with Chandler than other straight takes. Still, here's one more.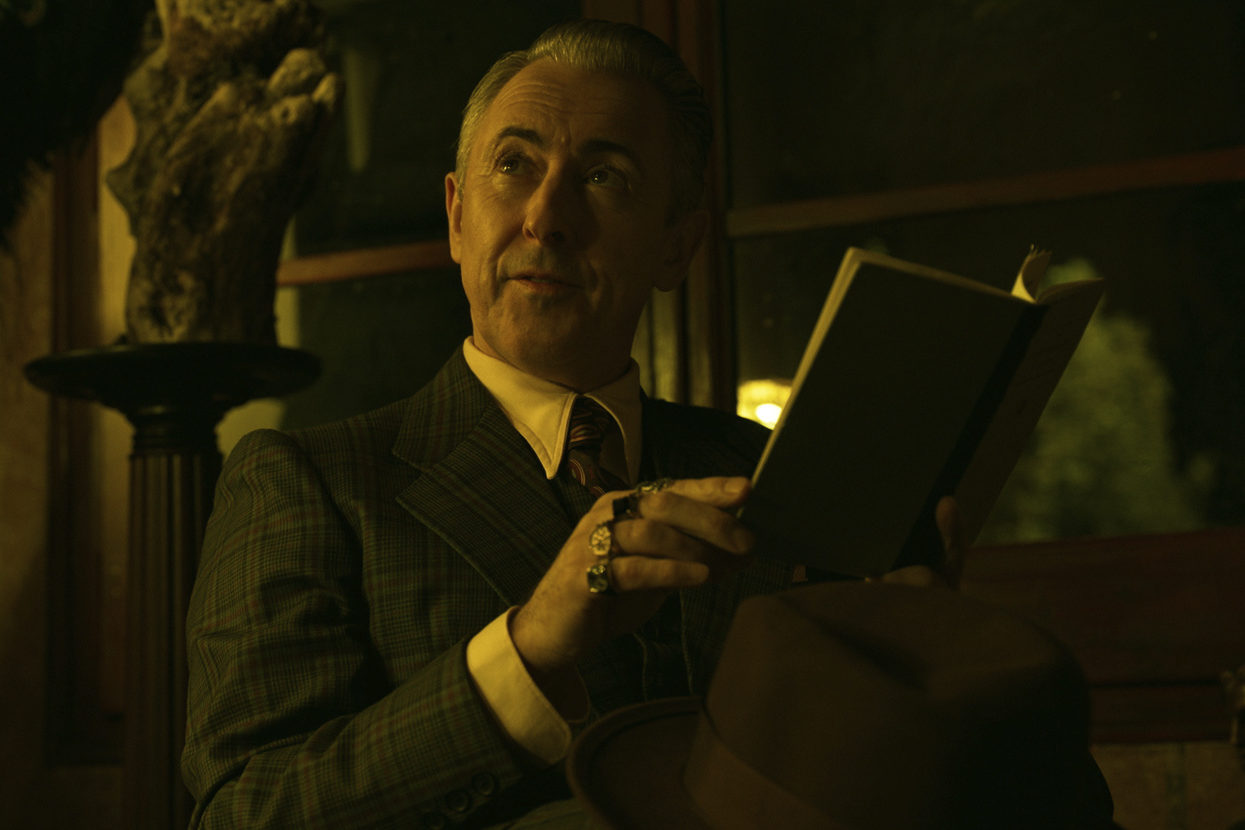 It's October 1939, a month into Europe's war. Clare Cavendish (Diane Kruger, pictured above with Neeson) is the blonde who walks into Marlowe's office wanting to locate her boyfriend Peterson, "a marginal man in motion pictures". Why taxes Marlowe more than where, as Clare's wealthy Irish mother Dorothy Quincannon (a cynically sultry Jessica Lange), the manager of the dangerously decadent Corbata Club, Floyd Hanson (wolfish Danny Huston) and gangster Lou Hendricks (waspish Alan Cumming, pictured above) offer themselves for inspection.
The wartime baggage goes nowhere, while themes of Hollywood corruption are sub-James Ellroy, taking little from Chandler's Hollywood novel The Little Sister, or Jordan's own studio run-ins. Marlowe gets more background: a stint on the Somme with the Royal Irish Guards, seeing, Jordan says, the worst of humanity. His recalcitrant relationship with authority, his rousting and beating by cops, is gone. Instead, with his DA's office past played up, he's drinking buddies with Detectives Ohls (Colm Meaney) and Green (Ian Hart). "You got no regular self-interest that anyone can rely on," Green says, defining his problem in a town on the take.
Pleasures lie mostly in the cast. Neeson at 70 is a dozen years older than Mitchum's first belated Chandler turn, but his imposing size carries him through the action. His hips have a cowboy swing and his eyes and voice bone-deep weariness, as if he's been at this much too long. Neeson insisted Marlowe look hopelessly towards a distant woman when Claire enters his office, his character rooted in unattainable romance. The best scene sees Claire attempt seduction and Marlowe, pleading age and more, gently rebuff her with a slow dance to Billie Holiday's "I'll Be Seeing You". Kruger isn't quite invested in her femme fatale, confessing intimidation by Lange's ripe real thing.
The cast and writing's Irish tilt is interesting, and Irish dance producer and soundtrack sculptor David Holmes' score atmospherically propels the production with harmonica, brooding brass and jazz double-bass. In a brief moment of real pain, a gospel choir sings over a murdered woman's ruined body by a river.
Jordan finessed Monahan's script, adding a kink to the denouement which perhaps thoughtlessly sinks Marlowe's moral purpose. His classical camera restlessly cruises and prowls, switching angles in elegant edits, moving behind pillars and frosted glass, seeking mirrors. Trippy scenes in the Corbata's bowels as crooner music distorts also let off stylish steam.
No one seems to mind the threadbare story, taking the pleasures to be had down these familiar mean streets.
Marlowe is in UK cinemas and on Sky Cinema from March 17
Neeson's eyes and voice have bone-deep weariness, as if he's been at this much too long
rating
Explore topics
Share this article