McCullin |

reviews, news & interviews
McCullin
McCullin
Photographer Don McCullin on life, work and his testament to troubled times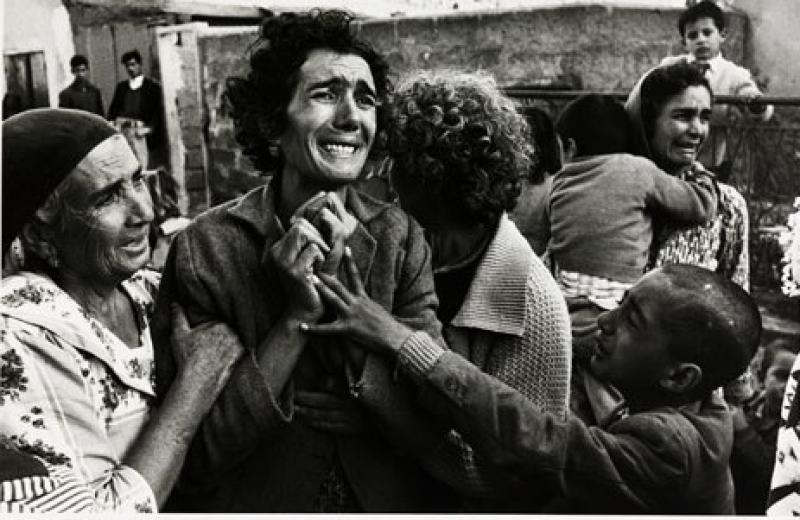 Photojournalism as art: an early Don McCullin image from the civil war in Cyprus echoes Goya
"After such knowledge, what forgiveness?" TS Eliot's line could well stand as an epitaph to Jacqui and David Morris's troublingly thoughtful film about British photographer Don McCullin, whose haunting images of conflict across the world over half a century have defined our perception of modern warfare (though his range of subjects goes far beyond that).
The softly-spoken McCullin is our guide here to some of the stories behind this lifetime's achievement, which is no less well summarized in his own words: "Seeing and looking at what others cannot bear to see is what my life is all about."
It has been a nearly fatal attraction. McCullin recollects from the snowy tranquillity of his Somerset home, wrapped in quiet winter, on a life that has rarely seen much tranquillity (it's a career far from over, given that McCullin has most recently been in Syria). The first images from his rough Finsbury Park upbringing (where fighting or stealing were the most likely life options) took him to the Observer, before he later moved to The Sunday Times (his press accreditation card for that publication, pictured below right), when its magazine was breaking ground with creative use of photography.
Telling the truth won out over any hesitation on ethical questions
It was there that he had almost two decades with virtually free reign to bring in the international stories that his intuition led him to (he had first proved he had the instinct for what was going to be news when he was among the very first to catch the rise of the Berlin wall). The only other voice here is that of Harold Evans, then the paper's editor, whose tribute is no less heartfelt for its understated discrimination; the paper's achievements on that front lasted until Murdoch took over, and such serious coverage was replaced largely by life and leisure stories. Not unconnected to this, perhaps, was McCullin's being refused accreditation to cover the Falklands War, the first time he would have photographed his own countrymen in conflict.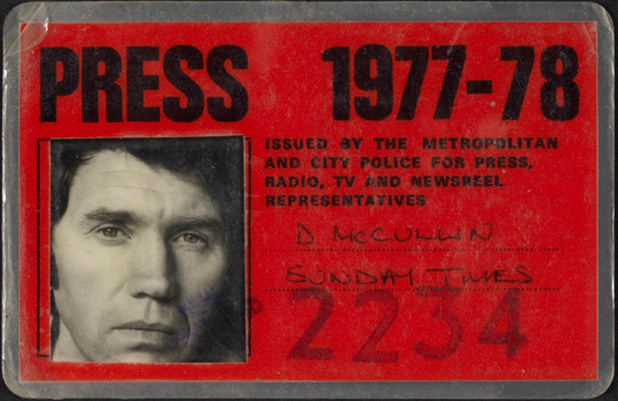 When he came back happy from such journeys, he remembers, there was usually something ghastly to show, the urgency being to "get the message over". Telling the truth won out over any hesitation on ethical questions - McCullin is as scrupulously aware of such issues as anyone - as to whether the photographer had the right to be there, intruding on and cataloguing human misery, or risked becoming a voyeur. He first heard gunfire when covering the civil war in Cyprus, where at one point he carried an old lady to safety, before returning to catch images (main picture) that he compares, with every reason, to Goya: he captures, like the Spanish artist, the way in which the subject in intense grief looks upwards, as if towards God, for any sort of salvation. The last thing McCullin comes across as here is a boaster, but this combination of framing the subject, the way the light falls, how the image is printed - these are surely the achievements of an artist.
He covered most of the wars of the Sixties, a decade good, he admits, for conflict. In Congo in 1960 he bluffed his way in as a mercenary (a revealing comparison?) to get forbidden access, while in Vietnam he would spend weeks with the US army where other photographers would fly in and out briefly. The possibilities of such total access brought pictures that the authorities, whether American in Vietnam, or Maronite Christian in Beirut later, didn't want to be shown – ironically, paving the way for much stricter control of press photographers, for example, in Afghanistan more recently.
Covering conflict didn't always mean hearing gunfire, but could be found much closer to home. His first trip for The Sunday Times took him to the racial conflicts of Mississippi, where he was warned not to come around at night (one of McCullin's trademark magazine spreads from there, pictured above left), while in Belfast, he remembers, at least there was a sense of "knowing the plot", even if the details that made pictures great came unexpectedly.
"Madness" and "insanity" are the words he uses again and again in the film, and we come to wonder what is the difference between them: is insanity the temporary state that engulfs human beings in warfare, while madness lies deeper? He finds madness on home territory in his photographs of the homeless in east London (the tramp he photographs in one of his best known UK images, pictured, has a grandeur that McCullin compares to the god Neptune).
The redeeming British eccentricity that he elsewhere glories in is like a junior cousin of that madness. These mad subjects who stare back relentlessly at the photographer - as does that shell-shocked GI in Vietnam - are accorded surely the ultimate mark of respect, the attribution of dignity, from a photographer whose gaze is as unflinching as it comes.
Early in the film McCullin remembers the first time he saw a public execution, in a Saigon market, from the edge of the press corps. "Did you get it?" he heard someone ask. "I didn't get it," he remembers today, referring to the shutter that he didn't click that day. But surely he's talking on a wider level - as an individual who found it so challenging to get the world in which he loved what he was doing, the photography, while finding what he witnessed all too awful. It destroyed a marriage and an unspecified part of a family life, and it's the details that speak volumes. "My darkroom is a haunted place," he says, where all he can listen to is classical music. He doesn't have nightmares - the images that return to haunt him come in the daytime.
McCullin is on limited release from 1 January
When he came back happy from those journeys, McCullin remembers, there was usually something ghastly to show
rating
Explore topics
Share this article