Meeting Gorbachev review - Werner Herzog offers a swansong tribute |

reviews, news & interviews
Meeting Gorbachev review - Werner Herzog offers a swansong tribute
Meeting Gorbachev review - Werner Herzog offers a swansong tribute
Engaging documentary portrait becomes a moving meditation on history
Wednesday, 31 August 2022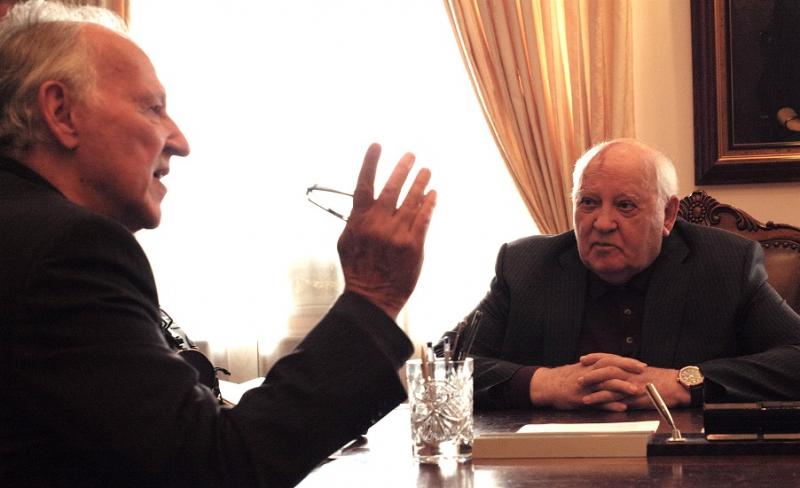 'Herzog is very much the interpolator, his hands (and glasses) circulating almost flightily, Gorbachev statuesque'
You react differently to Meeting Gorbachev knowing that the film's subject was on occasions brought to its interviews from hospital by ambulance; his interlocutor, Werner Herzog, doesn't mention that fact, of course, anywhere in the three encounters on which this documentary is based, but he has alluded to it elsewhere.
It seems somehow out of place to express cavils that the tone of this encounter is supremely respectful, that Herzog does not press Gorbachev into commentary on events of history beyond those in which he was immediately involved. Though today's Russians would hardly agree with the German director when he calls the last president of the Soviet Union "one of the greatest leaders of the 20th century", it's an accolade that few outside its borders would dispute, not least as we mark the anniversary of the fall of the Berlin Wall. The word that Herzog chooses to express his feeling for the man who in many ways made the subsequent reunification of Germany possible, an issue central to the film, is simply "love".
Herzog co-directed Meeting Gorbachev with British documentarist André Singer, whose own description of the result as "a discussion between two elderly gentlemen" seems curiously fitting: Gorbachev was 87 during production, Herzog his junior by a decade. There's a definite rapport between the two, though it's a curious engagement, Herzog very much the interpolator, his hands (and glasses) circulating almost flightily (main picture), Gorbachev statuesque. The older man's face has acquired with age a form that is almost square, the grumpy cat downturn of the mouth somehow hieratic, its closed stillness broken only by intermittent bursts of expression that recall the vitality and humour, even the stubbornness of old.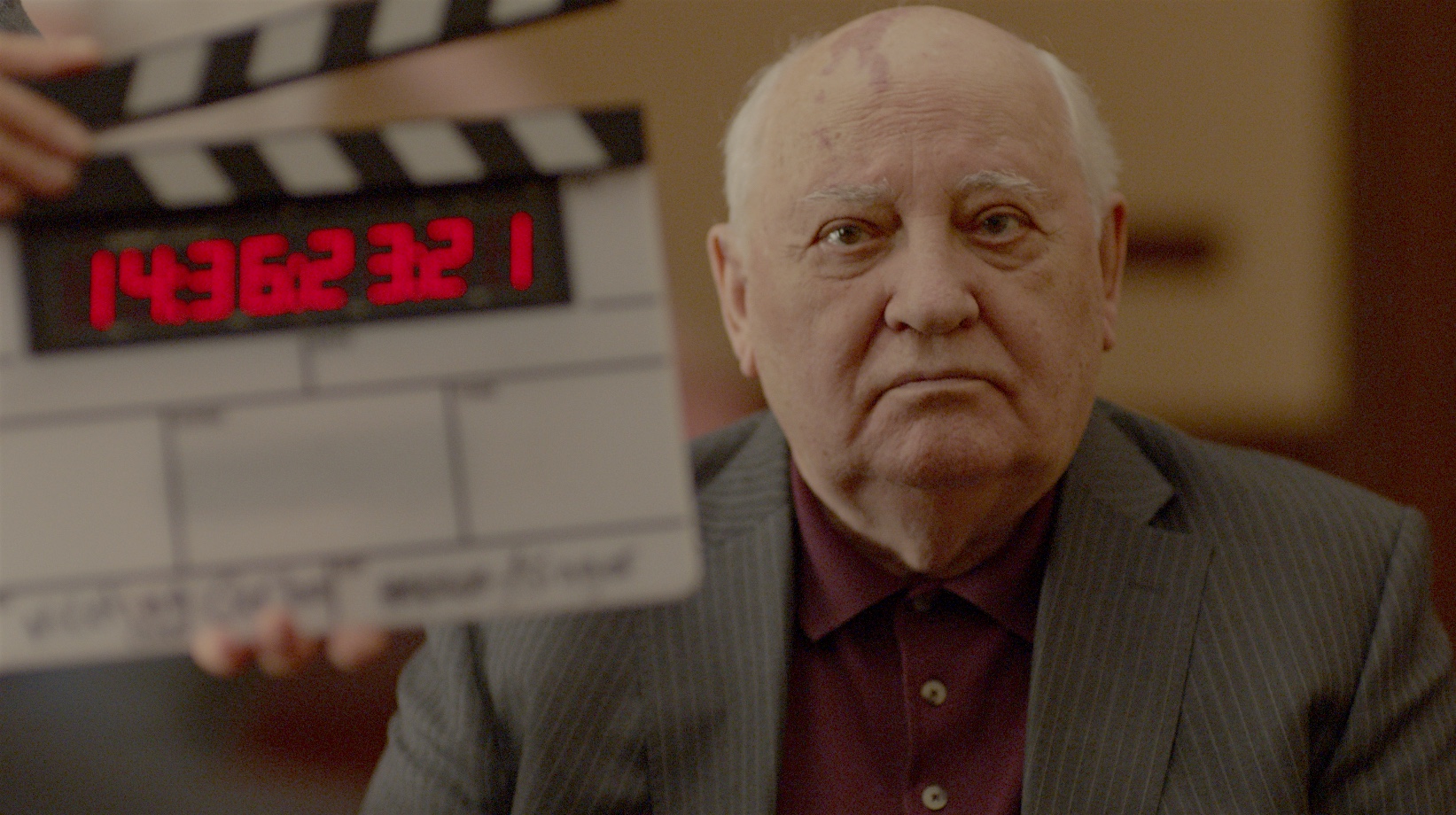 Herzog may usher his subject through a kind of swansong lifetime achievement testimony, but Meeting Gorbachev is also a film about the dying of the light, a process of extinguishment that clearly began for Mikhail Sergeyevich, as Herzog respectfully calls him throughout, with the death of his wife Raisa in 1999, the depth of their love a motif that shines through the film, the poignancy and loneliness of the two decades without her becoming almost palpable toward its end, as the pauses Grbachev leaves between answers grow longer and longer. It closes with him reciting a poem by Lermontov, which speaks starkly yet profoundly, like Yeats's Irish airman, of a state of mind: "I see no hope in years to come, / Have no regrets for things gone by. / All that I seek is peace and freedom! / To lose myself and sleep!" It is as if this figure who so indelibly made history now only wishes to be beyond it.
Herzog questions in English and Gorbachev responds to the simultaneous translation in Russian, although the moments of their direct engagement in conversation are relatively few, and brief. The historical recapping and visual archive is skilfully done, Herzog honing in on the isolated detail (how the young Gorbachev, helping his father to harvest the corn fields of Stavropol, could hear from the sound of the combine's engine how it was running). There's bitter irony in how his early closeness to the people – the idea of a Communist bureaucrat ready to explore his territory on foot when necessary was unthinkable – would change decades later into the alienation of today. And there was a feeling of alienation somehow in the aerial footage of the Stavropol lands today, though the family landscape of Gorbachev's youth was obviously close, attested to by archive of a return visit he made there at the beginning of the century, with its moving encounter with surviving aged relatives (that powerful material came from Russian documentarist Vitaly Mansky's 2001 Gorbachev, After Empire, a film that deserves to be much better known).
Comment hardly seems necessary from one who strove to fashion a 'New Europe' on those for whom politics is a zero-sum game
Then came the move to Moscow, the beginning of the political career as we know it in the West... There was priceless Politburo footage of the senile Brezhnev forgetting what exactly he was congratulating Gorbachev on – it was for completing the Stavropol Canal, with Gorbachev having to prompt the word "canal" – that spoke as powerfully as the more standard gerontological images of the trio of GenSec funerals that followed in rapid succession. (You wondered whether it was the very same soldiers doing their rotating guard duty at those lying-in-states, as well as whether Meeting Gorbachev had discovered archive material that was new even after all these years.)
Herzog's attention duly transferred to the international arena, with talking heads including George Shultz and James Baker, Helmut Kohl's National Security Advisor Horst Teltschik (who was probably as closely involved as anyone outside the USSR at the beginning of the 1990s), with the briefest snatch of Lech Wałęsa and Margaret Thatcher in archive agreeing to disagree (she believed in capitalism, he in socialism; her belief in nuclear weapons was unshakeable). Far the most incisive was Miklós Németh, Prime Minster of Hungary around those cusp years of 1988-1990, who discovered early on, when Gorbachev was still in charge of agriculture, what Thatcher would later articulate, that he was a man focused on business.
Herzog again found the devil in the detail. Who would have known that on the day when the politicians cut the barbed wire at the border between Austria and Hungary, the lead item in the evening television news in the former would be about dealing with a slug infestation? Who would have known, for that matter, that the "dynamics of collapse" of the Soviet Union would prove so inexorable? Could it have been different if, as Gorbachev speculates here, he had tried to "send Boris Yeltsin off somewhere"? It's the only reference in the film to Gorbachev's successor, while of his successor, Vladimir Putin, we have just a glimpse as a hesitant mourner at Raisa Gorbacheva's funeral. (Pictured above, from left, Werner Herzog, Mikhail Gorbachev, André Singer, the portrait behind them Raisa Gorbacheva)
Does it matter, as some have suggested, that we don't get a lowdown on Russia's current century? Hardly, and comment hardly seems necessary from one who strove to fashion a "New Europe" on those for whom politics is a zero-sum game, who have abandoned those nuclear treaties that were so central an achievement in ending the Cold War. Putin's two decades (and counting) in power will one day be just another footnote in his country's history, Gorbachev's far briefer years on the world stage are surely safe for eternity. Asked to suggest a possible epitaph for his tombstone, Gorbachev offers the suggestion, "We tried." Heart-rending, but hardly true.
Watch the trailer for Meeting Gorbachev