Mercy Falls review - horror in the Highlands |

reviews, news & interviews
Mercy Falls review - horror in the Highlands
Mercy Falls review - horror in the Highlands
A superb sense of atmosphere buoys this Scottish slasher flick
Saturday, 02 September 2023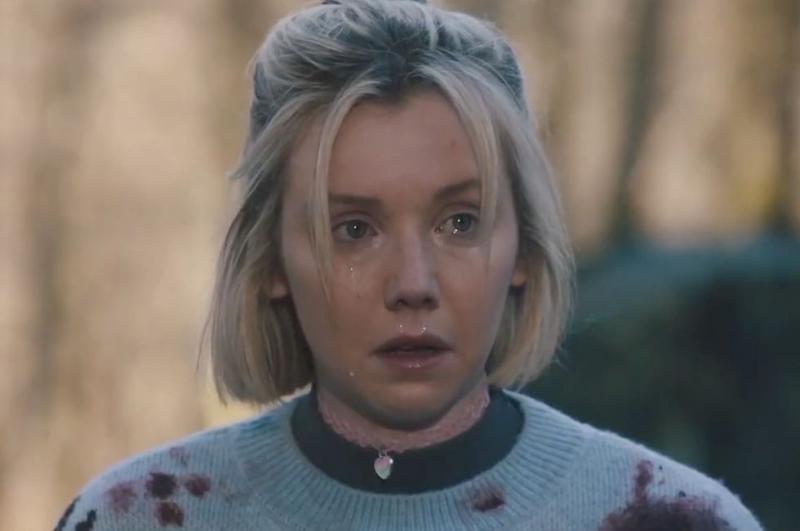 Traumatised: Lauren Lyle in 'Mercy Falls'
Mercy Falls isn't the only Scottish film of the past year in which a young woman is haunted by childhood memories of a last summer holiday with her troubled father. And while Ryan Hendrick's low-budget horror is unlikely to garner as much critical acclaim as Charlotte Wells's Aftersun, at least it's more eventful.
A flashback shows eight-year-old Rhona accompanying her dad (Gilly Gilchrist) on a trip to a remote cabin in the Highlands. In the middle of nowhere they come across a dying horse and Rhona watches in horror as Dad cuts its throat to put the animal out of its misery.
Twenty years later, grown-up Rhona (Outlander's Lauren Lyle), who is tormented by recurring nightmares, takes her new boyfriend Donnie (Joe Rising) and another couple, Heather and Scott, on a hike into the woods in search of the long lost cabin.
So far so Blair Witch Project. Things take a turn for the worse when Donnie's mate Andy (Eoin Sweeney) turns up uninvited and then a sinister hitchhiker Carla (Nicolette McKeown) tags along. Love triangles form and the sexual jealousy simmers around the camp fire. (Pictured below: Lauren Lyle)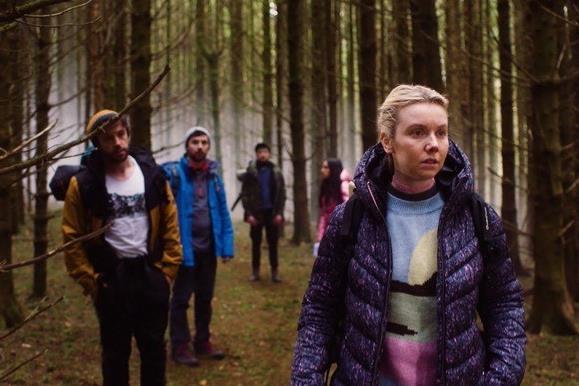 There Scott (James Watterson), a vintage Penguin Classics edition of The Odyssey tucked under his arm ("Homer is the god of storytelling, man – everything comes from him"), regales the others with the tale of the Sirens who lure unsuspecting victims to their death.
The lure of McKeown's performance as a siren of the loch, a kind of cosplaying Lara Croft, will get most slasher fans to the end of the movie, which Hendrick packs full of the usual tropes. You either love 'em or hate 'em. So it turns out that Carla has recently escaped from a nearby psychiatric institution, a tiny detail that Andy fails to grasp even though he buys a local newspaper with her mugshot emblazoned on it. Inevitably, along with Rhona's nightmares, the motif of throat-slicing also recurs.
"I have a bad feeling about this," says Heather (Layla Kirk) at one point, and she's not wrong, though perhaps she has only herself to blame because she's just slept with Andy, who falls backward in a punch-up with Scott and impales himself on a branch. (In terms of bloodletting the wounded horse isn't even in it.) So Carla puts him out of his misery by – you guessed it – cutting his throat. And then the descent into wilderness atavism really begins.
It's easy to poke fun at Mercy Falls with its gratuitous characters and violence, not to mention a doubtful back story, creepy Scottish folklore and the pretentious quotations from Ancient Greek epics. But Hendrick (who co-wrote the script with Meliá Grasska, and also edited the movie) handles the action sequences with confidence and style.
And the film is oddly watchable, maybe because its real star is John Rhodes's cinematography of the Scottish highlands, a glorious patchwork of light and mist and trees and crags and glens on the way to the eponymous waterfall. Spooky music by Stephen Wright also helps to build the tension.