Monsoon review - like something almost being said |

reviews, news & interviews
Monsoon review - like something almost being said
Monsoon review - like something almost being said
Developing the subtle palette of his debut 'Lilting', Hong Khaou's second feature broadens its horizons
Thursday, 24 September 2020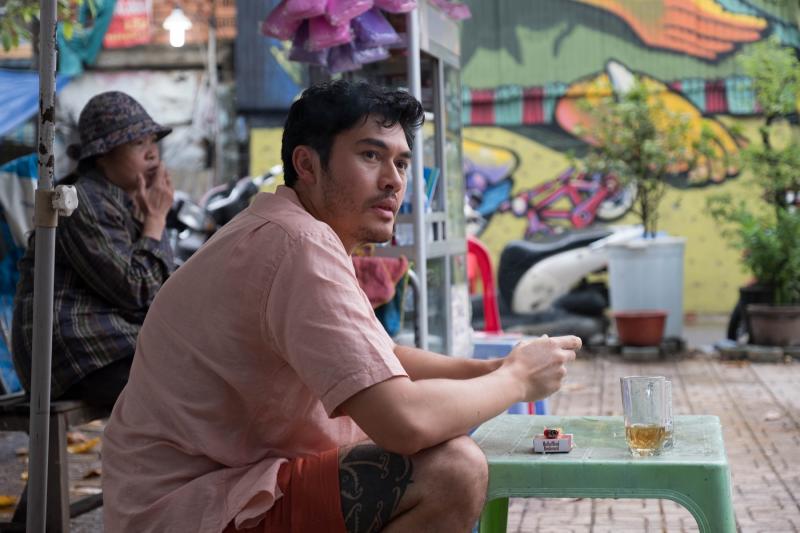 'A world that's more alien than familiar': Kit (Henry Golding), in a Vietnamese market
Building very promisingly on the achievement of his debut feature Lilting from six years ago, in Monsoon Hong Khaou has crafted a delicate study of displacement and loss, one that's all the more memorable for being understated.
Cultural disorientation is becoming almost a trademark for the director, and it's present in his new film in what feels a more personal context.
Monsoon
follows its thirtysomething protagonist Kit, who left
Vietnam
as a child to grow up in the Britain that is now his home, as he returns to the country of his birth in the wake of his mother's death: transplanted into a world that's more alien than familiar, he reappraises his origins in the light of that grief. There must be elements of Khaou's own journey and family story here – though the director's first displacement was from his native Cambodia to Vietnam, from where he eventually came to the UK – as the film's final-frame dedication, "For my courageous parents", suggests.
The experience of emigration – the way in which the changed circumstances of a new world are mediated by recollections of an old one – manifests itself in different ways. In Lilting the character played by Cheng Pei Pei, herself a veteran of Chinese cinema, was separated by time and language alike from the world that her dead son had inhabited with his English boyfriend (played by Ben Whishaw) whose role she had somehow never acknowledged or accepted. Monsoon adjusts that dynamic, the grief now concentrated in the younger generation; the attempts at connection may be transferred to a new environment, but Khaou explores their nuances through a practised repertoire of silences and tentative utterances, against which the film's pronounced visual elements resound all the more expressively.
Khaou and his cinematographer Benjamin Kračun deliver a striking opening shot, a bird's-eye view down on a busy road junction that catches all the energy of street life in Ho Chi Minh City (everyone seems to refer to the city by its pre-1975 name, Saigon). We see the frenzied movement of thousands of scooters, overlapping in some crazy Brownian motion, one in which collision or damage is nevertheless avoided; it seems a loose metaphor for the network of links and interactions that the film's protagonist Kit (Henry Golding, main picture, playing a very different register from Crazy Rich Asians) will explore through the film's economical 90 minutes.
Saigon comes across as a place in which the ambitious anonymity of the new dominates over anything left over from the old world, a factor that complicates Kit's search for a resting place for the ashes of his dead parents. He himself had escaped the city at the age of six, so his own memories are faint, and the locations that he can think of, or those suggested by the cousin, Lee (David Tran), who is his only local connection – that renewal of acquaintance brings its own complexities – are either decayed or have disappeared completely.
Kit finds relief from this limbo in acquaintance with Lewis (Parker Sawyers, pictured above, with Golding), a young American who's also in Saigon for reasons loosely connected to family and past: it's a character strand that's left rather undeveloped, though Lewis is certainly aware of the connotations of his nationality in the city he's adopted as a temporary home. Their meeting is a Grindr hook-up, we assume – Khaou consciously avoids narrative explication – with the film's gay element left without comment: though he's restrained about his identity, there's no sense that Kit is conflicted, nor any exploration of how his sexuality may have fitted in with the world of his parents. (A later, distinctly more casual sexual contact leaves equally unexplored the issue of how Vietnamese society may treat the subject.)
Khao shows himself something of a master of the disoriented moment
Monsoon is more of an echoing dance around motifs of history and connection than a filmic narrative in any traditional sense. Kit goes to Hanoi – the train ride there seems to absorb him into the country and its past more than anything in Vietnam's urban environments – to discover where his parents had been born, but regardless of that city's stronger sense of history, no greater connection reveals itself. The most meaningful contact he establishes there is with a Vietnamese young woman, Linh – Molly Harris is absolutely natural in the role, the most convincing supporting player to Golding in this four-part chamber drama – who moves with confidence between her traditional past and a future that which she will resolutely determine for herself. It's just the kind of equilibrium that Kit needs to find for himself.
Khao shows himself something of a master of the disoriented moment, skilled in catching the kind of restraint of body language and speech that's particularly evident here among the men (Linh's naturally outgoing nature, not least her smile, sets her apart from them). Tracking how communication falls short does bring an occasional shortcoming of dialogue, however, an effect that's stilted or driven by explication rather than organic. But Kračun's images reveal their own aspects of Kit's explorations of himself and of the new world in which he finds himself.
As a title, Monsoon may suggest an element of stormy denouement, a forceful clearing of the air. Although its final scenes gesture towards resolution, Khao's accomplishment is to suggest that such clarifications often remain elusive in life – that it's the journey, rather than the arrival at any destination that is the real fruit of the experience.
Watch the trailer for Monsoon
Saigon comes across as a place in which the ambitious anonymity of the new dominates over anything left over from the old world
rating
Explore topics
Share this article