Nebraska |

reviews, news & interviews
Nebraska
Nebraska
Alexander Payne strikes gold with a story about a man who doesn't
Wednesday, 04 December 2013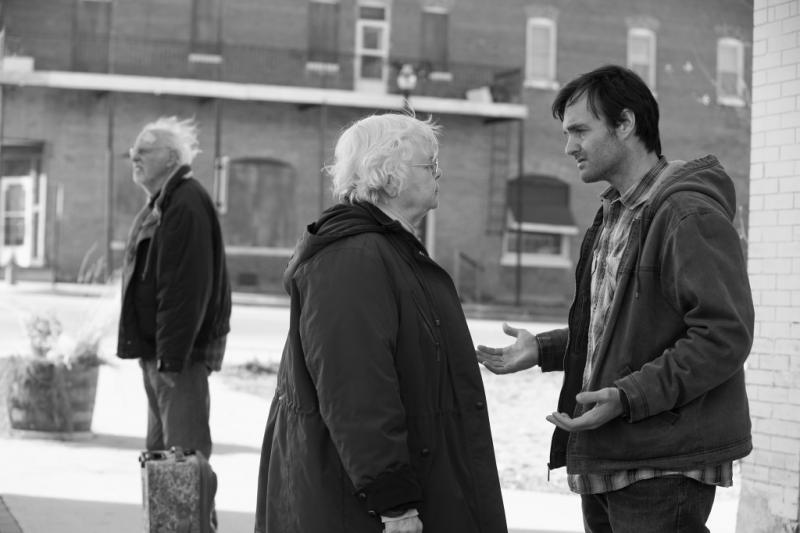 'Nebraska' gets to the heart of a family's feuds
Alexander Payne is at home with the road movie. From mid-life crisis in Californian wine country in Sideways to dealing with life after the death of a loved one in About Schmidt, he has a knack of tapping into the human spirit and an affinity with the American landscape. Taking great lengths to elicit the whirs and hums of vehicles and the many bumps along the open road, his exploration of the USA is always an eye-opening experience.
Nebraska
is no different and is the setting for a Midwestern adventure which captures the essence of an agricultural town, the antics of an elderly community and the strong bonds of family.
We see Woody Grant (Bruce Dern, pictured below) take to the road to claim his one million dollar sweepstakes marketing prize. At first he tries by foot, a mean feat considering he lives in Montana, but eventually his son David (comedian Will Forte, playing it straight) agrees to drive him with a stop along the way to his hometown.
Unlike About Schmidt, which also deals with ageing, Woody's trip is not solitary. Instead it acts as the perfect backdrop for the interplay between father and son yet also moves beautifully into the exploration of multiple family relationships. When Woody's wife and David's mum Kate (June Squibb) meets up with the pair on their pit stop to their original family home, we learn all of the wicked and sad stories that have shaped them into the people they are today.
Squibb as Kate gets all the best lines, shocking her son with stories of her wild youth while tempering them with a sad history. Most of all her stories feel honest; she has no need to hold back on the full details, no feelings to spare, she's way past the politeness of keeping up appearances. Kate is a wonderful character that many will be able to relate to. As is poor Woody, an ageing alcoholic who seems to be suffering from the early stages of dementia. His son David is struggling to come to terms with this but grasps the last hope of getting to know his father. This is a reality many will have to face and Payne deals with it in a sincere yet unsentimental way. With this homecoming, secrets are uncovered and Woody is forced to confront his past and the reasons why he moved away.
Screenwriter Bob Nelson superbly blends comedy with drama, his background as a comedy sketch writer clearly helping with the excellent timing of lines, but you can feel Payne's acerbic wit and mischievousness coming through in Squibb's performance. Forte turns in a softer performance which complements the fragility and confusion of Dern's Woody, whom he is trying to both protect and enlighten. The characters, their connections and the way in which they overcome life's obstacles are the driving force behind this uplifting, incredibly moving and candid piece.
Overleaf: watch the trailer for Nebraska
This is a reality many will have to face and Payne deals with it in a sincere yet unsentimental way.
rating
Explore topics
Share this article