Oblivion |

reviews, news & interviews
Oblivion
Oblivion
Tom Cruise is fooling no-one in a sci-fi brought crashing to earth by its flaws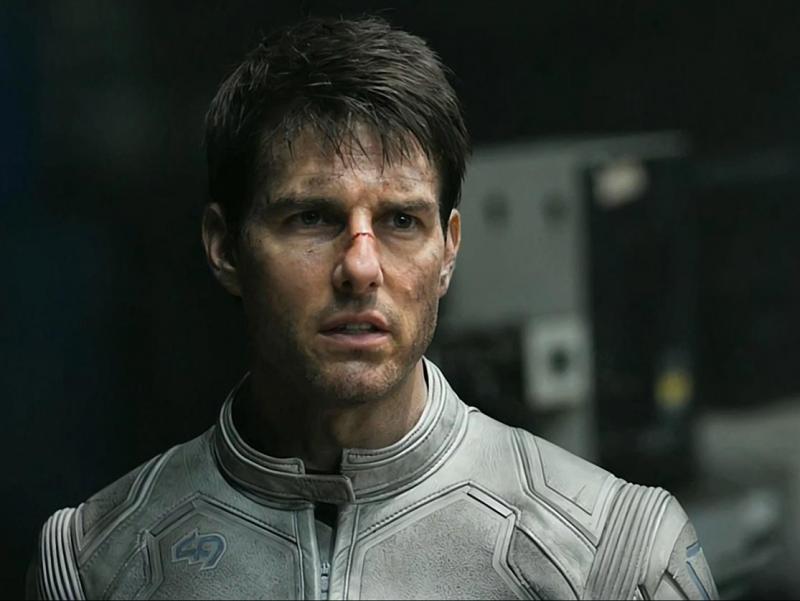 Tom Cruise gets his hands (and face) nobly dirty in 'Oblivion'
Director Joseph Kosinski's second film feels dispiritingly like his first, the bastion of excitement and originality that is TRON: Legacy. That film was an empty shell which at least managed not to be catastrophically irritating. Oblivion stars Tom Cruise, proving yet again that his ego is in inverse proportion to his physical stature.
He plays "one of our best" in a soulless film which has the gall to place tangible cultural pursuits on a pedestal whilst clonking you round the head with sterile CGI.
The year is 2077 and, yes, Tom Cruise is still an action-man. His Jack Harper bounds about what's left of earth after a war with alien scavengers, getting into scrapes as he provides the security detail for a mission control who are mining earth's remaining natural resources. Jack and his communicators officer / love interest Victoria (Andrea Riseborough, pictured below right) work for Sally (Melissa Leo) and they are an "effective team". Victoria's nice but she seems a bit compliant - and we all know that Cruise is more of a maverick. They've had their memories wiped but it's ok, they don't seem to mind.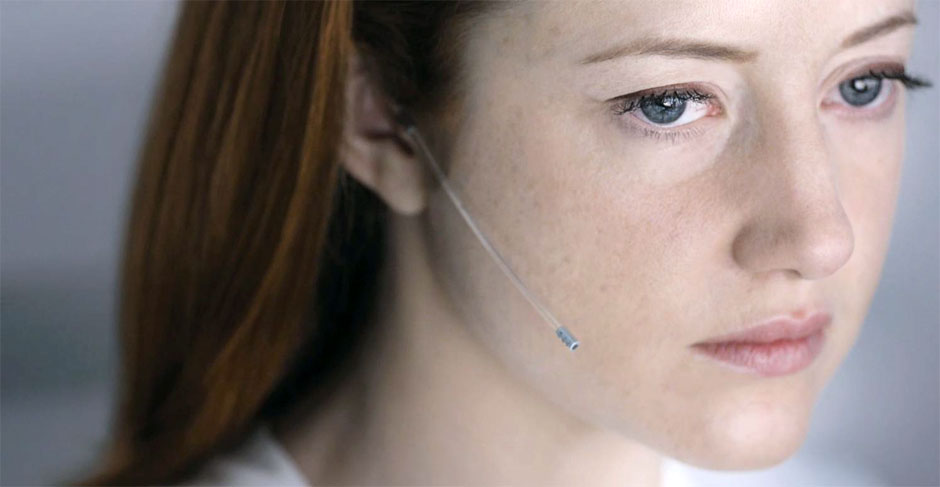 On the sly, Cruise slips off to an absurdly well-preserved idyll where he keeps his kleptomaniac's collection of obsolete items - sunglasses, books, records. Later Olga Kurylenko will turn up as a rival love interest, Morgan Freeman will phone in a fleeting performance as rebel leader Beech, Nikolaj Coster-Waldau from Game of Thrones will look rugged and remain largely silent. And naturally there will be twists.
If you don't care for Cruise, be warned - there's an awful lot of him in this movie. There's clever framing to make him appear taller, or at least of equivalent height to his ex-model co-star Kurylenko and when they appear straight-on (pictured below) it raises the distracting question, is Cruise standing on a box or is Kurylenko in a hole? He has these motorbike goggles which seem to make his hair stand stickily on end. Watching Cruise here made me wish he'd play more bad guys. Lestat in Interview with the Vampire (1994), Frank TJ Mackey in Magnolia (1999) and Vincent in Collateral (2004) - the man was born to play proper bastards, and yet he's made a career out of these ostensibly heroic semi-arseholes.
Thank heavens then for Andrea Riseborough, who's so good that she confusingly renders a character sympathetic that presumably we're not supposed to like much. It's a delicate performance in a film that's anything but; she's a natural big screen actress and it's a shame that this unworthy effort will be many people's introduction to her. Melissa Leo too is well cast as Jack and Victoria's robotically folksy boss.
Managing to be both dunderheadedly expositional and incoherent, bombastic and dull, Oblivion apparently pays homage to the sci-fi films of the '70s and throws in The Matrix, WALL-E and Total Recall for good measure. It's extremely poorly paced and watching it I was plunged into some kind of equivalent oblivion - where 126 minutes felt like an awful lot longer. Apparently Jessica Chastain was originally cast in the role that ultimately went to Kurylenko, so she dodged a bullet Matrix-style when she opted to appear in the magnificent Zero Dark Thirty instead. Oblivion is based, inauspiciously, on its director's own unpublished graphic novel (used to illustrate to backers his vision of the film). Unfortunately those who have the misfortunate to sit through this may find themselves wishing the film had gone similarly unreleased.