Oscars 2015: Birdman soars, Boyhood plummets |

reviews, news & interviews
Oscars 2015: Birdman soars, Boyhood plummets
Oscars 2015: Birdman soars, Boyhood plummets
Flattest ceremony in years honours 'Birdman', Eddie Redmayne and Julianne Moore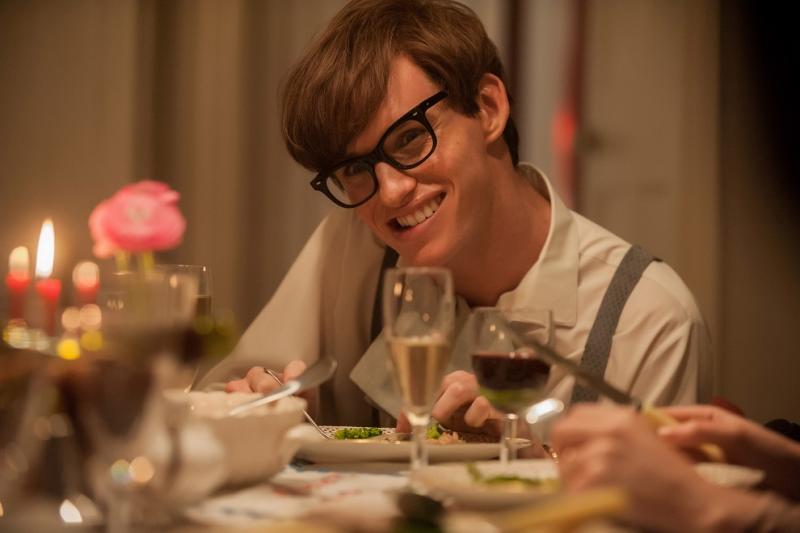 Best actor (shame about the ceremony): Eddie Redmayne as Stephen Hawking
I hope someone by now has told Neil Patrick Harris how to pronounce David Oyelowo's surname, but if anyone wants to see how not to host an Oscars, Harris's stewardship of the 87th annual Academy Awards can provide that service in spades.
I hope someone by now has told Neil Patrick Harris how to pronounce David Oyelowo's surname, but if anyone wants to see how not to host an Oscars, Harris's stewardship of the 87th annual Academy Awards can provide that service in spades.
Sure, there were a few surprises in the final stretch of this year's ceremony, including the triumphant 11th-hour trifecta achieved by Birdman, which swept best picture, director, and original screenplay, all at the expense of its closest rival, Boyhood. Indeed, Alejandro González Iñárritu's extravagant fantasia was stopped in its tracks in the last half-hour of the show only once, when best actor went not to Birdman star Michael Keaton (pictured below) but to The Theory of Everything's Eddie Redmayne. At 33, the ever-charming Redmayne now has Oscar, Tony, and Olivier Awards to show for himself, making one wonder what heights this fine actor can possibly conquer next. The bookies' favourite Julianne Moore walked off with Best Actress for Still Alice.
There was gold dust sprinkled among the dross
The greatest surprise of a generally frisson-free evening was the hash that awards veteran Harris – whose opening number at the 2013 Tony Awards may stand as the single greatest kick-off to any show-biz jamboree in my experience – made of his first attempt at compering Hollywood's biggest night. Placed in a Broadway context, last year's Tony-winning best actor in a musical (for Hedwig and the Angry Inch) looked entirely at home; displaced to the dais of the Academy Awards, he seemed strained and ill-at-ease, his various pronunciation problems – Chiwetel Ejiofor's name seemed equally to throw him – indicative of an overall discomfort. Among a stream of dud jokes was one suggesting that Imitation Game mogul Harvey Weinstein – whose Alan Turing biopic took a single prize for adapted screenplay – was Hollywood's very own American sniper. Hilarious.
Enough about the messenger, what about the message? That, in turn, seemed for much of the night to follow the established script, the Oscars not for the first time suffering from so overabundant an array of preparatory awards shows that the winners seemed preordained. Both supporting performance trophies went as expected to JK Simmons and Patricia Arquette, Simmons raising the odd eyebrow by neglecting to thank a single Whiplash colleague and Boyhood mum Arquette using her chance at the podium to read a prepared speech on behalf of wage quality and equal rights for women. Her rallying cry in turn prompted a raised-arm salute from fellow nominee Meryl Streep, marking the sort of buoyant spontaneity missing from the telecast overall. The Grand Budapest Hotel cleaned up in the technical awards and Pawel Pawlikowski's Ida won the foreign film gong for Poland.
But it wasn't until well into the third hour that proceedings really sparked to life with the performance of the stirringly anthemic "Glory" from Selma that brought the audience roaring to its feet (and saw that film's star, the non-nominated Oyelowo, among those visibly in tears). Minutes later, accepting their joint Oscar for best song, songwriters John Legend and Common spoke eloquently of the modern-day resonances to material from a half-century ago whose reach extended, in Legend's words, to "the struggle for justice right now." He went on to call America "the most incarcerated country in the world", raising the political temperature all too briefly before a commemorative tribute to the 50th anniversary of The Sound of Music restored the banal norm – the incongruous sight of Julie Andrews embracing Lady Gaga not enough to make one wish for the sort of genuine provocation and excitement that comes from a spectacularly OTT outfit or the legendary Adrien Brody-Halle Berry smooch from 2008. A sequence featuring Harris stripped down to his pants - itself a visual gag in the direction of Birdman, where Michael Keaton does the same - was the nearest the evening got to risqué: I don't recall Bob Hope or Billy Crystal ever revealing their tighty-whities.
Watch the "Glory" video
In addition to the Selma duo's fervour, there was gold dust sprinkled elsewhere amongst the dross. Meryl Streep introduced the annual In Memoriam tribute with her characteristic dignity and grace, the roll call of the deceased coming movingly to rest on the face of Mike Nichols, the director with whom Streep had worked memorably across a range of projects (Silkwood and TV's Angels in America included) and for whom she had been scheduled to collaborate on a screen version of the Terrence McNally play Master Class.
And as if by way of an extended apology for not nominating Selma for more than two prizes, there was a compensatory wealth of black talent in the audience and on stage, ranging from Oyelowo, Ejiofor, and a trim-looking Eddie Murphy to Oprah Winfrey, Viola Davis, and Octavia Spencer, the last of whom conspired with Harris in an evening-long magic trick whose pay-off didn't justify the major chunk of time it took to set up. (Harris has long loved magic, so was at least playing to a proven strength.)
Still, by the time a glum-faced Sean Penn took to the stage well into the fourth hour to anoint Birdman the winner of best picture, with Iñárritu bounding for a third time in quick succession to the stage, the actor's sour expression said it all. You got the feeling everyone by that point was ready to call it a night.
Overleaf: see the full list of Academy Award winners
Who won what at the 2015 Academy Awards?
Best Picture: Birdman
Best Actress: Julianne Moore, Still Alice
Best Actor: Eddie Redmayne, The Theory of Everything
Best Director: Alejandro González Inarritu, Birdman
Best Original Screenplay: Alejandro González Inarritu, Nicolas Giacobone, Alexander Dinelaris, Jr. & Armando Bo, Birdman
Best Adapted Screenplay: Graham Moore, The Imitation Game
Best Supporting Actor: J.K. Simmons, Whiplash
Best Supporting Actress: Patricia Arquette, Boyhood
Best Original Song: "Glory" from Selma - music and lyrics by John Stephens and Lonnie Lynn
Best Original Score: Alexandre Desplat, The Grand Budapest Hotel
Best Costume Design: Milena Canonero, The Grand Budapest Hotel
Best Makeup and Hairstyling: Frances Hannon and Mark Coulier, The Grand Budapest Hotel
Best Sound Mixing: Whiplash
Best Sound Editing: American Sniper
Best Sound Effects: Interstellar
Best Production Design: The Grand Budapest Hotel - Production Design: Adam Stockhausen; Set Decoration: Anna Pinnock
Best Cinematography: Emmanuel Lubezki, Birdman
Best Film Editing: Tom Cross, Whiplash
Best Foreign Language Film: Ida (Poland), Paweł Pawlikowski, director
Best Live Action Short Film: The Phone Call, Mat Kirkby, director, and James Lucas, writer
Best Documentary Short Subject: Crisis Hotline: Veterans Press 1, Perry Film
Best Documentary Feature: CitizenFour, Laura Poitras, Mathilde Bonnefoy and Dirk Wilutzky
Best Animated Short Film: Feast, Patrick Osborne, director, and Kristina Reed, producer