The Pale Blue Eye review - telltale hearts |

reviews, news & interviews
The Pale Blue Eye review - telltale hearts
The Pale Blue Eye review - telltale hearts
Christian Bale's detective and a young Edgar Allan Poe investigate a haunted whodunnit in early America
Tuesday, 27 December 2022
Into the fog: Augustus Landor (Christian Bale) takes a case
Edgar Allan Poe fathered the detective genre as well as a school of Gothic horror, and Scott Cooper's adaptation of Louis Bayard's 1830-set novel acts as an origin story for the author and the whodunnit.
Augustus Landor (Christian Bale) is the prototype for the Rue Morgue murders' deducer, Auguste Dupin. He's a legendary, retired police detective, asked to solve a death at the West Point military academy in wintry upstate New York. The suicide verdict of Dr Marquis (Toby Jones) is swiftly altered to ritual murder then followed by a second, with hearts carved out of hanged bodies. Landor enlists cadet Poe (Harry Melling) to infiltrate the academy's Bullingdon Club-like elite of entitled, bullying posh boys, such as Marquis' son Artemus (Harry Lawtey). Poe is also enthralled by Marquis' daughter Lea (Lucy Boynton), prone to epilepsy and consumptive coughs. The highly strung Mrs Julia Marquis (Gillian Anderson, rigid with suppressed hysteria, pictured below right with Jones) completes a decaying, Usher-like clan.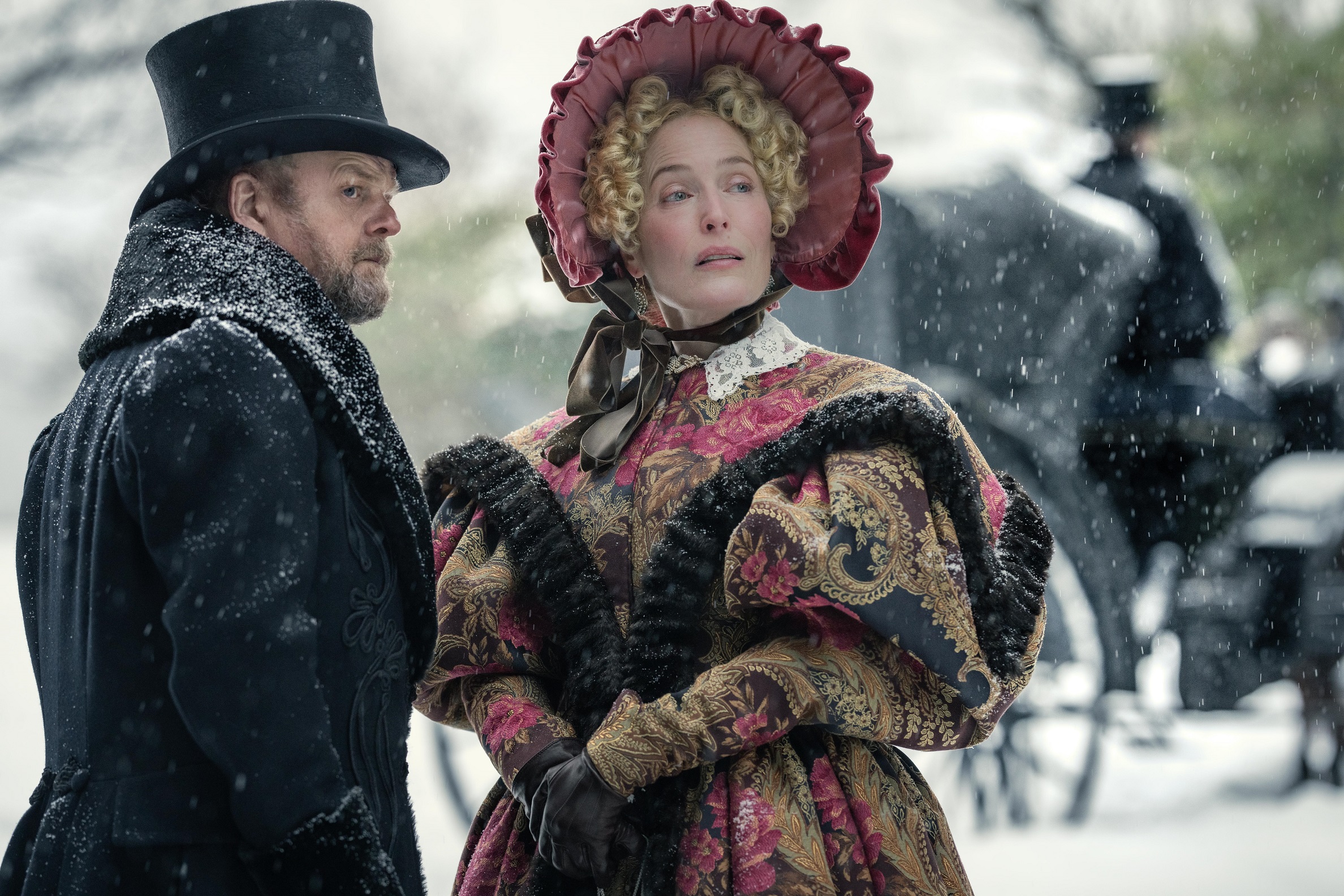 Landor is a widower living alone in the Hudson Valley's frozen wilderness, first seen at the river, trying to wash himself clean. His daughter is a mysterious absence, a runaway it's said; his confidante and lover is the local barmaid (Charlotte Gainsbourg). Poe gleefully recounts his former detecting fame, busting "the dreaded Shirt Front Boys" and other unlikely scourges of early Manhattan.
Bale and Cooper are friends outside of their three films together, and Bale gives the director a surprising performance. Landor is polite, with effort, even to authorities he has little time for. He is carefully kind in his manner, Bale's rasping rough edge rarely unleashed. The sense of covering a wound, of humbled civility preventing the ice cracking beneath his soul, is almost imperceptibly traced. Such fragility runs like a seam through Cooper and Bayard's characters, most touchingly in Toby Jones' initially authoritative doctor, undone by his own family's ills.
Young Briton Melling's Poe is a fine foil for the simmering, muscular Landor. Physically feeble and linguistically florid, he's lent flushed vigour by the prodigious drinking which likely contributed to his death in a gutter aged 40. "Morbidity fits you better than your uniform," Lea approvingly observes.
Timothy Spall and Simon McBurney as Landor's suspicious military employers and Robert Duvall's gruff occultist Jean-Pépé (pictured above left with Bale and Melling) add to a largely UK cast. Cooper wanted actors suited to America's still very British inflections, a half-century since independence. This care for detail is matched by studiously realistic sets and authentic period buildings, such as the dank icehouse setting for a grand guignol climax. You can almost touch the weave of the cadets' blue-grey uniforms, part of the fresh design of a nascent, precarious country.
The Pale Blue Eye is a soberly told Gothic whodunnit, laced with lurid sights which imprint themselves into Poe's future fiction, with a final twist which satisfyingly remakes everything and everyone we've seen. It continues Cooper's interest in damaged men and a slow-burning, questioning Americana, from Jeff Bridges' drunken country singer in his Oscar-winning debut Crazy Heart (2009) to his Bale-starring Western Hostiles (2017).
Early America is implicated in the mostly masculine evil in West Point's outpost, which feels like it could still vanish back into the snow and ice. Cooper the master craftsman's solid scenes and scenery may not always lose you in his recreated world. Still it exists, in mortar and manners. It's a whodunnit about a haunting, in a way, and the porous veil between the living and dead, embodied in the thick valley fog covering its crimes.
The Pale Blue Eye is in select cinemas now and on Netflix from January 6