Powell and Pressburger: Spy masters |

reviews, news & interviews
Powell and Pressburger: Spy masters
Powell and Pressburger: Spy masters
Though less renowned, Powell and Pressburger's wartime spy films put some of Alfred Hitchcock's in the shade
'Just whose side are you on?' Valerie Hobson and Conrad Veidt in 'The Spy in Black'
Alfred Hitchcock and Michael Powell are, almost certainly, Britain's greatest directors. Hitchcock was slightly older, and entered the film business earlier; in fact, Powell worked as a stills photographer on Hitchcock's Champagne and Blackmail, in the late Twenties, shortly before making his own films.
And by the time Powell had entered his partnership with Emeric Pressburger, with The Spy in Black, in 1939, "Hitch" was on his way to Hollywood; while his career became international, Powell's would, with the more English than the English émigré Pressburger by his side, remain resolutely British.
But Powell and Hitchcock have much in common: innovation, daring, individualism, a fondness for stars. And for a time, in the Thirties and Forties, there was a correspondence in their output that reflected the times: namely, spy films.
Hitchcock's best in this genre are the more renowned: The 39 Steps (1935, pictured below) and The Lady Vanishes (1939). The two made by Powell and Pressburger, The Spy in Black and Contraband (1940) may not reach those dizzy heights, but they are impressive, highly entertaining films and, in my view, are superior to Hitchcock's lesser spy films, such as Secret Agent (1936), Foreign Correspondent (1940) and Saboteur (1942). Whatever one's preferences, viewing these together, along with Hitch's The Man Who Knew Too Much (1934), illustrates the difference in the timbre of a film when the filmmaker is committed to the implied context – the fear and reality of war – and when one merely uses that context for entertainment.
Even though Hitchcock's early spy films were made in the run-up to WWII – when war was imminent – his spy trappings are merely early examples of his famous MacGuffins: irrelevant and easily forgotten, as romance, adventure and amusement take over. Even with the war underway, and he was directly alluding to it, the references were rote rather than heartfelt. Speaking to Francois Truffaut about Foreign Correspondent, Hitchcock described it as "pure fantasy" and, in fact, the film was so focussed on its inept reporter's lovesick meanderings that the final scene – in which he's actually doing his job, during the Blitz – rings horribly insincere. And despite the strong, quite terrifying opening of Saboteur, involving the bombing of an American factory, and Hitchcock's use of American fascists as his villains, the film quickly becomes a pale copy of The 39 Steps, with another manhunt, another bystander wrongly accused, another woman unwillingly along for the ride.
Much later, when referring to one of his greatest movies, Notorious (1946), Hitchcock underlined his contrary attitude. On the one hand, he had presciently (and perhaps with some secret information) alluded to the work at Los Alamos, when featuring uranium as the deadly secret of Claude Rains' exiled Nazis. And yet, he told Truffaut, "This wasn't the basis for the story, but only for the MacGuffin… Notorious was simply the story of a man in love with a girl who, in the course of her official duties, had to go to bed with another man and even had to marry him."
When on top form, Hitchcock's disinterest in the war-torn world outside the cinema doesn't matter. But in the others, the frivolity leads to a certain mediocrity. And when watching Powell and Pressburger's war films, including their two spy movies, this aberration in Hitchcock's work becomes more apparent. The key difference is engagement – put another way, the seriousness, even patriotic fervour of their films. The Spy in Black and Contraband are surely under-rated. And what elevates them above, say, Foreign Correspondent, is the way in which they engage with the real and brewing war around them. For the nascent Archers, this really was a matter of life and death.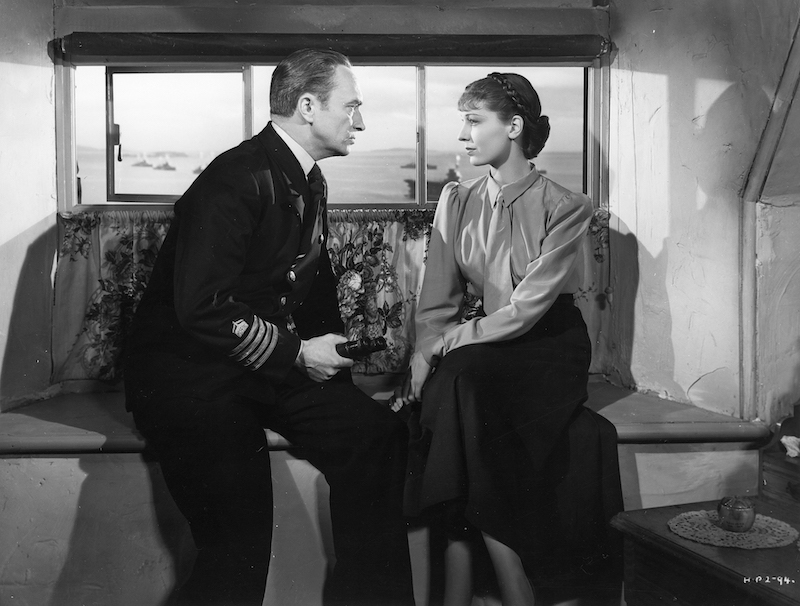 The pair first met on The Spy in Black, when Alexander Korda was trying to persuade the established Powell to take on the adaptation of the novel by J. Storer Clouston, as a vehicle for his house star Conrad Veidt (pictured above, with Valerie Hobson). The first script was unimpressive, but a young writer in the wings had something much more interesting, and Powell immediately responded to what he saw as, "a marvel: a screenwriter who could really write." Their partnership was born.
The Spy in Black was produced in early 1939, released by the time war was declared, and widely seen in the conflict's early weeks. Though set during the First World War, its premise was one that audiences could immediately engage with as topical.
It might also have been extremely challenging for English audiences, because of who the filmmakers chose to make their protagonists. Veidt plays Ernst Hardt, a German U-Boat captain, who is charged with taking his sub to the anchorage of Scapa Flow, off the Orkneys, then going ashore alone for a secret mission that involves sinking the British fleet. His contacts are a German spy in the guise of a schoolteacher (Valerie Hobson) and a disaffected, drunken English naval officer (Sebastian Shaw), who will provide the intel to lure the fleet towards the waiting U-boats.
Pressburger's newly-minted scripted goes as far as to open with a lively, light-hearted sequence in the Germans' own naval base, in Kiel, which introduces the genial, and conspicuously decent captain; while the Germans bemoan the absence of wholesome food during wartime, and the captain takes a paternal care of his chief officer, someone in wartime Britain may have scratched their heads with irritation or offence; more so, when the film moves to Britain, where the real teacher, a sweet young woman, is kidnapped and apparently murdered.
The scene is set for a thriller that is morally nuanced, caustically witty and increasingly tense, with a number of dark and spectacular plot twists that cast ahead to the worlds of Len Deighton and John le Carré. In short, it feels like a real spy film, and a genuine war movie; while the chemistry between Veidt and Hobson shares the flirtatiousness of so many Hitchcock pairings (at one point, the captain teases his accomplice by suggesting, "secret agent, such a comfortable profession"), romantic feelings here have consequences that they do not in the Hitchcock films, leading to a remarkably dramatic climax.
The chemistry between Veidt and Hobson is quite electric, which makes it no surprise that they would be reunited in Powell and Pressburger's next film together, Contraband (pictured below, Veidt and Hobson).
Though not quite as accomplished as The Spy in Black, lacking that film's taut seriousness, it nonetheless embraces World War Two head-on, in a way that has, at times, an almost documentary flavour. It's no accident that this film followed the propaganda film The Lion Has Wings, started the day after Hitler invaded Poland, on which Powell was one of three directors and which includes a paean to the apparent might of the Royal Air Force.
With Contraband, Pressburger has scripted from his original story, opening with a similarly propagandist hurrah for the Royal Navy's Contraband Control, on the Kent Coast, where patrol boats sought to ensure that neutral ships were not being used to smuggle goods to Germany. While this element of the story does give way to others, it's in no way a Hitchcockian MacGuffin.
In his autobiography, Powell recalled that, "Of equal importance [to giving the stars great parts] were the glimpses provided of England preparing for war." And he added: "I thrilled to my Kentish toes at the prospect of showing how my country, with her long and vulnerable seacoast and her defenceless harbours, was already taking the war against Hitler into what he had the cheek to call 'the German Ocean'. We both saw a chance to prove once more that films can be a weapon of war."
Veidt is again a sea captain, named Anderson, this time of a Danish merchant vessel, which is stopped in the Channel and held over for a night while the contraband team can make their report. Having struck a rapport with the Navy commander, Anderson and his first mate are invited to dine ashore. But before they can leave their ship, their landing passes are stolen by two passengers, Mrs Sorenson (Hobson) and Mr Pidgeon (Esmond Night). Having spent an entire afternoon flirting with Sorenson, the captain's nose is put out of joint – denied a romance and a good meal to boot, by a scandalous piece of cheek. He decides to go ashore, without his permit, and follow them.
And so the story shifts from sea to shore, from the coast to London, from light to darkness – to be exact, a blackout – and from an almost procedural account of Navy practice to a romantic spy yarn, as Anderson not only catches up with Sorenson, but finds himself taking on a German spy ring.
While the title Contraband spoke to the filmmakers' patriotic intent, the US title, Blackout, is more apt for the whole. And the scenes in London are the most memorable, an atmospheric depiction of a city putting the shutters down, the lights out, hiding away from the bombers above, while in the murk allegiances become confused and spies weave their webs.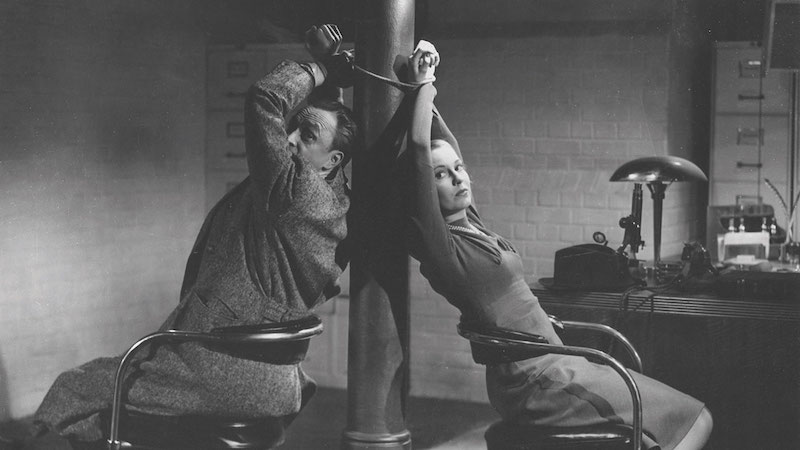 There are some terrific moments on the blackout streets, particularly one involving flashlights, with Sorenson proving herself more adept both on land and in the dark than her new companion; and shadow informs some of the key interiors. One standout scene sees Veidt and Hobson tied together on a column, eyeing the elevator and a surveillance camera while they try to free themselves, sexual frisson fizzing off the ropes that bind them; though the 24-year age gap is a stretch, Veidt and Hobson enjoy a frisky rapport. The scene makes one wonder whether Powell and Pressburger have seeded just a little iconography for the Connery-era Bond films.
Unfortunately, while the stakes of The Spy in Black were palpable, and efficiently plotted, here they are a little more in the Hitchcockian vein: too ambiguous and easily put aside, as the romance and pursuit is foregrounded, and the staff of a Danish restaurant, The Three Vikings, threaten to drown everything in bonhomie.
Then again, the context is never forgotten. The disappointment in appeasement is evoked during a chase sequence, in which our heroes stumble through a warehouse full of unsold plaster busts of Neville Chamberlin – finding one or two handy for bashing German spies. While amusing, it's difficult not to feel a certain pathos.
It's moments like this, when a film doesn't just satisfy an audience's wish for escapism, but speak to their real experience – their fears, frustrations, defiance, or the understanding of an enemy's shared decency – that elevates Powell and Pressburger's short but potent foray into the spy genre.
'The Spy in Black' and 'Contraband' are surely under-rated. And what elevates them above, say, 'Foreign Correspondent', is the way in which they engage with the real and brewing war around them
Share this article