Quest review - intimate documentary about a north Philly community |

reviews, news & interviews
Quest review - intimate documentary about a north Philly community
Quest review - intimate documentary about a north Philly community
Jonathan Olshefski's film takes us into the heart of an African-American family
The Quests: PJ, Christine'a and Christopher Rainey
Christopher Rainey, aka "Quest" – his hip-hop name – lives with his wife Christine'a and their young daughter PJ in north Philadelphia. Jonathan Olshefski's restrained, absorbing documentary follows this African-American family over almost a decade during the Obama years, starting with the 2008 election and ending with Trump's 2016 campaign, punctuated by Hurricane Sandy and the Newtown school shootings.
Quest and Ma Quest, as she's known, have plenty of back stories and grown children from other relationships, but "tired of the bullshit, the crap and people doing each other wrong" they've decided to commit to one another, even though they say they're complete opposites and don't even like the same TV shows (she likes CSI, he's a cartoon man). The film starts with their wedding, but their connection already has long-term strength.
The Rainey's community spirit shines through, against a background of red brick Philly row houses, bodegas, hair-braiding (Christine'a is never far from a comb and a head of hair that needs doing) and basketball courts. Quest runs a music studio in his house where kids from the neighbourhood can rap and record on Friday nights – he sees himself as planting seeds and letting them grow – and is a regular on a local radio show; Christine'a works in a homeless shelter for women and children. PJ (pictured below with Christopher "Quest" Rainey) wants to be a DJ and recorded her first song when she was three. "Could you go back to when you were about five because you were the coolest five-year-old ever?" her mother asks her. "I know," smiles PJ.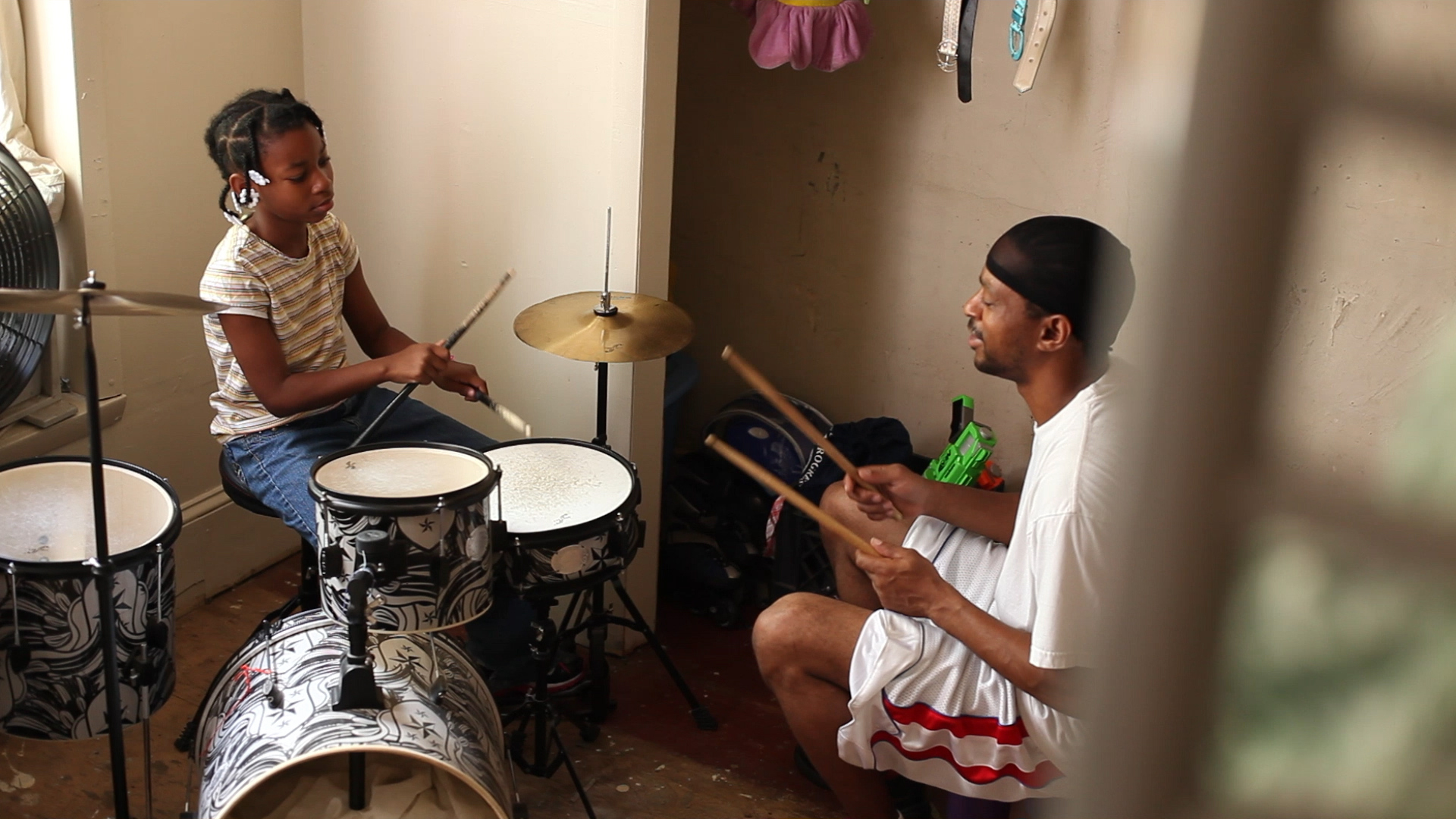 This is Olshefski's first feature and it is a tribute to his deep connection with the Raineys – and what must have been a mammoth editing process by Lindsay Utz – that the film unfolds with such grace over the years. The inevitable question is: why is a white man making a documentary about a black community? Olshefski was teaching a photography class near the Raineys' home when he met the family and his original plan was to promote the music studio, but as time went on they invited him to film more and more intimate moments in their lives – often very painful ones.
Christine'a's 21-year-old son William has a brain tumour, diagnosed after his girlfriend was pregnant, and both Raineys have happily taken over the care of their baby grandson while William undergoes gruelling radiation treatment (he gets a biohazard tattoo and feels like "infectious waste"). Quest hints at his own past addictions while trying to reason with his long-term music partner Price, who's struggling with drink and drugs and wasting his talent as a rapper. Their roof leaks badly, there isn't enough money for school supplies. But these set-backs are nothing compared to what happens to PJ when she's 13. She's caught in cross-fire when coming home from basketball practice and loses an eye.
This tragedy is handled with great sensitivity, and the family's quiet dignity makes it even more devastating. PJ's first words to her father, with blood running down her face, were "Daddy, I'm sorry for getting shot." "What do you say to that?" muses Rainey. Politicians, he tells a local TV news channel, come to the area to open casinos but there's nowhere for kids to go after school. "Anger, sadness, confusion… it's like a fire in my heart," says Christine'a. "It shouldn't have happened to her." But a block-party is organised for PJ's homecoming from hospital, with dancing and hot-dogs, though PJ's irritation with well-meaning, over-emoting neighbours is palpable. "They're making me think about my eye more," she says. She returns to the basketball courts, intent on getting her balance back and her jump-shots right.
The last moments show William in remission with his four-year-old son and PJ getting her hair relaxed for her graduation photograph. Trump is on TV. "What do you have to lose? It's a disaster how African Americans are living," he blusters on the campaign trail. "You don't know how we live," says Christine'a with her usual restraint. Olshefski's film is able to show us, and celebrate it.
The inevitable question is: why is a white man making a documentary about a black community?
rating
Explore topics
Share this article