The Reagan Show review - engaging but frustrating |

reviews, news & interviews
The Reagan Show review - engaging but frustrating
The Reagan Show review - engaging but frustrating
What starts as a compelling exploration of image politics quickly loses its way
Ronald Reagan: chucklesome out-takes and goofy staged scenes in a disappointing examination of image-making
The Reagan administration produced as much video content as the previous five administrations combined. That's the claim early on in The Reagan Show, an engaging but ultimately frustrating documentary compiled entirely from archive footage by co-directors Sierra Pettengill and Pacho Velez.
So remorseless was the administration's taping of carefully staged scenes or managed press conferences that it even got its own name – White House TV.
And if JFK was the first US president to harness the power of television, then Reagan was the first to embark on a concerted attempt to manipulate the broader media, to control and project a carefully crafted image in order to lubricate his use of power. He was the first showbiz president, in other words – a man who brought image-making to the centre of US politics.There are parallels with his earlier acting career, of course, which Pettengill and Velez nod to in a succession of cringeworthy clips from his movies of the 1940s and '50s, portraying Reagan as the smiling, all-American lawman, or the good-natured family guy unafraid to use his gun. When asked to comment on those connections in a 1980s interview, Reagan revealingly admits: "There are times I've wondered how you could do this job if you hadn't been an actor."
Even as a history of the Reagan years, the film feels lacking
If it's hardly a novel perspective on the US presidency, it's nonetheless a compelling one, and one that's especially timely in today's brutal political wars across an ever more complex media and online landscape.
The problem is that, after an opening exposition setting out its stall, and after a few goofy staged scenes and chucklesome out-takes, The Reagan Show suddenly swerves sideways. Instead of an examination of Reagan's image politics, what we get is essentially a history of the Reagan and Gorbachev (pictured below) arms reduction talks, told through breathless news reports. It's interesting enough, but about half an hour into it you start to wonder: wasn't this movie supposed to be about something else?
There's the suggestion that in the smiling, charming Mikhail Gorbachev, Reagan had met his media-manipulating match, but even that's never picked apart in any depth. And even as a history of the Reagan years, the film feels lacking. The Iran-Contra affair gets a brief moment in the spotlight, but where's any mention of Grenada or Afghanistan, Lebanon or Nicaragua?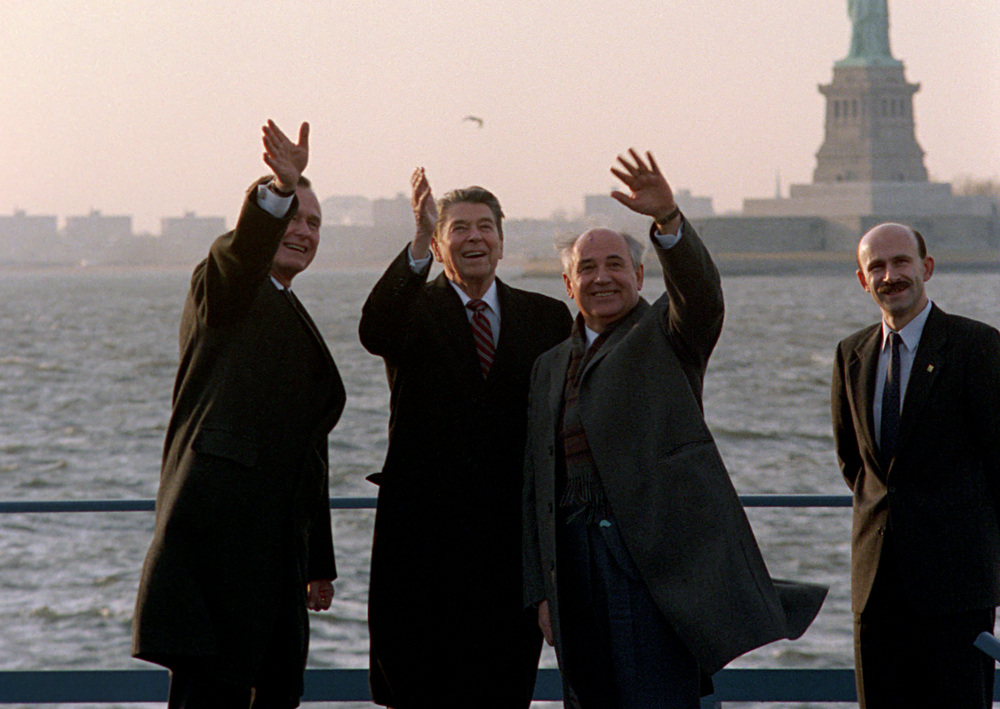 There's little discussion, either, of the divisions within domestic American society that Reagan caused, nor of the uncanny phenomenon of a political figure who – through his canny exploitation of image – could still inspire trust and admiration in those who abhorred his policies. And by restricting themselves entirely to White House TV footage, along with news reports from the times (predominantly so in the film's second half), Pettengill and Velez in fact prevent themselves from peeping behind the façade at the puppetmasters who defined and maintained Reagan's image.
From the perspective of the crass ravings of today's US leader, The Reagan Show feels like a nostalgic look back to simpler, more courteous times. But nevertheless it's a frustrating wasted opportunity to dissect the crucial importance of image to one of the late 20th Century's most influential political figures. And showing Reagan floundering over the pronunciation of a Republican senator's name – complete with kooky background music – doesn't make up for the film's serious lack of insight.