The Shape of Water review - love in a Cold War climate
The Shape of Water review - love in a Cold War climate
Guillermo del Toro's creature-feature fable is a fine romance
Wednesday, 14 February 2018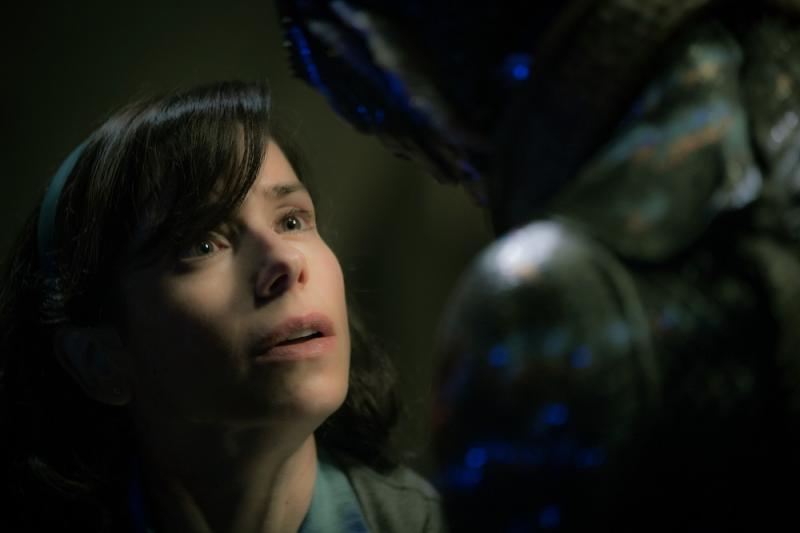 Sally Hawkins in 'The Shape of Water'
Guillermo del Toro has laid down markers as a wizard of the fantastical with such previous works as Pan's Labyrinth and Crimson Peak (though we'll skate nimbly around Pacific Rim), and now he has brought it all back home with The Shape of Water, as its 13 Academy Award nom
inations might suggest. It's a film that doesn't want to be categorised, but it's no trouble at all to lose yourself in its swirling currents.
In outline, it's a Cold War monster movie mashed together with an unearthly love story, alchemised by an infatuation with old Hollywood. Del Toro's main human protagonist is Elisa Esposito (Sally Hawkins), who lives above the vintage Orpheum picture house in Baltimore and takes the bus every evening to the sinister Occam Aerospace Research Center, where she works as a cleaner. It's paranoia-laden 1962 (the year of the Cuban missile crisis), and the Occam Center is a warren of cranky-looking gadgets, wires, tanks, dials and cables with which teams of boffins aim to concoct weaponry to combat the Russians. The latter now have spacecraft to go with their nuclear arsenal.
Elisa, who's been left mute by a childhood accident, nonetheless enjoys a close relationship with her fellow-cleaner Zelda (Octavia Spencer), as well as with her next-door neighbour Giles (an eccentric but benign Richard Jenkins). He's a veteran advertising illustrator now devastated to find his painstaking drawing style is obsolete and he's being put out to grass.
Zelda and Elisa are less than impressed with the arrival at the facility of Colonel Richard Strickland (a mean and macho Michael Shannon, pictured above with Hawkins and Spencer), a hard-assed military super-hawk right out of Dr Strangelove's gallery of war-freaks. To the women's disgust, Strickland likes to urinate with his hands on his hips and never washes his hands, a devastatingly effective clue to the nature of the man.
Strickland is in charge of a special project, involving a mysterious creature known as "the Asset". Elisa first becomes aware of it after hearing bloodcurdling screams emanating from the tank in which he's kept. She finds a way to sneak in to visit the mystery guest, who proves to be an exotic aqua-man from the Amazon (said to possess god-like powers). Played by the imposingly tall Doug Jones, the amphibian is a strangely sexy and athletic-looking beast, with big luminous eyes over which delicate eyelids flick laterally.
Strickland's "research" on the creature is little more than cold-blooded sadism involving an electric cattle-prod, but Elisa finds a way to his heart with gifts of hard-boiled eggs, and they bond using a mix of her sign language and his intriguing underwater noises, to a soundtrack of Glenn Miller and Benny Goodman. The magic of the piece is the way she wordlessly blossoms, seemingly lit from within, as it becomes clear that her destiny is somehow entwined with the creature's. She was, we learn, a child found beside water, and her mystical connection to good old H2O is evoked by her daily bouts of bath-time masturbation.
It's a fable for the misfits and outcasts, as Elisa and her team try to figure out a way to free Amphibian-man from the cruel bondage of the military-industrial complex (and, by extension, the bigoted and illiberal society it has fostered). There's excellent work, as there usually is, from Michael Stuhlbarg as Dr Robert Hoffstetler, a humane scientist struggling with divided loyalties, while Jones works wonders in locating the inner beauty in the beast. There's darkness here, but del Toro lets us see the light.