Super |

reviews, news & interviews
Super
Super
Biff! Pow! America's infantilised obsession with superheroes turns nasty
'Super': Ultimate loser Frank (Rainn Wilson) turns himself into wrench-wielding vigilante the Crimson Bolt
If you had a quid for every time a nerdy character in a contemporary comedy made reference to Star Wars, in particular to the gnomic wisdomous utterances of Yoda, you'd be richer. Maybe not as rich as George Lucas. But it happens. It happens a lot. A country short on mythology sources its gods and heroes in kiddie lit and stores them in the toy box. Over here we've got Homer.
Over there they've got
Marvel Comics
. And this is how misguided films such as
Super
, films which have no idea how infantile they are, come to exist.
There's nothing intrinsically unsound about a postmodern ironic treatment of the comic-book superhero. The Incredibles is for my money the best of Pixar's adventures this side of Toy Story. I was even moderately partial to last year's self-referential superpower-fixated Megamind. Super picks up the ball marked "inside we're all superheroes" and runs with it into a dark place. You may not wish to follow. I certainly wish I hadn't.
The plot can be summed up fairly briefly. Boy gets girl. Boy loses girl. Boy dresses up as superhero and hits a lot of bad people over the head with a wrench. Ha ha. The boy in this case is ultimate loser Frank (Rainn Wilson), a diner chef who has a far closer resemblance to a jowly cube-faced Garrison Keillor than, say, Bruce Wayne or Clark Kent, even before they've pulled on the cape/underpants. That's partly why his recovering crackhead wife, the ever lovely Liv Tyler, steals off with a cocksure druglord played by Kevin Bacon. But Frank is something of a fantasist - he has frequent and lurid psychedelic visions - and acts on one of them to turn himself into an avenging vigilante operating under a masked guise as the so-called Crimson Bolt. His motto? "Shut up, crime!" Only problem is his early weaponless forays leave him exposed to retaliation. So he takes to cracking people's heads open with a wrench.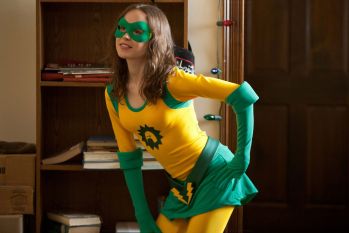 The first time it happens it's funny. The longer the campaign of violent reprisal continues, it calls to mind an interview I once did with Alan Ayckbourn. He was discussing one of his plays which ends with a murder. A German director had rung the playwright with an intriguing question. "He said, 'How many times do you bang his head to make it not funny.' I said, 'Oddly enough, seven.' He said, 'Really? We are doing only three.' I said, 'Oh no, that's not convincing. Seven. They laugh on one, two and three, they're giggling at four, five they're beginning to think, fuck, what's going on? Six. Oh no!'"
Super is a film for people who are still laughing on seven, eight and nine. And 20. Blood gushes and dribbles, wounds gape, bodies explode, and in the midst of it all there is the ickiest sex scene imaginable, featuring the Crimson Bolt and his elfin sidekick Boltie, who works in a comic-book store and has an even more infantilised relationship with violence. As played by Ellen Page (pictured above) at her least knowing and most Tiggerish, I can't say I was too thrown for a loop when she loses half her face in the climactic showdown. (Sorry, forgot to do a spoiler alert there.) The irritating hyper-bounciness can probably be attributed to a good actress's intuitive realisation that the script hasn't given her enough to work with.
Writer-director James Gunn took a number of years getting the film afloat, then, when the green light came, wrote it at speed. He doesn't seem to have spent either the years or the days working out precisely what he wants to say about the meaning of heroism, super or otherwise, and America's desensitised obsession with violence as entertainment. The characters don't amount to diddly squat. The damp-squib epilogue says it all. Gunn refuses to muster even a glimmer of wish-fulfilment to console his battered audience. I can't remember the last time a putative comedy left me feeling quite so soiled.
Don't be misled by the trailer to Super