The Green Hornet |

reviews, news & interviews
The Green Hornet
The Green Hornet
The 1930s superhero is exhumed with a bang and a nod and a wink
Wednesday, 12 January 2011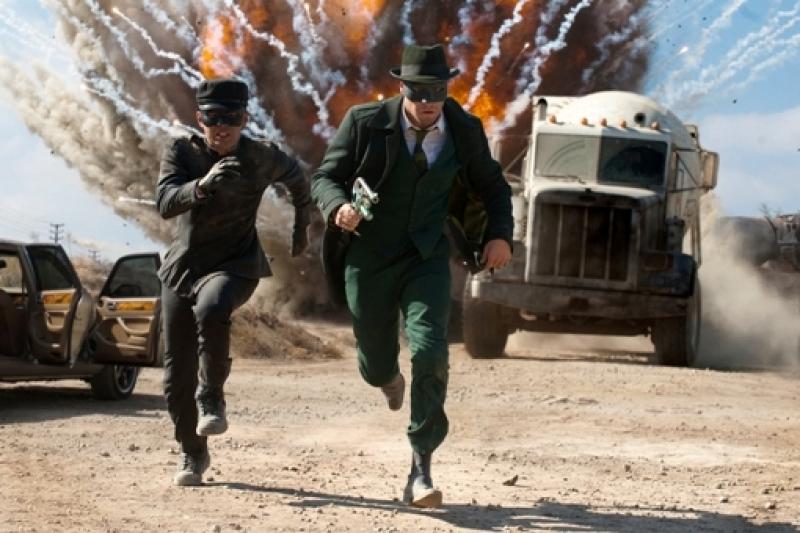 Comic-book zeroes? Jay Chou and Seth Rogen as Kato and the Green Hornet
The multiplatform franchise might sound like a modern concept - the film that leads parallel lives as video game, TV spin-off, T-shirt and toy. But no, 'twas ever thus. Entertainment moguls have always known how to squeeze every last dime out of a popular hit, none more than The Green Hornet. Created in Detroit as a radio drama in 1936, it has buzzed across the decades and the genres, from film to comics to television to fiction and back to comics again.
It's now returned to the big screen with a bang. And a nod and a wink.
The Green Hornet was conceived as a different kind of superhero. By day he was Britt Reid, a wealthy newspaper magnate, by night a masked vigilante who worked doubly undercover: not only did he and his oriental sidekick Kato shroud their identity, they also let the rumour spread that they were bad seeds. But in 1936 that was as far as the ironic narrative layering went. The Green Hornet's progenitors cannot have envisaged that one day their hero would undergo a full postmodern makeover which comes courtesy of, principally, co-scriptwriter and star Seth Rogen.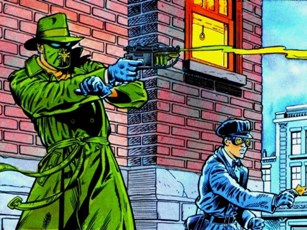 Rogen's back history as an Ali G gagsmith and associate of Judd Apatow brings a whole new sensibility to comic-book characterisation. New, that is, if you haven't seen The Incredibles, Megamind and just about any recent animated entertainment which knowingly gifts the superhero figure with flaws and anxieties. As reimagined by Rogen, The Green Hornet is entirely bereft of heroic qualities, or even redeeming ones, though of course it's one of his failings that he doesn't know that. And in that gap – between his perception of himself and yours - is where the joke is. Or should be.
We meet young Britt as a slacker-dude party animal who, loathing his father (Tom Wilkinson), is unmoved when he drops down dead from a bee sting. Reid Jnr has no interest in taking over The Daily Sentinel and brattishly fires all his domestic staff, but he is soon forced to rehire the guy who makes his unimprovable morning coffee. In the original radio series Kato was of Japanese extraction, an ethnicity he quietly shucked during the war years. Here, as played by Taiwanese musician, actor and, apparently, expert chop sockyist Jay Chou, he hails from Shanghai.
Perfect coffee is not the only thing Kato can knock up. One night when they're out beheading Britt's father's memorial statue, they get sucked into a gang mugging and Kato whups every ass on the sidewalk. Back at base he also turns out to be a whizz with fortified supercars, mobile firepower, gas guns, time deceleration and such like. The usual. The only thing he can't do is swim.
Within seconds the two have become self-appointed street-sweepers whose ultimate aim is to bring down the city's criminal capo di tutti capi, a charisma-free badass with an unpronounceable name played by Christoph Waltz (pictured below), whose dubious reward this role is for shining so brightly in Inglorious Basterds. Meanwhile Britt uses the newspaper and the guidance of his newly appointed brainiac secretary to orchestrate public opinion. Cameron Diaz gives it her best comedic shot as the female co-lead in a film which can't quite gussy up an interest in the existence of the non-male gender.
The Green Hornet has two main ingredients. One of them is orgiastic levels of computer-generated crash and crunch, slap and slug. One or two of the dust-ups are satisfyingly choreographed, above all the one in which Kato and Britt have their mid-movie fall-out. Kato being a thin, humourless reincarnation of Bond's gizmo supplier Q, for kit fetishists there are also plenty of opportunities to shoot wad.
The other ingredient is a script which, knowing straight superheroism to be moribund, cocks its eyebrow the way dogs cock legs. In this world of comic-book postmodernity, heroes and villains are in a perpetual state of negotiation about what's cool and what's scary, who's badder and who's slicker. It works best in conference at The Daily Sentinel, when senior editors vacillate between Green Bee and Green Hornet for the new superhero's handle. But after an hour of semantic quibbling you start to hanker for an unadulterated pre-ironised dose of 1936.
In short, 15-year-olds will have a ball, so long as they're not female. Chou has all the moves and flings himself about the place entertainingly. As for Rogen, it's hard to tell whether he is playing charmless or just plain is. It's even harder to credit that director Michel Gondry once made Eternal Sunshine of the Spotless Mind. From a film titled by Alexander Pope to this? As Rogen says after the Green Hornet's first nocturnal escapade, "When they adapt it into a movie, I would see the shit out of it." Well, he got one word right.
Watch the trailer for The Green Hornet
It's hard to tell whether Seth Rogen is playing charmless or just plain is
Explore topics
Share this article