Take This Waltz |

reviews, news & interviews
Take This Waltz
Take This Waltz
Sarah Polley directs Michelle Williams in a refreshing, bittersweet romance
Wednesday, 15 August 2012
Love hurts: Michelle Williams and Seth Rogen trade joy for heartache in 'Take This Waltz'
The great Leonard Cohen has brought his trademark poetry and pain to a whole host of film and TV soundtracks: the cynical "Everybody Knows" accompanied the bump and grind of Atom Egoyan's Exotica; the raggedly beautiful "Hallelujah" brought soul to Watchmen and best of all is his melancholic musical backdrop to Altman's heartbreaking McCabe & Mrs. Miller.
In fact we've already seen one film this year take its title from a Cohen song –
A Thousand Kisses Deep
. This time it's the wooziness of 1988's "Take This Waltz" that provides the inspiration, as Canadian actor-turned-writer/director Sarah Polley follows up 2008's Oscar-nominated
Away from Her
.
Take This Waltz is a film with a sunny disposition which doesn't shy away from sadness. The song's lyrics are a loose translation of "Pequeño Vals Vienés" (Little Viennese Waltz) by the poet Federico García Lorca (after whom Cohen named his daughter, Lorca). Polley listened to it repeatedly whilst penning the screenplay and its tragic-romantic headiness has informed her film. Like Away from Her, Take This Waltz is deliciously sensorial and quietly devastating; it's a story of temptation and the ensuing turmoil.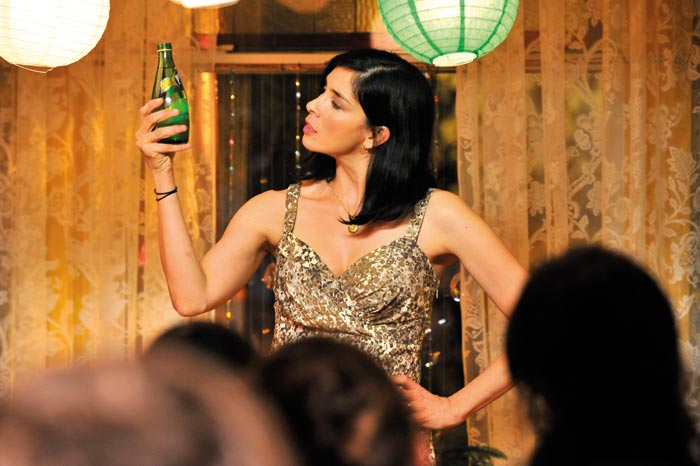 Michelle Williams plays 28-year-old copywriter Margot. She's married to the affable Lou (Seth Rogen), a cookbook writer and the embodiment of a male comfort blanket. At first glance the two appear close and contented, settled as they are into a routine of practical jokes, comfortable silences and baby-talk. They're part of a loving, pleasantly raucous family unit, which includes Lou's recovering alcoholic sister Geraldine (stand-up comic Sarah Silverman, pictured above right) who's a friend to Margot without letting her forget that she's looking out for Lou's interests. When Margot meets and makes a connection with a stranger, Daniel (Luke Kirby, pictured below left with Williams) while on a work trip it should be a harmless flirtation but, on returning home, she discovers Daniel is a neighbour - temptation it seems lies dangerously on her doorstep.
As with Away from Her, Polley (a terrific actress herself) draws a performance of formidable honesty from her female lead – there the experienced, still luminous, Julie Christie, here the ever-exciting Michelle Williams. This is a portrait of adulterous love, coloured by the restless Margot's own feelings rather than moral judgement, wrapped up in a cheerful "fruit-bowl" aesthetic and set against a Toronto summer. It captures the giddiness, the sensuality and senselessness, without forgetting the gut-wrenching guilt and catastrophic consequences. However, it is also shows us - through a depiction of Margot's relationship with Lou - a side of relationships rarely seen on screen: the unglamorous but loving side, the bit in-between the drama of a courtship and the breakup, the in-jokes, the playfulness, the idiocy.
Taken as a whole, Polley's film is surprisingly breezy and vital, though there are occasionally missteps. Margot's fear of airport connections smacks of a writer's device and Rogen, though likable, shows limited range when required to up his game for emotional sequences. Then there's the familiar: the last gasp dash for love, a swimming pool hook-up and an alcoholic's wisdom. Yet Take This Waltz is more inclined to satirise or invigorate these clichés – for instance a giddy trip on a fairground ride set to the strains of "Video Killed the Radio Star" is undermined by a humorous crash to earth when mundane reality is revealed. It's also very funny – a water aerobics sequence in particular stands out - and there's a refreshing approach to sex and nudity which features sometimes explicitly, but in a very natural, plot-relevant way.
With Take This Waltz Sarah Polley reminds us that while she might not be a radical filmmaker she's a unique voice with remarkable sensitivity, capable of eliciting extraordinary performances from her leads, and the fearless Williams continues to impress. Avoiding the more maudlin or sleazy approach which usually characterises films of this ilk, Take This Waltz is frank, delicate and gorgeous and, most importantly of all, it rings utterly true.
Watch the trailer for Take This Waltz
Take This Waltz is deliciously sensorial and quietly devastating
rating
Explore topics
Share this article