theartsdesk at the 2010 London Film Festival |

reviews, news & interviews
theartsdesk at the 2010 London Film Festival
theartsdesk at the 2010 London Film Festival
Most intriguing for the films that would never otherwise be shown here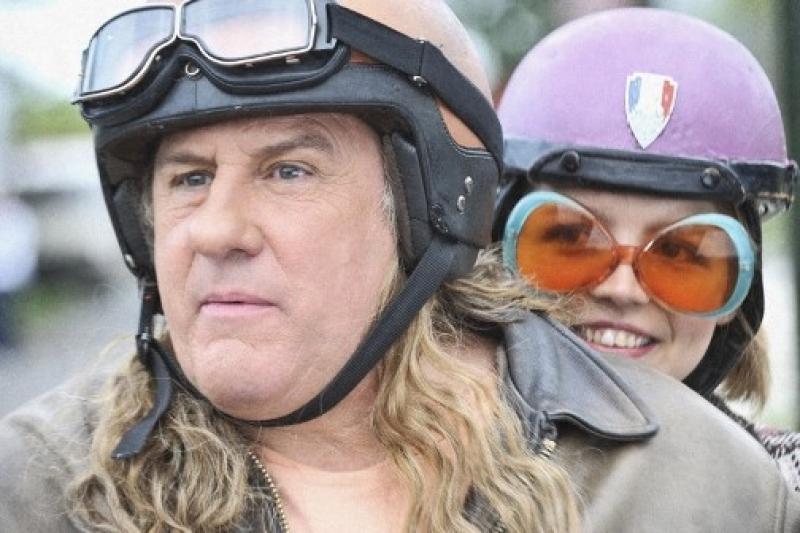 Gérard Depardieu in 'Mammuth': 'Like late Brando, with the fire still lit'
Danny Boyle closed 2010's London Film Festival, as he did 2008's, and picked up a British Film Institute Fellowship to boot. His 127 Hours had at least one person I know covering her head with her coat during its already infamous auto-amputation-by-penknife scene, though it falls far short of Boyle's previous triumph with Slumdog Millionaire.
This hardly matters at a festival which, while derided by film journalists for its lack of global premieres, again gave Londoners like me two weeks to be lost in cinema.
No one will start 127 Hours without knowing its true story. Aron Ralston is a 28-year-old who, while shimmying through an isolated canyon in Utah in 2003, falls with a half-ton boulder on his arm and, over the next five days, realises he must saw it off with a blunt penknife. James Franco gives Ralston a rough, masculine charm, but he also recalls Timothy Treadwell, the bear-loving, bear-eaten hero of Werner Herzog's Grizzly Man, in his hubristic preference for raw nature over crowded humanity. As with the similar predicament of Touching the Void's stuck mountaineer, sympathy is tempered by knowing this privileged young man has put himself in harm's way. Boyle and Simon Beaufoy's screenplay admits as much when Ralston declares, "It was me. I chose this." But really, Boyle is in unquestioning sympathy with his thrill-seeking hero. "Choose life," Ewan McGregor's Renton wryly demanded in Trainspotting, and Ralston undeniably does, squeezing the juice from each second.
Watch the 127 Hours trailer:


127 Hours is flawed by Boyle's populist instincts, which turn his claustrophobic, static story into a swift thrill ride. The camera shakes in premonition as Ralston touches rock which creeps with fleshy life, seconds before he slips and is trapped under it. Boyle doesn't trap us with him. Ralston stayed all but immobile down a canyon for five days, but Boyle is hardly still for five seconds, as he zooms and fast-cuts through a lean, flashback-filled 94 minutes. Ralston lasted 127 hours, Boyle doesn't trust us for two. Even the arm-sawing scene, which will give the film fairground box-office appeal - can you take it, ladies and gentlemen? - is a brief anti-climax. Boyle suggests the electric shock of each vein and tendon pinging, but it hardly seems to hurt or inconvenience his hero. The moment when he stumbles back into the arms of other people, poundingly scored by Slumdog Millionaire's composer A R Rahman, briefly matches that film's exultant emotion, which no other current British director taps. Boyle deserves his fellowship, but has lost trust in his material and audience here.
The same night Boyle received his prize, the LFF's Best Film Award went to Russian Alexei Popogrebsky's How I Ended This Summer. Its set-up has the simplicity of a folk tale. An older man and a younger man (pictured right) work alone at an Arctic weather station. One day, the younger man is told on the radio that the older man's beloved family have died. But he doesn't pass on the news. Don't you want to know what happens next? Popogrebsky converts the looming consequences of the boy's mistake into a primal confrontation between youth and experience at what might as well be the end of the world - which, in Russia's partly radioactive Chukotka district (the isolated fiefdom of Roman Abramovich), is where this film was made. It grips like a thriller, and quiet wisdom grows from its story.
Distributors increasingly use the LFF to push imminent releases, meaning many of its other marquee films either opened during the festival - Carlos, Africa United, The Kids Are All Right - or are about to. Of these, Another Year is one of Mike Leigh's most magisterial studies in human discomfort and failure; Cannes's Palme d'Or winner Uncle Boonmee Who Can Recall His Past Lives is master Thai director Apichatpong Weerasethakul's tale of death, reincarnation and sex between a princess and catfish, told with the logic of magic, faith and dreams; and Cannes' other big hit, Michelangelo Frammartino's Le Quattro Volte, is the weirdest chapter yet in Italian cinema's recent renaissance, a gnomic comedy of seasonal change in a mountain village. George Clooney's assassin in Anton Corbijn's highly anticipated follow-up to Control, the chilly Euro-thriller The American, might have been better off with Frammartino's goats than the deadly, sexy company in his rustic Italian bolthole. All will be reviewed on theartsdesk as they arrive.

The LFF's great value, though, is in screening films from around the world for perhaps the only time in UK cinemas, often presented by their directors. John Sayles's Amigo addresses one of America's earliest colonial conflicts - the 1900 quashing of Filipino resistance after their "liberation" in the aftermath of the Spanish-American war. With films such as Matewan, Sayles has majored in low-budget, left-wing historical epics about the black spots in his country's past. Shot with grubby authenticity in the Philippines, this lets parallels with Iraq speak for themselves, and is scrupulously fair-minded to occupiers, guerrillas, and those caught in between. It's an exciting, atmospheric war film which shows how war corners and crushes innocents.

Watch the Amigo trailer:
Sayles himself stepped up afterwards, a rangy, plain-speaking man straight from one of his own revisionist westerns. A young Filipino in the audience explained to him how the war had been excised from his country's history books; Sayles noted that Kipling coined the phrase "White Man's Burden" to encourage America in it. Short of Sayles knocking on your front door to give a Director's Commentary, it would be hard to get more personal service.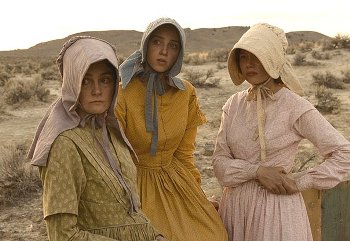 Mumblecore, the major recent US indie trend, spoke up at the LFF, inflecting its deeply understated, low-dialogue slacker ethos with genre vim. The hip north-west city of Portland, Oregon is the movement's epicentre, and Kelly Reichardt, director of its archetype Old Joy, has wound back to Oregon Trail days for the simmering, spare Western Meek's Cutoff (pictured left). Aaron Katz (Quiet City) has meanwhile made Cold Weather about a Raffles-reading college dropout working in an ice factory and living with his sister, who helps him investigate his ex's disappearance. It has the ambling charm of Woody Allen's Manhattan Murder Mystery rewired for half-bright 1990s hipsters hitting middle-age. Katz told amusing tales afterwards of making his film for "a couple thousand dollars", possible as in Portland he could get interns to turn away cops, who watched unconcerned while he slashed car tyres in the streets he'd just illegally blocked off. Next up? "A werewolf buddy cop movie. I'm serious…"

The best of the documentaries I caught was Fire in Babylon. This is cricket's When We Were Kings, with the brilliant and terrifying West Indies team of the 1970s and 1980s as its apt equivalent to Ali. The British colonial past of its protagonists means cricket is always about more than a game, and director Stevan Riley puts copious bone-crunching action of fast bowlers sending helmetless batsmen to the hospital in a context of British inner-city racism and riots, the West Indies' desire to thrash the "motherland", Rastafari, and the treacherous financial lure of apartheid South Africa. Ex-captain Viv Richards wisely lapses into deep patois when recounting what Bob Marley, visiting the dressing room, told him to do to England: we see the grisly results. Just as you didn't have to be interested in boxing to watch When We Were Kings, Fire in Babylon brings cricket's greatest team to universally vivid life.
Watch the Fire in Babylon trailer:

Of the many rock docs this year, after the triumph of Julien Temple's Dr Feelgood film Oil City Confidential last year, I only saw The Ballad of Mott the Hoople, which in its meat-and-potatoes approach to Ian Hunter's swaggering "All the Young Dudes" hit-makers shows how good Temple is. Lemmy, a reputedly hilarious year in the life of Motörhead's indestructible, unrepentant singer, is more likely to reach cinemas.
Depardieu's gigantic body and presence, and shameless, rough humanity are worth watching anywhere you can right now

France offered a couple of mildly controversial films. Antony Codier's Happy Few follows at first civilised partner-swapping between two Parisian couples, and the eventual, inevitable fallout, taking in some genuinely erotic moments and group sex in self-raising flour, without arriving anywhere surprising. Mammuth isn't the best of Gérard Depardieu's recent sequence of late-period hits (that would be Claude Chabrol's feather-light and profoundly sad final film Inspector Bellamy, at last year's LFF and shamefully still unreleased here). But the actor's gigantic body and presence, and shameless, rough humanity are worth watching anywhere you can right now. He's like late Brando, with the fire still lit. It's hard to imagine any other equivalent American star playing a long-haired pensioner who engages in naked (out of shot) mutual masturbation with his cousin, as Depardieu does here, and a screening at the Cine Lumiere drew belly laughs from a largely French crowd.

The most exhilarating surprise of this year's festival for me was another iconoclastic Frenchman. I've steered clear of Jean-Luc Godard for a shamefully long time, but was blown away by Film Socialisme. As has largely been the case by reputation since I stopped paying attention - somewhere after Weekend (1968) - there's no real narrative. Instead there are three sections, centring on an ocean liner, a rural petrol station and great, allusive chunks of old film. Themes include Palestine, the 20th century and its holocausts, Jews, Hitler and Hollywood, and the whole film sometimes seems a mournful, furious farewell to the conflicts and desires that defined Godard's post-war generation of film rebels.
Watch the Film Socialisme trailer:
His alertness to the 21st century is shown in gorgeous HD video footage of the liner at sea, and riffs on YouTube (the audience obediently laughed as one when a kitten doing funny stuff popped up). The jarring breaks in sound and vision he jabs our attention with put the internet experience on the big screen. The most pleasant surprise is how funny it is. The characters at the garage, including a young boy in a red CCCP T-shirt who barks, "Make fun of Balzac - I kill you!" could have wandered in from the primary-coloured, playful scenarios of agitprop and slapstick in Godard's late 1960s films.

The final section revisits Battleship Potemkin's Odessa Steps sequence and John Ford westerns, and Film Socialisme has the spectacle and sensual pleasure of cinema when it was young. A century in, we speak its language more fluently than we think, and I quickly stopped missing the moorings of plot or language (with typical impishness, Godard has written his own subtitles in "Navajo English", brilliantly compacting Balzac, Beckett etc into contradictory, wise epigrams: "Blackbox Hollywood…tomb of the prophets"; "bring back duration"; "loss reality flagrant"; "ideas divide dreams bring closer"…) Godard still loves cinema as much as when he first fell for it. That's obvious from Film Socialisme's sheer beauty. "Think hard what you fight for might obtain it" goes one subtitle. He remains a stubborn, undefeated rebel.
My festival finished with a more modest treat, Bow Bells and Waterloo Sunsets (pictured right). This BFI compilation of three post-war docudrama shorts included a cheeky young boy's visit to the 1951 Festival of Britain, where London's newly built concrete Southbank Centre gleams with possibility in black and white. There were pleasurable chuckles from older audience members as cinema resurrected a London they remembered. There were hints of harshness too in bombed ruins and rubbish, and gnarled flat-capped Victorians, fags stuck between middle fingers, in a 1964 docklands pub. Ironic commentary came from cockney music hall songs even I, aged 43, had passed down by my grandparents. Having travelled its usual worlds of possibility, the London Film Festival ended up coming home.
Ralston stayed all but immobile down a canyon for five days, but Boyle is hardly still for five seconds
Explore topics
Share this article