Three Billboards Outside Ebbing, Missouri review - Frances McDormand is on fire |

reviews, news & interviews
Three Billboards Outside Ebbing, Missouri review - Frances McDormand is on fire
Three Billboards Outside Ebbing, Missouri review - Frances McDormand is on fire
Martin McDonagh's third film is an unmissable tragicomedy
Wednesday, 10 January 2018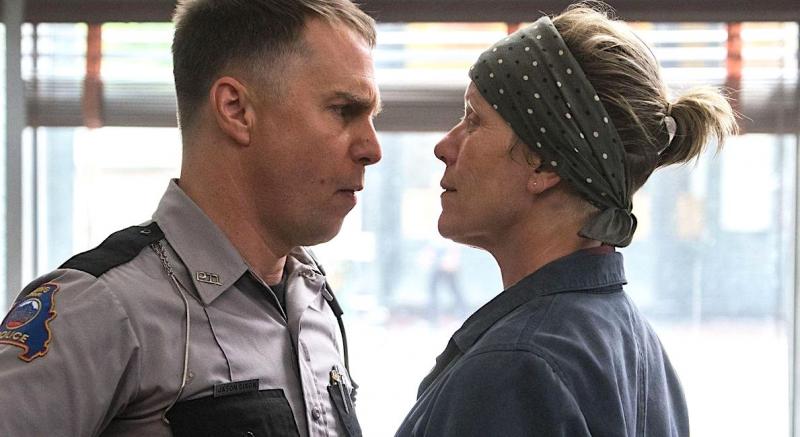 The performances shimmer with conviction: Sam Rockwell as Jason Dixon and Frances McDormand as Mildred Hayes
It probably won't take long for the title to be sawn in half. Three Billboards Outside Ebbing, Missouri will become casually known as Three Billboards and its specific location will drift into a vaguely remembered background. The place name is of a piece with Martin McDonagh's previous visits to half-mythical places: Inishmore, Inishmaan, Leenane. Ebbing is everywhere and nowhere, a no-account small town in the faceless epicentre of the Midwest where a teenage girl can be raped and murdered and nothing much will be done about it.
The eponymous billboards are stationed on the quiet country road where Angela Hayes died. Seven months on the police have made no arrests, so to get them - and the local media - to notice, her mother Mildred Hayes (Frances McDormand) pays for advertising space and plasters three posters on the billboards. They read: "Raped while dying", "And still no arrests?", and "How come, Chief Willoughby?"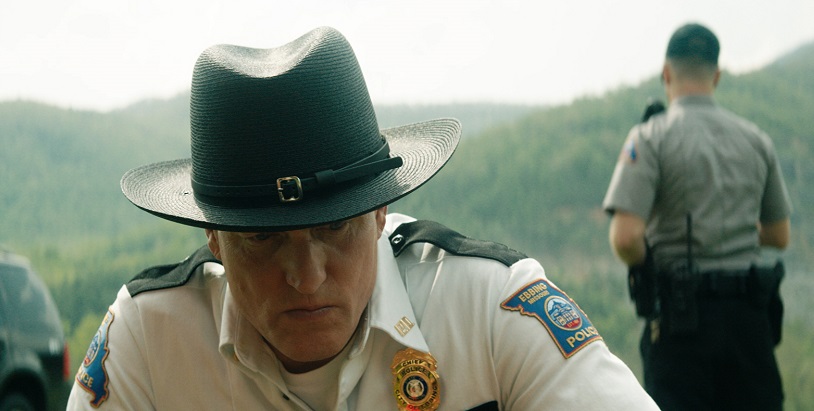 Sheriff Bill Willoughby (Woody Harrelson, pictured above) readily snaps to attention, which doesn't necessarily appear to be a good thing. He seems at first to be from redneck central casting, enunciating obstructive platitudes with a slow suspicious drawl. But he's nothing to the gallery of narrow-minded gargoyles under his command. Dimmest of the crop is Officer Jason Dixon (Sam Rockwell), a blue-shirted halfwit dressed in a little brief authority. And then there's the God-fearing town itself which doesn't take kindly to seeing its sheriff's competence questioned - even the dentist armed with a drill appoints himself Mildred's judge and jury. It's not just the town that's against Mildred. Back at home her intervention causes ructions with her ex Charlie (John Hawkes), now tauntingly hooked up with a young bimbo, while her son Robbie (Lucas Hedges) doesn't thrive in the glare of publicity.
The film has something in common with Donna Tartt's The Little Friend, which begins with the loss of a child and sets up the prospect of a conventional murder enquiry before veering off into something deeper and more existential. It's anchored by McDormand's incandescent turn as Mildred Hayes, an implacable firebrand who is part fearless small-town vigilante, part hellish Greek heroine. And at the heart of her, the oil in her motor, is a bottomless well of love and grief.
Despite the pitch blackness of the story, McDonagh overlays it with ebullient, sarcastic comedy and continues his longstanding commitment to displays of ribald violence. Mildred's wrathful vendetta at the moral impotence of men – her improvised portfolio of brute stares, sceptical eyebrows and thuggish retaliatory kicks - is a festival of bitter-sweet laughter. She is averse to taking prisoners or owing favours. Even when she pays back a dwarf called James (Peter Dinklage, pictured below with Frances McDormand) who in return for a date agrees not to rat on her to the police for an act of arson, McDonagh doesn't sugar-coat the encounter.
The performances, from start to finish, shimmer with conviction. Rockwell is a treat as Jason, who against the odds is vouchsafed a shot at redemption. Harrelson is beautifully subtle as a sheriff who is far more than he seems. Clarke Peters has fun late on as a police chief descending on Ebbing to clear out the stables, and Sandy Martin glowers as Dixon's taunting porch-bound mother.
McDonagh's third film as writer-director, after In Bruges and Seven Psychopaths, is by some distance his most persuasive and involving yet, a furious tragicomedy which comes in to land at exactly the right time. All the awards that head its way - above all for McDormand whose performance amounts to an incineration of the patriarchy - will be well merited. Catch it now. Those billboards, which faintly evoke the crosses on Golgotha, need to be seen on the biggest screen.
See a clip from the film overleaf