Seven Psychopaths |

reviews, news & interviews
Seven Psychopaths
Seven Psychopaths
Martin McDonagh risks self-parody in a movie about mayhem - and movies
Wednesday, 05 December 2012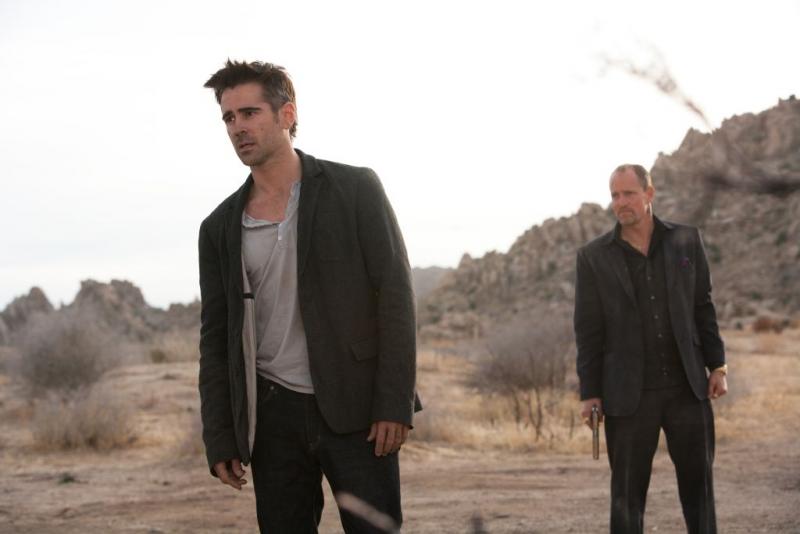 And then there were none: Colin Farrell and Woody Harrelson dice with death in Martin McDonagh's latest
There's only one Martin McDonagh as is proven anew by Seven Psychopaths, the latest from the London-born Irish playwright and erstwhile wunderkind who in recent years has transferred his brand of casual and often comic cruelty to the screen.
Featuring a predominantly male ensemble that amounts to McDonagh's ad hoc repertory troupe, the film is cheerfully violent on all manner of topics including the nature of movie-making itself, and its "meta" quality is sure to divide audiences, who will either be entranced or irked by what's on view.
McDonagh devotees can groove on a script that pokes fun at itself within minutes - "Overkill?", "Hear hear" goes a characteristically self-satiric early exchange - leaving uninitiates to the onetime literary bad boy's modus operandi wondering when proceedings will sober up. On that front, the only response is to take a leaf from the onscreen lush, a Hollywood-based screenwriter played by Colin Farrell. The short answer is never, so in the meantime, bottoms up! Inebriation isn't the worst state with which to greet a tattooed Woody Harrelson (pictured above).
To be fair, McDonagh has plenty on his mind, from an anatomy of film violence (how much is too much is the implicit question) to an essay in machismo that deliberately places women at the margins. Starting with some verbal byplay about getting shot through the eyeball - fun, eh? - Seven Psychopaths places itself on a continuum stretching from Sam Peckinpah to Quentin Tarantino, all the while filtered through its creator's ever-skewed, sidelong vision. One smiles and groans, in turn, as the fearsome frolics mount up, the greatest single laugh on one particular night of late reserved for McDonagh's own remark at a post-screening q&a that people who laugh at his film are "sick fuckers".
The opener finds Boardwalk Empire stars Michael Pitt and Michael Stuhlbarg engaged in the deliberately wince-inducing exchange about eyeballs referenced above, only for both sweet-faced young actors to vanish so the big boys can take charge. Those include Farrell as the frustrated scribe busy peddling a gore-drenched script (its title: Seven Psychopaths) that can't compete with the bloody business of daily life, and Harrelson as a gangster with a thing for dogs and not much regard for humankind.
Along for the ride are Christopher Walken and Sam Rockwell, joint alumni of the 2010 Broadway premiere of McDonagh's play A Behanding in Spokane, here crafting loopiness into something approaching art. His line readings as comically off-centre as ever (told to put his hands up, he replies, "No, I don't want to"), Walken saunters through the gathering carnage as if in some softly spoken altered state, while Rockwell, playing Farrell's best buddy, obsesses about chlamydia and gets to play Mercutio to the Irishman's equivalent Romeo (the Shakespearean comparison came from McDonagh at the post-screening talk: make of it what you will.)
Women don't survive long in this climate, which is a shame when the likes of Abbie Cornish (pictured above with Rockwell) and Precious star Gabourey Sidibe are allowed to slip in and out of view. Then again, Harrelson's Charlie Costello talks of having had five friends killed over time, including a girlfriend he didn't actually like much. Life is cheap, one feels watching Seven Psychopaths, and some of the comedy is too, but if you've always hankered to see Christopher Walken play a loftily spoken dognapper who wears a cravat, well, ignore the "spazzy shit", to co-opt the screenplay's own language, and give the film a go.
One smiles and groans, in turn, as the fearsome frolics mount up
rating
Explore topics
Share this article