War Pony review - life on the Pine Ridge reservation in south Dakota |

reviews, news & interviews
War Pony review - life on the Pine Ridge reservation in south Dakota
War Pony review - life on the Pine Ridge reservation in south Dakota
Riley Keough and Gina Gammell's impressive directorial debut, written in collaboration with two Native Americans
Matho (Ladainian Crazy Thunder), centre, and friends
Set on the lands of the Oglala Lakota in South Dakota, War Pony focuses, in a hazy way, on the lives of 23-year-old Bill (Jojo Bapteise Whiting), who has two toddler sons with two different mothers, and 12-year-old Matho (Ladainian Crazy Thunder) who seems to have no mother at all. Both are struggling to get by. Drugs, violence and chaos rule on the Pine Ridge reservation. The women are mainly exasperated with the men. A poodle called Beast also plays an important role.
It's an extraordinary film: bleak, gritty, tragic, sometimes funny, and a seemingly unlikely directorial debut from actress Riley Keough (Zola, Daisy Jones & the Six) and Gina Gammell. But this isn't a story told by an outsider. It is written in close collaboration with Native Americans Frank Sioux Bob and Bill Reddy, who Keough met when she was starring in American Honey.
They had been cast as extras and on the shoot their friendship with Keough grew and deepened. Visits to the reservation with her friend and producing partner Gammell turned into the four-year process of making Wild Pony, with a cast of terrific first-time actors, mainly from Pine Ridge.
Bill and Frank set out to tell a multi-generational story about their friends and the search for belonging, weaving together anecdotes and memories. It's a meandering, vivid vision, a little too long, shot by acclaimed Colombian cinematographer David Gallejo (Embrace of the Serpent; Birds of Passage). It's often confusing as to who's living where and with whom, and the two main characters' stories are not connected. Occasionally a hallucinatory bison appears as a symbolic aside. There are echoes of The Rider and Reservation Dogs, but the perspective is unique.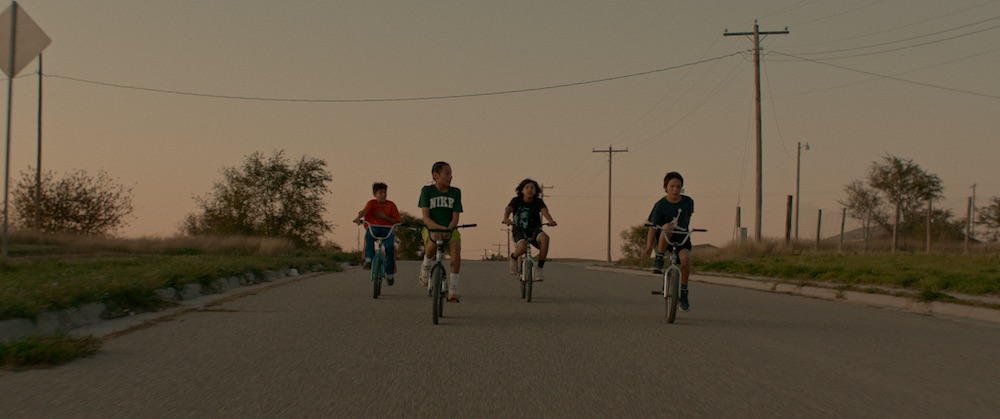 Life is shockingly harsh on the Res, especially for young boys. Family trauma and abuse are commonplace. Matho yearns to please his intermittently present, drug-dealer father, whose kindest act is to offer him a joint, saying, "I know you smoke." But things don't go well when he and his wild band of friends find the dad's meth stash, mix it with Epsom salts and start selling it. His dad punches him, gives him a black eye and throws him out, and later dies suddenly.
He's taken in by relatives, another drug-dealing family, this one better organised and more high-powered, and the matriarch imposes rules: don't lie, don't fight, go to school. Matho struggles with these concepts, as well as with the bitter coffee that he's expected to drink in this new home.
There's a girl he likes at school, though. But soon that turns sour. "I don't want to be with someone who can't even get through high school," she tells him. How will Matho find his way with no one to guide him? After another drug-related misstep at school, he's thrown out again and left to fend for himself, using his dad's empty house as a base, stealing stuff to furnish it. Matho takes comfort in his book on magic – not a card trick manual, but a hefty hardback that tells you, he explains, how to "change things with your mind." If only.
Bill's story revolves, partly, around trying to find $400 bail money for one of his baby mamas. This is where the mysterious poodle comes in – she's worth a rack ($1,000), apparently, and her puppies could be a gold mine. He's a laid-back, whimsical guy (Jojo Bapteise Whiting as Bill, pictured above), always driving around listening to rap, occasionally doing a bit of well-meaning, haphazard childcare, sometimes getting back together with one of his exes.
Along the way he meets Tim (Sprague Hollander), a rich white turkey farmer, who gives him work ferrying his girlfriends back and forth from the Res and then employs him at the turkey factory. Tim and his flirty, cynical wife treat Bill like a tame animal, patronising him in a kindly fashion and inviting him in for meals. "Bill, the point of wine is to sip slowly," Tim tells him after he downs a glass in one gulp.
But there is something unwholesome and exploitative at play. This comes to a head at a surreally terrible Halloween party where Tim employs Bill and a few friends as helpers. Bill's kids and Beast are waiting in the car (his version of babysitting). Things go horribly wrong when the poodle escapes. Bill's revenge is sweet, though you know it's doomed, but it makes for a spectacular finish. Finally Bill and Matho find themselves in the same kitchen. "Do you like coffee?" Bill asks. Matho shakes his head. "You will, when you're grown up." At least someone realises he's still just a child.
This isn't a story told by an outsider. It is written in close collaboration with Native Americans Frank Sioux Bob and Bill Reddy
rating
Explore topics
Share this article