American Honey |

reviews, news & interviews
American Honey
American Honey
A playlist as important as the plot: Andrea Arnold's American road movie
Thursday, 13 October 2016
We found love in a hopeless place: newcomer Sasha Lane as Star
"It's a business opportunity," explains Jake (Shia LaBoeuf) to dreadlocked, wild-child Star (Sasha Lane). She's eyeing him up in the aisles of a Midwestern Walmart while he dances around with a rag-tag, stoned young crew to Rihanna's "We Found Love". "We go door to door. We sell magazines. Come with us." Sounds an unlikely proposition.
Admittedly, 18-year-old Star doesn't have much choice in the way of business opportunities. In the first scene, she's dumpster-diving with two little kids outside that Walmart. Their biggest prize is a frozen bird. After they've hitchhiked home, the toddler sits on the floor and stabs at it with a fork, bloody juices leaking squalidly. It doesn't take Star long to decide that selling mag subscriptions with Jake and co is a better bet than looking after the kids – they seem to be her sister's, though it's not totally clear – and fending off the advances of an older man who may be her stepdad. The scourge of meth addiction is ever-present – it may have killed her mother.
Star's home life is prime Andrea Arnold territory, reminiscent of the teenage mums and deprived estates in her award-winning Wasp, Red Road and Fish Tank. Some of the same motifs of insects and animals – a flying squirrel and a pitbull have major roles – run through her new film. Redemption is found in nature and music. This is the first time the British director has taken on America, in a kind of hip-hop ode to the Midwest. Almost three hours long, it's a powerfully atmospheric road movie, where the playlist is as important as the plot. Gritty and raw, yet dreamy, it showcases a cast of mainly unknowns: 11 have never acted before. Arnold scouted for talent all over the States and found the mesmerising Lane walking on the beach in Florida during spring break. Arnold was inspired by a piece in the New York Times documenting the grim conditions that these travelling mag-subscription crews work under; she even went on the road with one.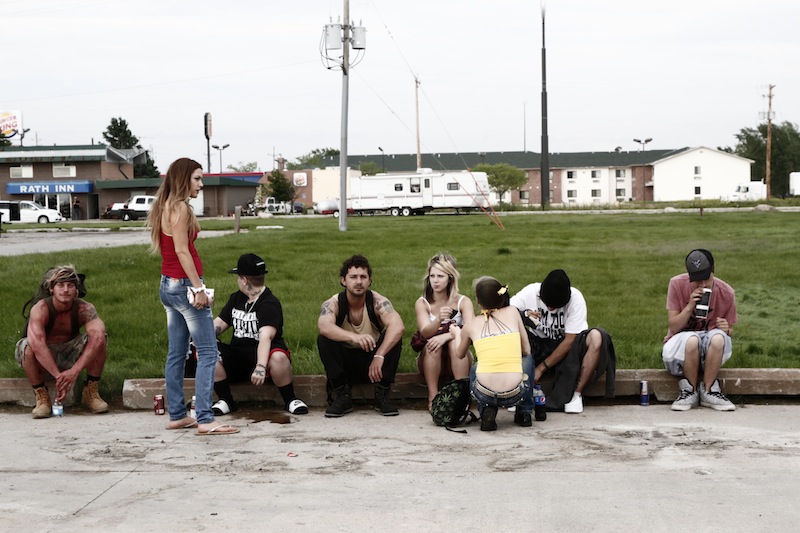 The real bond between the band of outsider kids (pictured above) in their smoke-filled white van – a bong and a bottle are always on the go, with rap music blaring – is palpable. They're a family of sorts, travelling all over the Midwest – Oklahoma, Kansas, the Dakotas – staying in grungy motels, selling mag subs during the day (no one ever seems to eat, though Star is fascinated by the worm in a bottle of mescal). Ice-maiden Krystal (Riley Keough, Elvis Presley's granddaughter, last seen in Mad Max: Fury Road) is in charge of training and holds the purse-strings. She has her own sports car and she and Jake are an item, but that doesn't stop him and Star, whose wonderfully expressive face dominates the movie, from falling for each other. They work in pairs, trying to con wealthy, and sometimes poor, suburbanites into parting with their cash – and stealing from them along the way.
Jake has the patter down, but Star, a free spirit with her own ethics, doesn't like lying – not a useful trait in a salesperson. You don't have to read the magazines, she tells a reluctant customer, "You can use them to wipe your ass." She sabotages Jake's spiel and Krystal gets impatient. The one who makes the least money at the end of the day gets beaten up. "It's all fun," says Jake, but it isn't really, and there's an air of cruelty, as well as desperation, that lurks beneath the partying. Krystal decides that an oil field will yield rich pickings and drops off some skimpily clad girls there. "Are you prostitutes?" ask one of the oilmen. "We're sales associates. Do we look like prostitutes?" "Kind of," admits the man, and it's a fine line, as Star experiences.
But human kindness shines through on many occasions: you expect disaster and it doesn't materialise. Each night, there's dancing to rap music round a fire, and often fireworks, but mysteriously no motel worker calls the police. The movie drifts on, a little too long, a little samey. New people come on board: Star is an old hand by now. At the end the whole van-load sings along to Lady Antebellum's "American Honey", an unexpectedly sentimental country number after the likes of K Swisha and E-40. But the atmosphere of unstructured movement and youth stays with you. You almost want to jump aboard and start selling magazines.
Overleaf: watch the trailer to American Honey
Arnold scouted for talent all over the States and found the mesmerising Lane walking on the beach in Florida during spring break
rating
Explore topics
Share this article