West |

reviews, news & interviews
West
West
Strong performances impress in a low-key story of divided Berlin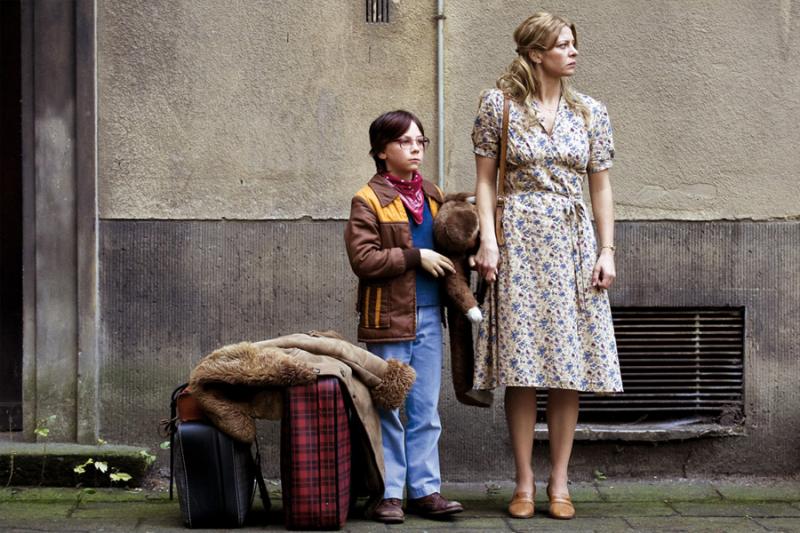 East Berlin street style: Nelly (Jordis Triebel) and Alexei (Tristan Gobel) ready for departure
As its title might suggest, Christian Schwochow's West (Westen) takes us back to the time of Germany divided. It's almost a chamber piece, catching the very particular experiences of a woman and her young son who leave East Berlin and end up in a refugee centre in the city's American sector, where they're forced to reappraise their expectations of what their new life in the West will be.
We first encounter heroine Nelly (Jordis Triebel, really strong throughout) and her young son Alexei (Tristan Gobel) on a snowy East Berlin street in 1975. They're seeing off Nelly's partner, the boy's father, who's presumably not a native German since they're speaking Russian (although the film's subtitles do not distinguish between German and Russian speech). It's a short, affecting scene, showing the kind of everyday family affection that suggests their personal life, all politics aside, is in a good place.
It catches effectively the closeness of a mother-son bond complicated by confusing new surroundings
Cut to the same location three years later, where mother and son are waiting for another departure (main picture). This time, it transpires, they've received the right to legal emigration, though it's based on an arranged marriage of some sort, with Nelly's partner off the scene. There's a harrowing scene at the border crossing that seems set to humiliate those leaving their homeland behind, but their documents are obviously in order, and they depart; Nelly's tearful relief on crossing into the other side of the city is poignant. We're left in the dark – darker, anyway, than the brightly-lit streets of West Berlin that must have come as one of the first shocks for such new immigrants – about the details of how exactly this relocation has come about. West's script, written by Schwochow's mother Heidi Schwochow on the basis of emigrant Julia Franck's semi-autobiographical novel Lagerfeuer, will refrain from elucidating various future details, too.
But the reality of their new habitation, the Marienfelde Refugee Centre, speaks for itself. It's a barracks-like complex, temporary – or not always so temporary, we soon learn – home to those who by one way or another have made it out of the Communist bloc. At first it seems a welcoming, if sparse, environment, but the rigmarole of confirming their new status, and with it the chance of living and working outside this zone, demands fulfilling an intimidating range of tasks.
And in Nelly's case, interrogation, too. Hardly surprising, you might think, when she's left behind a past career as a professional chemist, even less so when she's told by her apparently friendly American CIA interrogator (Jacky Ido) that the circumstances of her partner's assumed death may not have been as simple as she'd thought. Her contact with Ido's character will continue in more informal contexts, in a plot strand that never quite explains itself, nor convinces.
Nelly's affronted by the fact that all the indignities of her old system – the suspicions, the bureaucracy – seem to have followed her into this not-so-brave new world, though her naivety may seem rather more necessary to Schwochow's story than true to life. At least she finds friendliness among some of the other refugees, especially with a Polish woman who becomes a special confidant and companion, not least based on the fact they're neighbours, room 16 and room 17 as they refer to one another. Less certain is her acquaintance with Hans Pischke (Alexander Scheer, pictured, centre, above), who's distrusted by his fellow East German inmates, who keep reminding us that the refugee centre is full of Stasi spies. Hans may not be liked by many, but he does establish a bond with the young Alexei.
West is far from the first of such East/West dramas we've seen in recent years, and comparison with, say, Christian Petzold's Barbara reveals some of its shortcomings. But most of all it brought back Pawel Pawlikowski's 2000 Last Resort, another low-key tale of would-be immigrants caught up in a bleak holding centre. Schwochow's film, on such comparisons, does resound, catching very effectively the closeness of a mother-son bond complicated by confusing new surroundings, the boy's need for a father figure (also convincing), and Nelly's need for affection (less so, with a hint towards the sentimental in the final scene).
Triebel's character is fully drawn, more so perhaps than what the script actually offered her: she gives a big performance in what is in the end a small film. Production design looks pretty flawless, there's a nicely restrained score, and Frank Lamm's loose, fluid widescreen cinematography is beautifully impressive for its restrained colours, its mixes of blues and darker tones with occasional brighter hues. It gives a better sense of place, finally, than the director manages to give of story.
Overleaf: watch the trailer for West