Wonder Woman 1984 review - be careful what you wish for |

reviews, news & interviews
Wonder Woman 1984 review - be careful what you wish for
Wonder Woman 1984 review - be careful what you wish for
Second instalment of the DC Comics franchise cries out for the editing shears
Wednesday, 16 December 2020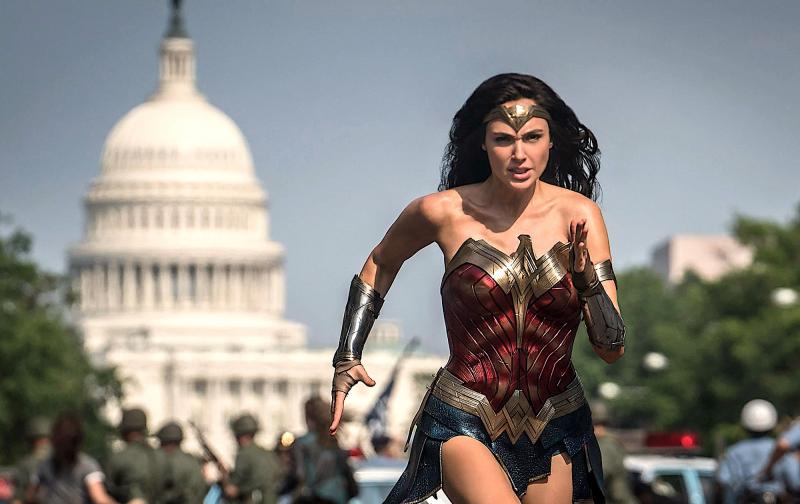 She's back! Gal Gadot returns as Wonder Woman
After months of watching movies on computer screens, how delightful to have a press screening at the Waterloo IMAX cinema, albeit under Covid restrictions. Not so delightful was the realisation that Wonder Woman 1984 is crying out for some editing shears (151 minutes!
Are they serious?), while the uninspired climax that Gal Gadot's title character spends so long labouring towards really isn't worth the wait.
Whereas 2017's Wonder Woman found World War One mysteriously arriving at the island of Themyscira, mythical home to the Amazon women, this one (again helmed by Patty Jenkins) leaps forward to 1984, which seems significant only insofar as it allows Frankie Goes to Hollywood and Duran Duran to appear on the soundtrack and reminds us that East and West were still adhering to the philosophy of mutually assured nuclear destruction. This time, the threat to the world is the combination of Maxwell Lord (Pedro Pascal, pictured below, barely recognisable from his role in Netflix's Narcos, let alone The Mandalorian), and an ancient crystalline relic known as the Dreamstone, which wreaks havoc by granting its handler's wishes.
Lord is a kind of snake-oil salesman – in fact he's trying to sell his Black Gold Cooperative to the public as "the people's oil company", except he's been saddled with a bunch of dry oil wells and is trying desperately to keep a step ahead of his enraged investors. With his shiny suit, game-show hairstyle and catchphrase of "life is good – but it can be better!", he's like a cross between Liberace and a younger Donald Trump.
Lord's progress is entertaining enough, but he's a caricature rather than a character and the film's depiction of a world stumbling towards anarchy and nuclear destruction is depicted in cartoon-like terms. Panicky generals shout at each other while studying wall maps covered in dots representing missiles in flight, while Lord's loopy notion of turning himself into an I-grant-your-wish machine and broadcasting wish-fulfilment to the whole of mankind prompts predictable responses such as "I wish I was rich", "I wish I was famous" and "I wish so-and-so was dead". Since whenever Lord grants a wish he accrues more power to himself, he rapidly develops a rampaging ego the size of a planet.
Threaded through all this is th
e rivalry between Wonder Woman and her workmate-cum-nemesis Barbara Minerva (Kristen Wiig, pictured right), who meet when they're both employed as researchers into antiquities at the Smithsonian Institute in Washington DC. It's when Barbara is given the Dreamstone to study by the FBI that trouble begins, since nobody yet realises what will happen every time they say "I wish that…". In short order, the disruptive mineral has turned mousy Barbara into a fashion-vixen desperate to outdo glamorous Gal (aka Diana Prince), who even on her day off looks as if she's due at the Met Gala with a bunch of financiers and Hollywood stars. Nonetheless, even she's unprepared for the sudden reappearance of her World War One boyfriend Steve Trevor (Chris Pine), albeit in someone else's body.
There are raucous set-pieces like a multi-vehicle car chase, an interminable gun-battle and a claws-out brawl with Minerva after she turns into Cheetah, while Steve's instinctive ability to fly a jet fighter – bafflingly sitting fuelled and ready to go in the back yard of the Smithsonian – when the last plane he flew was made of paper and string attached to a lawn-mower engine is simply daft.
As is rather too much of the movie, except, that is, for the spectacular opening sequence, in which a very young Diana takes part in an impossibly challenging contest against a team of super-athletic Amazonians, involving terrifying high-altitude gymnastics and amazing feats of running, riding, diving and shooting. Shot with some sensational soaring camera-work, it's like Harry Potter's Quidditch souped up with steroids and rocket fuel, and it's by far the best bit of the film. Maybe they should just keep the next one confined to the exotic Themiscyra.