Youth |

reviews, news & interviews
Youth
Youth
Michael Caine excels as an aged composer contemplating love, lust, loss, and art
Saturday, 30 January 2016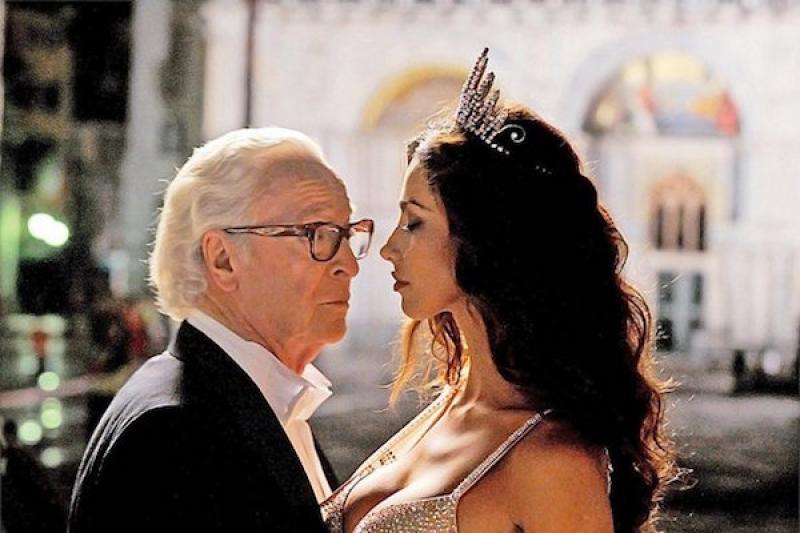 In his dreams: Fred Ballinger (Michael Caine) meets Miss Universe (Mădălina Ghenea)
Toward the end of Paolo Sorrentino's Youth, a tough-as-nails Hollywood diva played by Jane Fonda informs Harvey Keitel's creatively spent director that television has supplanted cinema as the home of screen drama. True or not, this has been the industry consensus for about five years, but Sorrentino demonstrates there's life in cinema yet by orchestrating a flow of effortless-seeming sequences that combine widescreen grandeur with whimsicality.
A one-time lothario has a disturbing dream about an erotic nocturnal encounter with a voluptuous modern Venus on a causeway crossing the glittering flood in Piazza San Marco. He conducts an improvised symphony of cowbells in a field. His daughter transmits her sexual paranoia into a nightmare comprising her husband's mistress's trashy pop video. A veteran filmmaker has an epiphany in which his arrayed leading ladies simultaneously perform their signature roles for him. A pilgrimage to Venice begins with Luca Bigazzi's seaborne camera bobbing toward a sepulchral building modelled on that in Swiss painter Arnold Böcklin's "The Isle of the Dead". Propelled by David Lang's multihued, nostalgic score, inspired by Nino Rota's for Amarcord, these Felliniesque sequences define the spirit of Youth more than its languid, elitist story of two celebrated artists facing the dying of the light.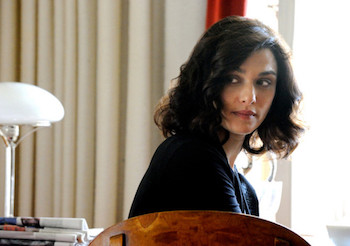 A calm after the sybaritic storm of 2013's The Great Beauty – Sorrentino's sardonic valentine to Rome in the age of Berlusconi – the seriocomic Youth depicts a few days in the life of Fred Ballinger (Michael Caine), a retired composer taking his annual holiday in a Swiss Alpine spa hotel with his daughter and assistant Lena (Rachel Weisz, pictured above right). Parted for 10 years from his opera singer wife, who's confined to a Venice care facility, Fred is apparently a cynic uninterested in commemorating his achievements. He twice rebuffs the sweating Buckingham Palace emissary (Alex Macqueen) who says the Queen will knight him if he conducts a performance of his celebrated "Simple Songs" for the benefit of the Duke of Edinburgh. Fred's reason for not complying is unconnected to his inertia.
He perks up talking to his old friend Mick (Harvey Keitel), also Lena's father-in-law and a sanguine, optimistic septuagenarian who's brought five young screenwriters to the spa to help him complete the script for Life's Last Day, the movie he's planning as his final testament. The geezers go for walks in and around the grounds, comparing their urinary difficulties, lamenting their increasing inability to recall the past, and taking bets on the habits of fellow guests. These include a middle-aged couple silently at war over the husband's affair with an escort; a Buddhist monk, who is said to levitate; Diego Maradona (Roly Serrano), whose obesity and breathing problems haven't impaired his footballing wizardry; a bearded mountaineer (Robert Seethaler), who falls for Lena; and the American movie star Jimmy Tree (Paul Dano), who has a Birdman-sized chip on his shoulder because he's famous for playing a robot rather than for acting in European art-house movies. Sorrentino reserves some tenderness for each of them.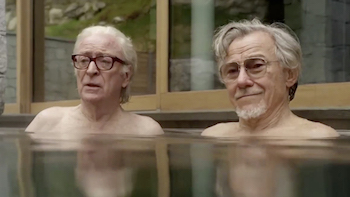 Martin Amis wrote of his protagonist in The Pregnant Widow, "Unusually for a 20-year-old…[he] was aware that he was going to die. More than that, he knew that when the process began, the only thing that would matter was how it had gone with women." Laying down this incontrovertible truth (for straight men), Amis was referring not only to success in love and sex, but to the tenacious haunting of men by women who proved unavailable. Fred and Mick frequently speculate on what it would have been like to have slept with a woman they both wanted, Fred's banter concealing his fear that Mick actually did.
Bathing in a thermal pool (Michael Caine and Harvey Keitel pictured above), they are entranced and tormented by the sight of the naked Miss Universe (Mădălina Ghenea), another guest, gliding past them into the water. Her pulchritude represents what's behind the door that's been closed to them for good. (Sorrentino counters the vapid or insincerely earnest beauty queen stereotype by making the young woman warm, shrewd and dignified.) Or almost for good: when Fred's lissome young masseuse (Luna Mijovic) dips her head towards his loins, eliciting a moan just as Sorrentino cuts away, she is responding less to his calcified sex appeal than to his tenseness.
Sorrentino drew on Federico Fellini himself for Fred's history of serial philandering. When Lena berates Fred at length – Weisz searingly delivering her monologue – for his constant betrayals of her mother. Melanie, and his emotional aridity as her father, the scene conjures not just Melanie's suffering but that of Giulietta Masina, Fellini's devoted wife. If Youth doesn't quite forge an intertextual link with the thinly veiled Fellini musical biopic Nine (2009), it does with Alfie (1966), in which Caine's womanizer is obliged to recuperate at a sanitarium not simply because he has TB. Alfie's final self-assessment, "I don't have peace of mind. And if you don't have that, you've got nothing," is equally applicable to Fred until he gleans how gravely he misses his wife and work. Reining in his familiar nonchalance, Caine gives his most nuanced and moving performance in years.
Mick's admiration of women has manifested itself in his passion for casting in his films the actresses he has discovered, another Fellini trait, but scarcely his alone. The script didn't allow Keitel to individuate Mick as an artist; he plays him in the same fond, avuncular manner he played Houdini in Fairytale: A True Story. It's a likeable performance that doesn't quite prepare us for his drastic response to news brought him by Fonda's blunt Brenda Morel (pictured above right), his longtime muse – and a borderline caricature. Weisz's more naturalistic turn electrifies Lena's crisis, which results from her husband (Ed Stoppard) dumping her for the pop singer Paloma Faith (playing herself). Though Sorrentino dodgily pokes fun at female capriciousness by having Lena emotionally blackmail Fred to reveal something she then rebukes him for sharing, the director shows empathy for her as a woman devastated by a savage blow to her sexual pride.
So Youth is as psychologically savvy as it is beautiful. And if it decorously sidesteps the questions about the meaning of love and life that it raises, then that's because Sorrentino knows they're imponderable – and that profundity is to be avoided like the plague.
Overleaf: watch the trailer for Youth
Sorrentino drew on Federico Fellini himself for Fred's history of serial philandering
rating
Explore topics
Share this article