Prom 25: Gerhardt, Komlósi, Relyea, RPO, Dutoit |

reviews, news & interviews
Prom 25: Gerhardt, Komlósi, Relyea, RPO, Dutoit
Prom 25: Gerhardt, Komlósi, Relyea, RPO, Dutoit
The power of quiet in two middle-European masterpieces
Ildikó Komlósi, Charles Dutoit and members of the RPO in 'Bluebeard's Castle'
"Let the song speak, I pray," exhorts the Bard in the Prologue to Duke Bluebeard's Castle, "Listen in silence." This was a night for leaning in and listening closely, despite the large forces arrayed on stage for Dvořák's Cello Concerto and Bartók's opera.
It's been said before, but the Royal Albert Hall is an unforgiving space for this year's featured instrument, the cello. In the 2014 Proms, I recall American Alisa Weilerstein gave a memorably heated and hectic performance of the Dvořák with the Czech Philharmonic in which many nuances – and notes – were swallowed up. Alban Gerhardt chose the opposite approach: if he was to be heard, he needed time and space. Dutoit supplied those perhaps over-generously: horn and clarinet solos in the orchestral opening were languid, and there were moments when Gerhardt's playing suggested more forward impetus than the RPO were willing to give.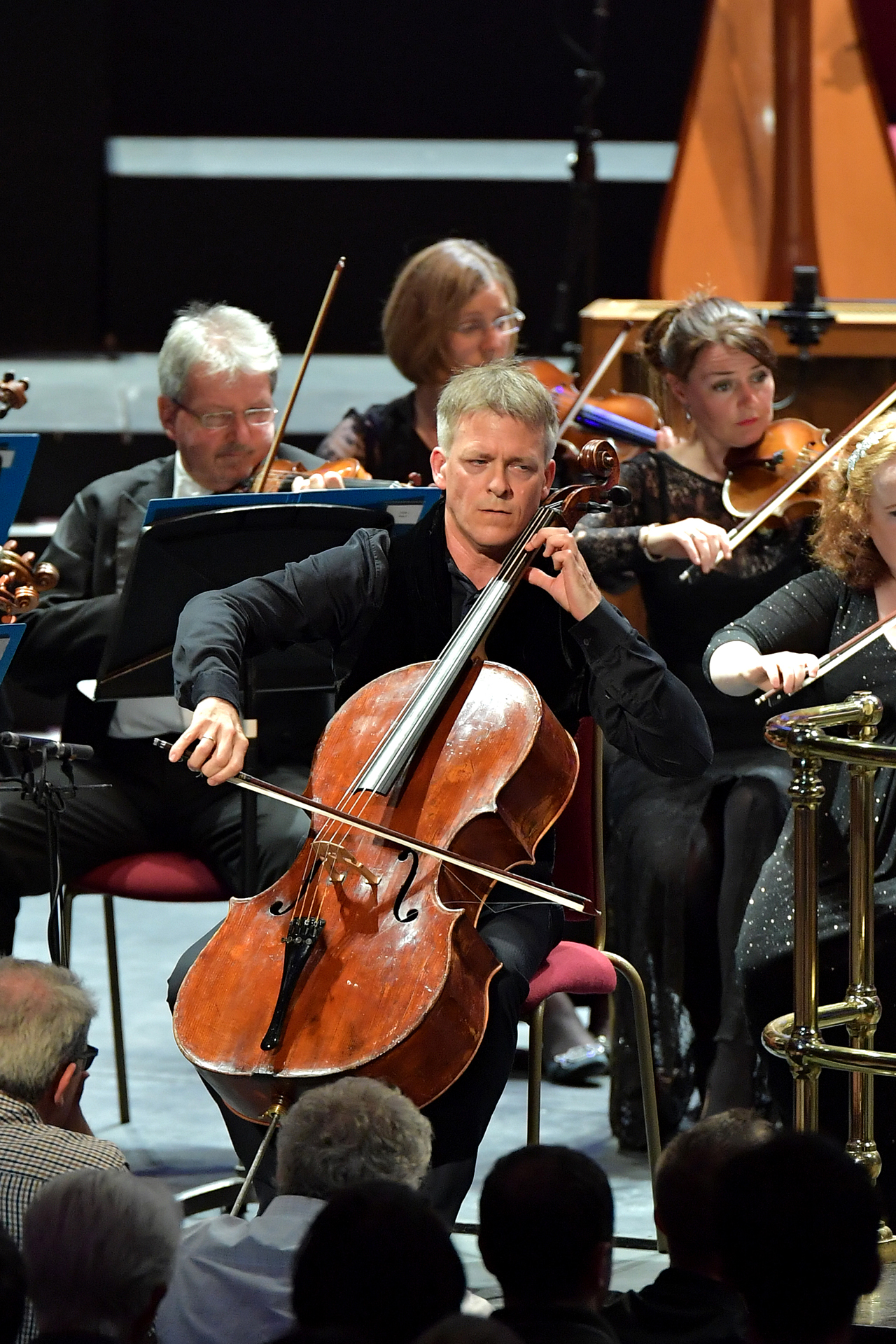 Yet this was a Dvořák to be savoured, not sliced through. The reward was a reading of intense inwardness, that untranslatable innig where warmth, tenderness and regret meet. Gerhardt (pictured right) lingered over a luminously beautiful cadenza in the Adagio, but with sincerity rather than indulgence. As one of the world's elite cellists, he dashed off pristine octaves and glittering filigree figures with unfussy aplomb, but dared to present the return of the finale's martial opening as a veiled memory, drained of its virile command.
His encore was a rare treat: the majesterial Prelude from Bach's Suite No. 6 in D major. Paradoxically, in this repertoire, the hall smiles on the cello. He set out, once again, not to dazzle but draw his audience in, witnesses to the construction of Bach's castle of airy arpeggios, here infinitely fragile, held in quivering tension by the sting of split timbres around pedal notes. Eventually, it takes wing into high treble melismas, showering blessings on a rapt full house.
From Bach's celestial castle to Duke Bluebeard's deathly dungeon was a leap, but that sense of intimacy was sustained. John Relyea (Duke) and Ildikó Komlósi (Judith) performed without music – or gesture – but an enthralling directness. Komlósi has Judith under her skin, and the gritty taste of Hungarian in her mouth. She sings, "I'll unlock it, only I! I shall do it very gently…", and unlock the part she does, with a formidable range, from steely soprano to the darkest, softest mezzo.
Only towards the end did Komlósi begin to lose some focus. Her ingénue Judith is clever, curious, competitive and voluble beside Relyea's terse Duke (pictured left), whose chocolatey depth of tone and vocal poise lent him nobility: how rarely have I ever felt sympathy for the Duke when he tries to stop her after opening the third of his secret doors? She talks too much and is trying to change him; he's taciturn and wants her to stay exactly as she is now… every age will find itself in this fraught psychodrama.
Dutoit roused a lithe, mercurial performance from the RPO, expertly paced. Duke Bluebeard's Castle needs no staging: everything is conjured by the orchestra. No visual coup de théâtre could ever match the moment Judith opens the fifth door to discover his kingdom. Those ecstatic, saturated, toppling chords, rumbling with organ and gilded by brass, are like nothing in all music: the impact here was spectacular. It takes skill to build tension again, but Dutoit and his singers achieved it. Komlósi's final recognition of her fate was enough to chill the arena.