Gerhardt, Osborne, Queen's Hall/Keyrouz, Ensemble de la Paix, Greyfriars Kirk, Edinburgh |

reviews, news & interviews
Gerhardt, Osborne, Queen's Hall/Keyrouz, Ensemble de la Paix, Greyfriars Kirk, Edinburgh
Gerhardt, Osborne, Queen's Hall/Keyrouz, Ensemble de la Paix, Greyfriars Kirk, Edinburgh
Perfect cello and piano duo spotlights Britten, with eastern liturgical music to follow
Sister Marie Keyrouz: fervent if not quite pitch perfect
"Ah now, I can't promise you sun," says a Scots lady-in-waiting of her native weather to a novice Englishwoman near the start of Rona Munro's masterly James Plays. It's the first of many references to make the audience laugh knowingly. Well, after four days of the worst weather Edinburgh Festivalgoers can remember, the sun came out yesterday morning.
There's no better place to be than the airy Queen's Hall if you want an 11am recital of light and shade – and to say that of yesterday's duo programme is an understatement. Come late afternoon, and the light was still dappling the green lawns and the grey-black monuments of Greyfriars churchyard as Sister Marie Keyrouz and her Ensemble de la Paix brought the drier, more biting climate of the Christian Middle East to the sober kirk.
Chamber music needs as much programming reform as orchestral concerts: just as overture, concerto, symphony is a format that's slowly metamorphosing into something richer and more daring, the usual string of sonatas for solo instrument and piano looks like being superseded. Not that three or four duo works in a row would ever be grey in the hands of cellist Alban Gerhardt and his frequent recital partner, that challenging pianist Steven Osborne (pictured below). But by choosing to begin apart, they varied the strain of a rich and logical sequence (*****).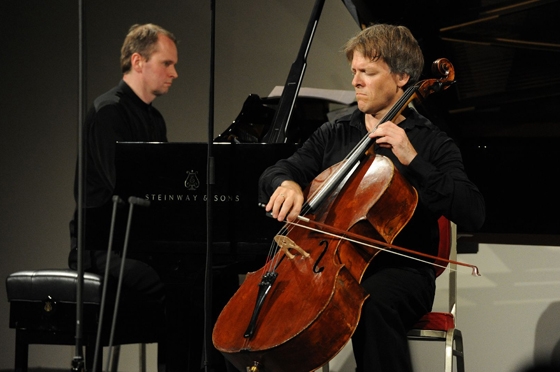 Starting with Britten's First Suite for solo cello, Gerhardt fused the rock of the refrains and the dark waters that eddy around it into one textured continuum. The composer may have subtitled his sequence "Divertissement", but Gerhardt bound it all together with an introspective restlessness that came hauntingly to hover in a nursery tune over a persistent D before a giddying Moto perpetuo ran headlong into the return of the opening strain, questioning to the last.
The artistic finish of Gerhardt's held notes fading into nothing found its match in Osborne's conquest of Tippett's Fourth Piano Sonata. He had given us the Second and Third earlier this year in another concert of two satisfying halves, with the Heath Quartet taking up an unexpected late masterpiece after the interval. That the final quartet was an isolated breakthrough in the doodlings of Tippett's last years seemed rather confirmed by the meandering of the last sonata. Its first and third movements flip between the starburst twitterings of the ecstatic early, Midsummer Marriage style and stony chords or unisons (some of us, sitting at the piano improvising, have come up with something similar of lesser density).
This is one case where if you didn't know the piece – and I wasn't familiar with it - reading the programme first would have prepared for the shock of a properly lively seeming finale giving way to an interminable slow movement. If this was heaven for Tippett, it sounded like a rocky and comfortless place. So, glad as I am to have heard it once in concert, the preceding and relatively compressed sonatas are surely more worth revisiting.
There's nothing arid or protracted about Beethoven's late C major Sonata for Cello and Piano. Its meadows of luminous calm contrast with purposeful activity punctuated by more surprises (the finale's leaps and pauses, stunningly fresh here). Gerhardt and Osborne played off each other with what, this time, felt like the right sort of improvisatory quality, and they signed off officially with another work that's also in C but rarely feels like it: back to Britten, and the total masterpiece of his offering to Rostropovich. Nothing makes more singular play of piano and cello questions and answers (or perhaps just more questions) than the furtive opening of the Cello Sonata; there is no darker elegy in the composer's harrowed catalogue than this slow movement other, perhaps, than the one in the Cello Symphony.
It speaks volumes of this duo that you think much more about the genius of the work itself than what good players they are. A mobile went off in consonant approval of the fourth-movement Marcia; they had so dug us into the mood that it hardly mattered. This was the perfect partnership, rounded off with devastating, minimally gilded simplicity in the second of Schumann's "Fünf Stücke im Volkston. Writing for theartsdesk of Monday afternoon's Greyfriars opener, Christopher Lambton said of the Messiaen Quartet for the End of Time in which they played that the concert was "as near perfect as any I have heard". I feel the same about this recital, if not all of its music; festivalgoers may hear another Queen's Hall concert as good, but not better.
Relatively mixed feelings here about the one-off of Sister Marie Keyrouz's manifestation (***) in Greyfriars Kirk . A Maronite Christian from Lebanon, she founded her Ensemble de la Paix during the 1984 bombing of Lebanon "to promote the spiritual and the beautiful", extended its membership to musicians from all countries of the Middle and Far East, and all religions, and uses the profits from concerts and CDS to educate disadvantaged children through the world. She has an assured energy and a focus that are palpably sincere; the mystical pianissimos and the radiant, dance-like trumpet sounds at the other end of the dynamic scale are absolutely in the spirit of the Arab-inflected music she and her male singers present from the Aramaic, Maronite and Byzantine traditions.
Yet it may be advanced years that find Sister Marie pitching microtonally but surely not intentionally above her colleagues. And though a programme was to hand with texts, we were liable to be quickly lost as to which piece belonged to which tradition, at least until the Byzantine trio of settings at the end and the radiant "Christos anesti" encore. So in the cause of education and understanding I'd welcome some verbal presentation. And some elders of the packed Greyfriars audience behaved abysmally during the music: snapping with their iPhones before promptly falling asleep, walking around on creaking wooden floorboards, texting with intermittent beeps (the tweedy lady behind me). The best this sequence had to offer was a quiet meditation; due to the inattentive listeners around me it was anything but that.
It speaks volumes of this duo that you think much more about the genius of the work itself than what good players they are
Share this article