Hotline Miami |

reviews, news & interviews
Hotline Miami
Hotline Miami
An ultra-violent top-down rampage with a soundtrack like 'Pretty in Pink'
You have succumbed to extreme pixelated arcade violence, but only until your next respawn
There's a horse, a chicken and an owl in your living room. You don't know them, but they sure as hell remember you, and they've got some questions that need to be answered. Questions about what you did in Miami in 1989.
It's a great setup to a game which takes its neo-pulp heritage seriously, and its pixelated arcade violence to the extreme. You play a hired killer cutting a bloody swathe through the Miami underworld at the behest of innocuous phone messages. These jobs are as innocent as babysitting, or attending a medical check-up; however, once you've driven (in your DeLorean!) to the specified location, and found it stuffed full with enemies who may or may not be über-criminal types, the real job is made perfectly clear. Kill. Everyone (as pictured below).
As you plot and execute choreographed killing sequences that would put even Korean action movies to shame, you're accompanied by the thudding synth pulses of one of the best game soundtracks ever made. The Eighties-style pop beats, coupled with the neon-seeped graphics, make your comically psychotic rampages seem like a cocaine-fuelled discotheque.
In true arcade style you are playing for points in the thousands, for combo bonuses and achievements like "eliminate three or more enemies with the same brick in one throw," for unlockable weapons and skills, and to get your name up in lights on the online scoreboard. Each chapter also contains a rubber mask which imbues your character with a new skill. Variety is the spice of death in this danse macabre. And you will die. Frequently.
Luckily, with an immediate respawn, there is no time for frustration. There's no chance of boredom either, because the levels are slightly randomised every time. The guy who had the metal bar before now has an AK-47, and will spray your guts across the wall the moment you burst through the door.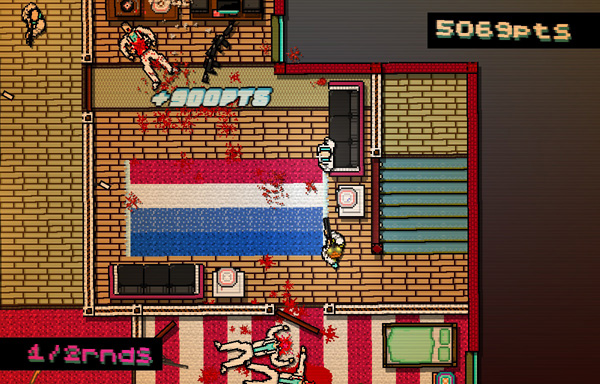 And there are a lot of guts in this slaughter-smorgasbord. As an exploration of psychosis and the compulsion to kill, this game sticks a bloody hand into its own intestines and pulls out a gloopy mess from which only hints and fragments can be determined. Questions are asked about the reasons why people play games that revolve around violence, but the game doesn't preach. Your character is unhinged to say the least, but as Hotline Miami progresses there are more and more clues as to just how far down the rabbit hole he has tumbled.
Anyone who has seen Nicholas Wending Refn's 2011 movie Drive will be unable to avoid comparing the two, the style, sounds and themes, even the rubber masks. But this is no game-of-the-film rip off. This is an homage to pulp thrillers and to retro arcade gaming the likes of which Sega and Nintendo could only dream of, albeit in their worst nightmares. Oh, and did I mention you get to drive a DeLorean?
Hotline Miami

developed by Dennaton Games and published by Devolver Digital. Platform: PC. Out now