Skylanders Imaginators |

reviews, news & interviews
Skylanders Imaginators
Skylanders Imaginators
Taking toys to life one-step beyond
Thursday, 27 October 2016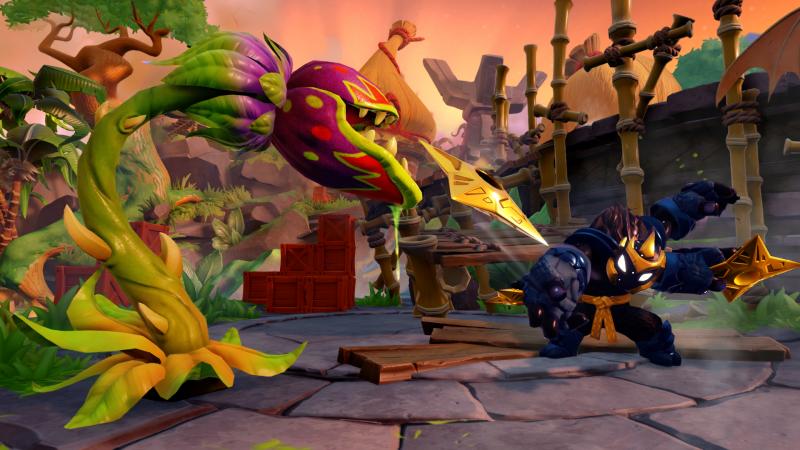 'Skylanders Imaginators': You'll never know what's around the corner
The Skylanders titles are at the forefront of the toys-to-life genre. Players place plastic figurines on a physical "portal" connected to the console, with the characters then appearing on screen, in a 3D world filled with loot, upgrade items and battles. Each character has different attributes, with many available to purchase at additional cost.
Toys to life brings dollars to life too. The Skylanders franchise is worth a staggering $3 billion, selling more than 250 million toys since debuting with Skylanders Spyro's Adventure in 2011. And every year since has brought a new Skylanders installment: $3 billion doesn't just happen overnight, you know.
In 2012, Skylanders Giants added LightCore characters to the collection of interactive figures. Skylanders Swap Force, which launched in 2013, introduced a new play pattern – swapability. In 2014, Skylanders Trap Team reversed the idea of bringing toys to life by allowing players to pull characters out of the digital world into the physical world. Skylanders SuperChargers launched in 2015 and expanded upon the franchise's signature gameplay to introduce vehicles-to-life for the first time.
Every year, a new gameplay variant on a theme – and some have been more successful than others. But this year, the Imaginators idea is the standout new feature to date. Drum-roll, please – because Skylanders has finally delivered what many a fan has been wanting for over several iterations, the ability to create your own character, hence the Imaginators moniker.
Children are the masters of make-believe and Imaginators has boosted the potential for grassroots gamer creativity
You start off choosing your battle class and element. The battle class is your fighting style, such as knight, ninja, smasher and bowslinger. With 10 different battle classes and the same number of elements there are 100 options to choose from at the start. You can also customise the names, voices, powers, appearances, colours and size of your creation. As you progress through the world you can collect body armour classified as Common, Rare, Epic, and Ultimate, which can be used to further modify your creation. By the end of the process it feels like you have created a digital creature all of your own.
Now you need to store it, and for that you need crystals – physical "memory chips" that means your little monster is portable and can be used on friends' consoles. As is the norm for Skylanders, there's a plethora of physical figurines to accompany the new digital creature creation. The game introduces a small army of new Skylanders into the action. These new characters are the Sensei class and are super-powerful, giant Skylanders, including some returning bad guys combining enhanced combat ability with a new "Sky-Chi" power. The Senseis help the Imaginators to unlock their weapons, techniques and abilities and play a key role through the game.
And, as is also the norm for this hugely lucrative franchise, you'll need more than the basic starter pack to get the most out of the game. Additional crystals are essential if you want to craft Imaginators of different classes and elements and equally, you'll need to invest in additional Sensei figurines if you want to unlock all the mini-games within the gameworld. As a rough guide, the Senseis retail for around the £20 mark, the crystals for approximately £10.
But to many Skylanders fans (of which the majority fall into the child bracket) this is the biggest game to date, brimming with side quests, mini-games and a roll call of engaging and fun characters to either get to grips with or create from scratch. Children are the masters of make-believe and Imaginators has boosted the potential for grassroots gamer creativity. But just remember: $3 billion doesn't come cheap.
Skylanders has finally delivered what many a fan has been wanting for over several iterations
rating
Share this article