No Man's Sky |

reviews, news & interviews
No Man's Sky
No Man's Sky
The sky is not the limit in this open-universe adventure
'No Man's Sky': To infinity and beyond!
Most casual gamers are familiar with the open world gameplay ethic, where you can, within reason, travel anywhere within the gameworld at any time. From driving through a sprawling city in Grand Theft Auto V to sneaking through a tropical jungle in Far Cry 4, open world adds exploration, a feeling of anything being possible and brings a sense of reality to the gameplay, where invisible walls are a thing of the past.
No Man's Sky takes the open world idea and runs through the horizon with it, presenting a bravely ambitious open universe sci-fi game based around the anchor themes of exploration and survival, where there's apparently 18 quintillion planets to explore – that's 30 zeros for UK readers, 18 in the US. More planets than you could explore in a lifetime of lifetimes.
Wandering off the script can lead you light years in a different directionThe universe is created from a "procedural generated galaxy", spawning from an in-built algorithm rather than pre-defined code. It's the algorithm, a first in console game design, that creates the sense of scale and, as a handy side effect, the constant procedural calculations negates lengthy loading times.
You can fly seamlessly from the surface of one planet to another, and every star in the sky is a sun that you can visit. Where you'll go and how fast you'll make your way through this universe is your decision. Every planet's landscape is different from the next and populated by species never before encountered.
But in the beginning you're little more than a crash-landed pilot who needs to repair engines and thrusters for your stricken spacecraft, and to do that you're introduced to the core mechanic of resource gathering. You'll use your mining laser to burn through rocks of iron ore, operate your scanner to identify deposits of heridium, vital for launch thrusters and scurry around looking for plutonium, used to charge your life support systems.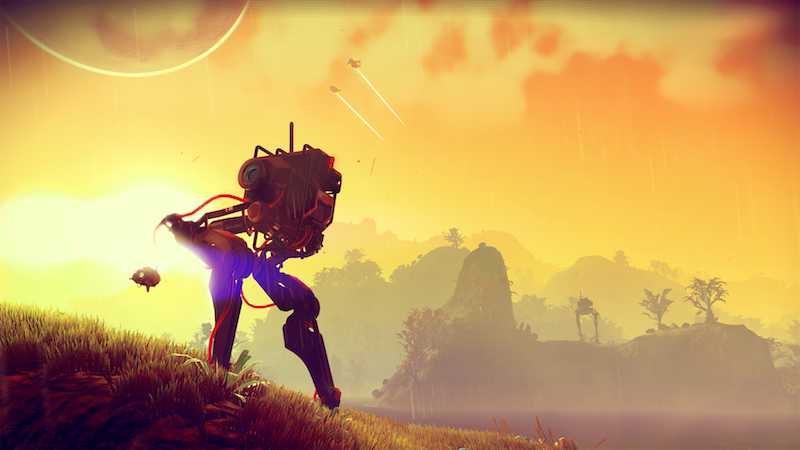 So what's the game like to play? Well.. it's very different. It's a combination of exploration (obviously), survival (alien worlds often have harsh environments), resource gathering (you're constantly on the look out for materials), trading (sell precious resources in order to buy ships, suits and equipment) and combat (from space dogfights to surface first-person shooting). Dress it all up in a nostalgic sci-fi setting, complete with literary quotes and considered colour palette, and you've got an inkling of what it's all about.
An inkling is really all we can offer at this stage. There is a narrative about journeying to the centre of the universe and there's breadcrumb hints as to how to the 'plot' proceeds, but this is the definition of open-ended gaming, where wandering off the script can lead you light years in a different direction.
Maybe it matters, maybe it doesn't. Leave it all in the hands of the universe and see what happens. When is the last time you heard a videogame described in such a way? Recklessly ambitious and commercially unwise – but all the better for it, and a rare treat for fans of innovative game design.