10 Questions for Musician Martin Fry |

reviews, news & interviews
10 Questions for Musician Martin Fry
10 Questions for Musician Martin Fry
The ABC mastermind on how he got his mojo back and finally made 'The Lexicon of Love II'
Martin Fry: 'Every day's a blessing, never a curse'
It was in the long-ago year of 1982 that Martin Fry and ABC released The Lexicon of Love, a feast of addictively lush pop-soul swathed in Anne Dudley's orchestrations and producer Trevor Horn's sparkling electronic innovations. Fry bestrode it like a knowing nouveau-glam mastermind, treading in the ironic footsteps of Bryan Ferry and David Bowie as he effortlessly juggled camp, kitsch and sardonic wit.
The album's multi-million-selling success was underpinned by vintage songs like "Poison Arrow", "The Look of Love" and "All of My Heart".
Yet all things must pass, and Fry spent much of the Nineties in demoralising semi-retired limbo, before reviving the ABC name for the 1997 album Skyscraping. Subsequently he has been delighted to find that many of those Eighties fans are still out there, and hordes of them have been turning up for the Regeneration tours in the USA on which ABC have been joined by the likes of Belinda Carlisle, A Flock of Seagulls and The Human League. "I've known The Human League from their Sheffield days and the first gigs where Susan and Joanne joined them," Fry recalls. "They were a genius art and electronics band and they got these girls in, they were going pop – what's going on? It was blasphemous! It was like Dylan going electric 50 years ago."
It took much soul-searching and a deep intake of breath before Fry felt ready to embark upon making The Lexicon of Love II. Remarkably, it successfully picks up the baton of its predecessor with a sleek, sophisticated and tuneful batch of songs which might very well have been written during the sessions for the debut album (and no, they weren't). It's brand new and state of the art, but it's also widescreen pop made the old-fashioned way. As Fry sings in "Singer Not the Song": "Somewhere in the chorus, somewhere in the verse, every day's a blessing, never a curse". Over a refreshing cup of leaf tea in fashionable Soho, Fry spilled some beans.
ADAM SWEETING: How did you gear yourself up to make Lexicon of Love II 34 years later?
MARTIN FRY: I realised I'm at the point in my life where you get a bit Teflon and bulletproof to criticism, and you realise if you don't do something you'll never get round to it. Like parachuting out of a plane. We played a show with the orchestra at the Albert Hall with Anne Dudley and the band five years ago now. I've played a lot of shows and '80s festivals, I stand on the stage and sing "Look of Love" and "Poison Arrow" and the other hits, but I got to think what would it be like to make a sequel – set in the present day, not to go back and try to recreate an '80s-type sound, but to do something like a sequel with the same characters in the songs and what they're up to now. I want to know what happens next in Breaking Bad, and what happens to Rick in The Walking Dead, so what happens to Martin after "The Look of Love"? As soon as you do something it's public property, and with The Lexicon of Love there's a sense of ownership and real affection for the original. I didn't want to do it lightly, and I started writing some songs and pulled some songs down from the shelf. A couple of the earliest ones were "Viva Love" and "Ten Below Zero". I carried on writing with Anne Dudley while we were recording, and I wanted to make a big, unapologetically ABC record with orchestration. I had to up my game because the bar was set very high, impossibly high, with the original record, Trevor Horn's production and everything that happened there. It was essential to have Anne involved. She knows her way around the orchestra like nobody else, and she's a great musician. She was there originally on The Lexicon of Love as arranger, it was one of her first gigs I think. She's ever youthful, and very passionate about music which I like (below right, Fry with Anne Dudley and Trevor Horn at the Albert Hall, 2009).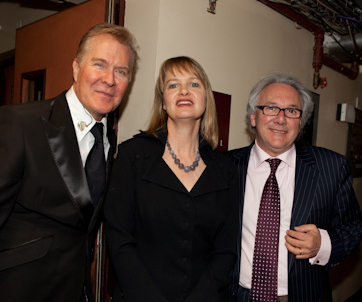 I like your lyrics in "Brighter Than the Sun" – "I'm amazed and a little fazed by what passes for wit these days... I'm amazed and a little fazed by the drugs they crave these days".
I kind of like to update some of the Cole Porter things. [sings] "In olden days, a glimpse of stocking..." And I've always liked Noel Coward. I like Bryan Ferry and Prince and Bowie, but I like the position Noel Coward or Cole Porter will take in a song sometimes, where they'll look across society and make a judgment on it. So that song is definitely that. I've got two adult kids so I'm not fazed by much, but it's nice to keep an eye out as an elder statesman and see the flags that are unfurling, and that's where the idea for that song comes from. My son Louis is 25 so he's like the next generation, Mark 2. The song is about getting old and looking back at the things you value. Seeing if one has learned anything through the adventures and scrapes. I kind of like the modern world, but at 58 I feel quite comfortable in that role, looking around as an elder statesman.
Back in 1982, could you have imagined being at this point now?
Absolutely not, no. Fifteen milliseconds of fame is all you get these days, but 10 or 15 years ago I started playing live again and I realised there was an audience for my contemporaries and the Eighties again. We went playing live all around the world, but I have to say I am amazed and a little fazed, as the song says, at the way it's grown and grown. I never thought I'd make another album really, because you reach a certain age and people are like... I dunno, they lose their fire a little bit. I mean Neil Young hasn't, Bowie hadn't had he, Prince hadn't. You see great artists develop through the years, they change. But back in the Eighties, no. But I'm really grateful because it's been a really interesting year for me and I've been working on a lot of different things.
There used to be this assumption that pop music was only for young people, but it proved us wrong.
I don't know about you, I like cycling but I don't really spend a lot of time gardening or playing golf or listening to jazz. This record is for now. It's a different world now, the attention span has changed from the days of three TV channels. A lot of people don't even listen to a whole album. Our new one has got a real record sleeve as opposed to a quick snap. It's got artwork! And side one and side two. I like [concept albums] Quadrophenia and Tommy and Purple Rain and Ziggy Stardust. I kind of thought what would the follow-up to Ziggy Stardust be like, what's happened to him, but of course we'll never find out sadly. Though I think Bowie was working on a stage play about Thomas Jerome Newton [Bowie's stranded alien from The Man Who Fell to Earth]. What it's like for him now, how fucked up would you be after 25 years on Planet Earth. They say Danny Boyle is going to do Trainspotting 2. The planet hasn't stopped turning you see, I think that's why you're getting more and more of this sort of thing.
Tell me about "The Singer Not the Song"?
I wrote it with Rob Fusari, he's a writer from New York and he kind of discovered Lady Gaga and worked with Beyoncé. The track started off a bit like Def Leppard, the way Mutt Lange made them sound. They weren't really a rock band, they were all Fairlight synthesizers and electronicy. They were kind of a sci-fi rock band. The track started off like that, but it's a kind of guide to being a lead singer and having lead singer-itis. At 58, I'm kind of leaning against the rehearsal room wall and I'm thinking "what the fuck am I doing here?" The guys are playing bass and drums and I'm just pontificating about the new Stone Roses single or something, I'm theorising. So in the song I'm there with a Sharpie in my hand writing either autographs or lyrics, and then of course when you get onstage it makes sense, because in front of an audience suddenly the singer has a very important role as the focus of attention. And the smoke and mirrors and the sorts of things singers of all ages and different types pull together just to do that thing that they do at the centre of the stage. I thought to myself "I'm a singer now, yeah, I've served my apprenticeship". I mean, some days there aren't many subtle lighting effects if you play at 3 three o'clock in the afternoon at a festival. You're there naked and that's it, but you still have to give them a show. There's an art to that. So that's really what that song's meant to be about. It's a go-to manual for anyone who's starting out.
Did you always know you had the ability to hold a crowd like that?
I think I've learned how to do it in the last 15 or 20 years, to be honest with you. You learn it by watching other people do it. We opened for Robbie Williams once and I just used to watch Robbie. He's brilliant at it, it's just one guy, there he is in a stadium. You think "how does that work?" I'm a different sort of performer, but it means that you have to play a lot of places. You play to like four people and a dog or you play to 40,000 people or you judge it by the miles of crowd rather than rows. You learn that shit but nobody can teach you it. I think that just comes. I'm thankful. I never had that in the 1980s. We never really played that much and it's a whole different thing to lip-syncing on Top of the Pops and stuff (below, ABC, early-Eighties style).
You reunited with Julien Temple for the recent video for "Viva Love"?
He filmed the original video for "Poison Arrow" at Stratford East, and then we did a film called Mantrap with Lisa Vanderpump who's now on TV a lot in America as one of the real housewives of Beverly Hills, which is a massive show out there. She's got her own show called Vanderpump Rules, it's about a gang of Beverly Hills glamorous wives that argue with each other. It was great hooking up with Julien again. I hadn't seen him for a while, and I showed up and said "it's 34 years later, let's do a clip". I wanted that as the first single because it's got a lot of the composite parts of the album in it, it's like a trailer. We got talking about how the past is all around you but you've got to live in the present, so the clip is about a young couple falling in love in Shoreditch today, with me sneaking around in the corners. Julien tried to get me to put my gold suit on again but... I'm not bashful, but I thought let the young ones have their moment. I think they're going to make me work a bit harder on the next one. I'm a bit more match fit now. I go cycling.
How did you get involved in working on the Hugh Grant film, Words and Music?
I was going to go to America to do a bit of guerrilla touring, and Warners phoned up and said would I fancy going to New York for two weeks, they were making this film Words and Music. I said "ok, I'll consult my diary – yeah I can do that". I got to the studio and Adam Schlesinger from Fountains of Wayne, you remember that band, he was producing some tracks for the film. I didn't really know what they wanted me to do, but Hugh Grant was playing a guy from the '80s who'd fallen on hard times. They'd got this guy who's a combination of a lot of different people, me included, perhaps a bit of Andrew Ridgeley, Curt Smith from Tears for Fears... I don't know, he's in a duo. I don't know what they paid me for – just attitude. I kind of sang some parts, but Hugh Grant was there and he was checking the moves really. I gave him the moves, I gave him The Point [where the posturing lead vocalist stands and points at the audience, taking a breath at the same time], the stuff you need. I noticed he did use quite a lot of it in the film, but I don't know if I've got a copyright on that. I sang some stuff, made a few suggestions. But Hugh Grant was great. I got the impression that music wasn't his main thing, but he was very appreciative and easy to work with, a very positive guy. The film had a great opening sequence, one of the best bits, where they do an '80s TV pop video. I liked it because it was their take on the business, it wasn't a documentary but it had some realistic bits in it. The life and times of a troubadour, yeah.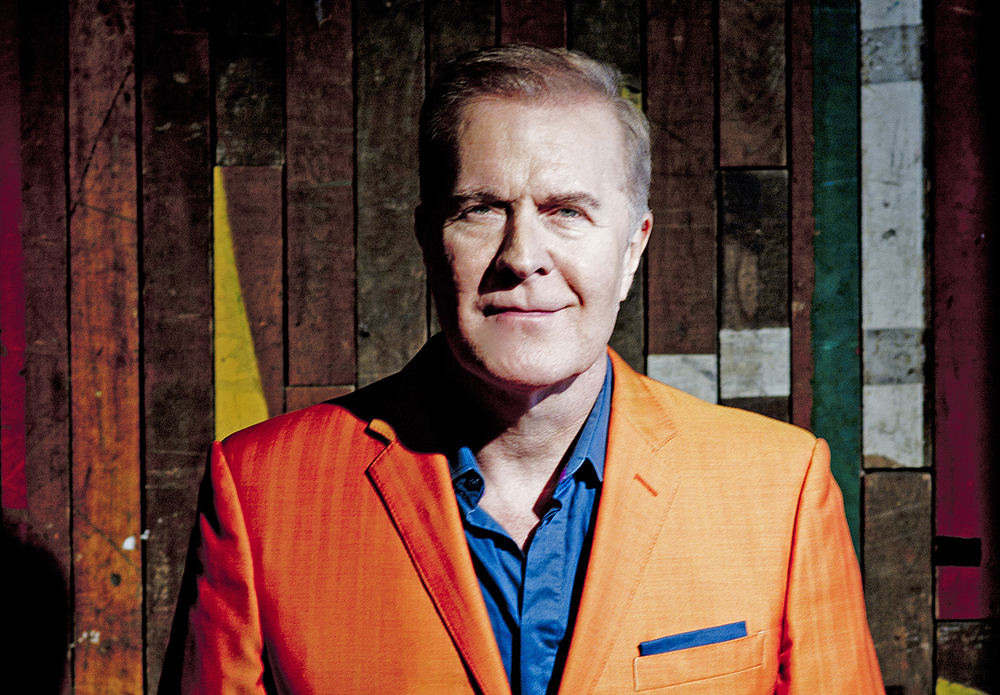 I interviewed you ages ago for the Melody Maker, and I remember you especially liked my questions about your favourite shirts. Are you still a follower of fashion?
I hope I was a pleasant interviewee! Yeah, I was probably a bit obsessed with all that stuff in the '80s, Smash Hits and all that, but I still think a lot about fashion. Plus with my kids, I've got like a design committee at home now. They tell me "you don't go out dressed like that, dad". The roles are reversed. You go through a few years where you kind of grunge out a bit, but then as you get a bit older you have to work a bit harder at it again don't you, for the silhouette and the shape you make. Otherwise you just become invisible, just in general life, nothing to do with music. But I keep an eye on fashion, I have a flick thru GQ if I'm in the hairdressers. The good thing for guys is it's been the same for 50 years. These magazines are full of brogues and watches and sports jackets and button-down collars and trainers, it's the same stuff really. You sometimes have to go to the back of your wardrobe to pull it out. But it's all gone cashmere now hasn't it, it's all about fabric.
You had a serious bout of illness in the mid-Eighties. Did that change your way of thinking?
Yeah it did. It made me a lot more hedonistic actually. It was frustrating because it was about 1986 and I was diagnosed with Hodgkin's disease, a form of cancer. Back then we were on the charts, the records were there, and it felt like I was robbed of a bit of time, in my rather stupid view. One minute you're on Soul Train and the next you're in the Royal Marsden. It was a very hard time, not to joke about it. It was scary and terrifying, but I did recover, with chemotherapy and radiotherapy and an operation, so I should have been really thankful and pleased that I'd got a great result, and of course you don't look at it like that. You're kind of a bit pissed off, which is childish isn't it? So there have been a few hedonistic years but I was always a pretty positive person I think, you've got to be, and now I value everything. Brilliant things came from it too. The last 10 years I've loved playing live, and in a way I think that's to counterbalance times when I couldn't do that through ill health. I got married, my wife Julie stuck by me through some tough times, and I realised that somebody who loves you even when you're kind of crawling on the floor, that's of great value, that's one of the greatest things you can have in life. I was 27 at the time I think, and it definitely affected me, in a good way I hope. Back in the '80s we were like obsessive, like "why has the record got to number 3, who's number 2?" That's not healthy. These days I do count my blessings. It's great to have made a record and for people to hear it.
The Lexicon of Love II is released on Friday 27 May
I realised I'm at the point in my life where you get a bit Teflon and bulletproof to criticism
Explore topics
Share this article