10 Questions for Musician Pokey LaFarge |

reviews, news & interviews
10 Questions for Musician Pokey LaFarge
10 Questions for Musician Pokey LaFarge
American roots music's freshest face talks dancing, touring and 'dreamlike melancholia'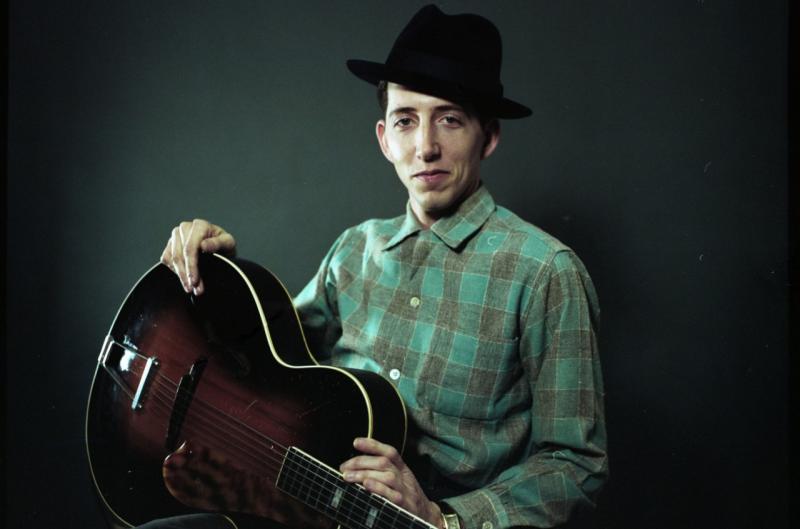 Pokey LaFarge channels Hank Williams et al with style
Pokey LaFarge (b. 1983) is a singer, songwriter, multi-instrumentalist and American history enthusiast. Based in St Louis, Missouri, but frequently on the road, he self-released his first album Marmalade in 2006, a well-received foray into American roots music, and consolidated his reputation playing mandolin for rowdy folk-revivalists the Hackensaw Boys.
Recording for Jack White's Third Man Records along the way, he has also developed a hardcore following, at home and abroad, for live shows that offer a heady mix of charisma, trumpets and ragtime blues, his grass-roots music a backdrop for the eloquent stories of a seasoned raconteur. He has just released his seventh album,
Something In The Water
.
LYDIA PERRYSMITH: How did your interest in roots music and American History set you apart from your peers when you were at school?
POKEY LAFARGE: The interest came from, I guess partly, being tired of not liking the music that was around at the time and just having a hunger for more. Something that was real, something that was different.
I first heard you on Later… with Jools Holland. How did you like the UK when you first came here?
When I first came to the UK, I came to Scotland; this was about four years ago. Scotland was cool and we'd been to England three or four times before we got to Jools Holland. We go to England about twice a year now, Spring and Fall or Summer/Fall, something like that. I really enjoy it over there. I like the history of the place and the tradition. I like the people and what they're creating Europe-wide actually.
The Great Gatsby and moonshine are back in fashion – how has this affected attitudes toward older sounding music?
I do see that pop culture is becoming much more interested in earlier 20th-century fashion. I think it's more of a superficial connection. With that being said, though, I think there's a lot of younger people, a lot of underground people, starting to make vintage-style clothes and shoes and hats again, especially in the States.
You're suggesting there's an overall attention to crafts that acknowledge the past?
There's a great tradition for that sort of stuff – as there is, of course, in England – with some of the finest tailors around and shoemakers and barbers. All that's coming back. So, yeah, I think that stuff is seeping into it. Do I think that Gatsby and moonshine are two of the bigger influences on that? Maybe not. I would say it's something deeper, I think there's a tide turning, in younger people, perhaps, which is why they remade Gatsby and are making moonshine. They're just trying to cash in on a cultural change.
When was the last time you had a dance?
I dance pretty much every day, preferably naked in a hotel room! That would probably be the best way to do it.
What was the last band you saw live?
Besides the opening band on this tour [Daniel Meade], the last band I saw live would be Mavis Staples in Sydney, Australia at the Sydney Opera House.
Jack White has been an amazing force within American Roots music. How do you think he's affected the scene?
In a multitude of ways really. It goes all the way back to the White Stripes, obviously, and [White's primarily vinyl, old timey label/store] Third Man Records have done a good job too. He's released a lot of old, old music and put out a lot of new music that's truly underground. I think the point is he's shining a light on the things that people don't hear on a daily basis.
I've seen a wide age range at your shows. What do you think it is about your music that appeals to all ages?
That's a good question. I guess if I had to go by each age group, for the youth, maybe it's joy in music. I think that the youth respond to joy. They don't really think about it, they just do what feels good. 20-to-30 year olds are more caught up in what's cool, a little bit of the cool factor. It's tough to verbalise but I think an older group enjoys the classic sound of the music, something mature and hopefully somewhat eloquent. That harkens to their want. But I'm not quite sure.
How was it getting the new record finished with your extensive amount of touring?
Well, last year I didn't spend as much time on the road, and that was by design. In the past I was on the road so much and I'd try to fit recording in there. It was not only stressful, I had to sacrifice some of the recording. I think it's important to take your time with it – the writing and recording of it, everything. I think that doing it like that this time proved that.
Your music has a dreamlike melancholia, it leaves a yearning for summertime. Does music give you that feeling?
Well thank you very much for saying that, I think that that's a nice observation, a very sweet way of putting it. I think it's how I approach the song. The summertime – I am inspired by that feeling and to write songs that reflect that feeling. I think that is what songwriting is, you're writing a song to reflect certain feelings.
Overleaf: Watch the video for "Something in the Water"
I dance pretty much every day, preferably naked in a hotel room
Explore topics
Share this article