Album: Black Honey - A Fistful of Peaches |

reviews, news & interviews
Album: Black Honey - A Fistful of Peaches
Album: Black Honey - A Fistful of Peaches
Brighton rockers' third gives gloom-amped guitar voom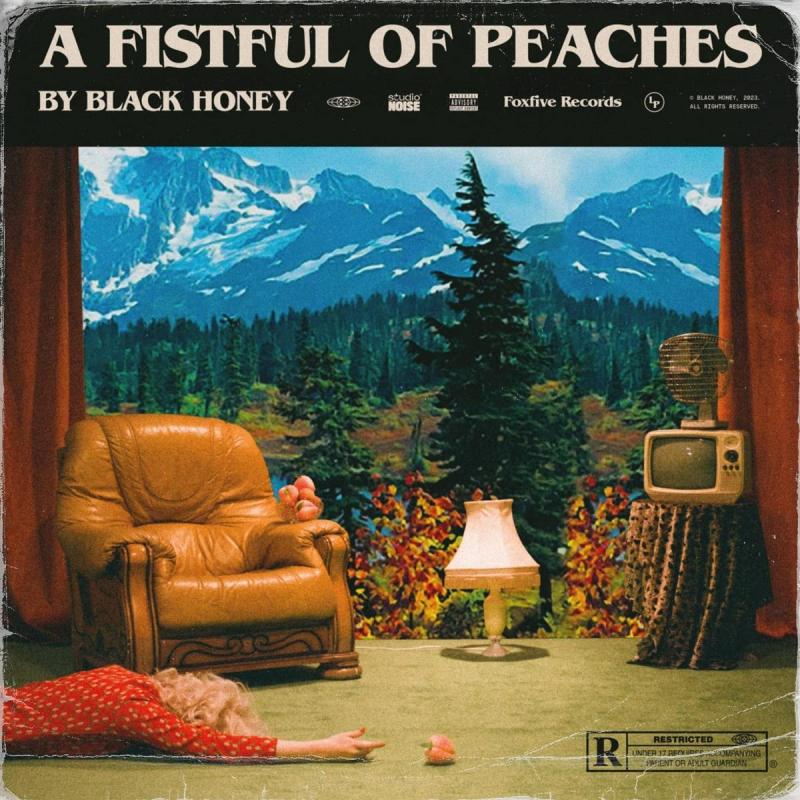 A peach too far
There's a disconnect on the third album by Brighton rockers Black Honey. The music is rousing post-grunge indie rock, tuneful, full of vim, but the lyrics speak of someone deeply troubled. The mood is, perhaps, best summed up by "Rock Bottom" which states, "Rock bottom – but the floor keeps dropping." The whole album is mired in similar mind-strife.
Singer Izzy Bee Phillips has said as much of the incongruously named A Fistful of Peaches, stating, "Most of this record is me trying to figure out where the line is between normal mental health and when you're having breakdowns every day that then become part of normal." The music, on the other hand, is immediate, catchy, and bounce-around upbeat. "I disassociate from the feeling/Kick the fuck off as you try to reach me/You open my hand and my palms are bleeding/And my head's still reeling," runs "Cut the Cord", but the hefty ultra-produced guitar storm behind emanates pure fist-pumping triumph.
If you're after musical originality, this is not the place. That's not the point here. It's an album catering to those after a well-worn, visceral guitar kick, who are attached to the idea that "authenticity" is a four-piece rockin' out, treading a path somewhere between L7, Garbage and The Primitives but with production that pushes their sound to the epic (drummer Alex Woodward deserves special mention as he adds real roll to the rock). Because they're deft hands at writing catchy pop songs, it's no bad place to be, as is demonstrated by cuts such as "I'm a Man", "Heavy", and the aforementioned "Rock Bottom".
In fact, they're rightly so confident in what they do that they save two of the best songs for near the end of the album, the anthemic "Weirdos" ("This is a song for the weirdos/The anti-heroes/Won't fit in if you tried") and "Tombstone", the one song that breaks the musical mould with a touch of Nine Inch Nails about it.
Phillips has implied the unhappiness that inspired this album is a thing of the past, which is to the good, but, whether despite, or because of it, Black Honey have nailed another set of contagious festival sing-along smashers.
Below: watch the video for "Heavy" by Black Honey, directed by and starring Dakota Schiffer (of Drag Race UK fame)
They're deft hands at writing catchy pop songs
rating
Share this article