Book Review: Bob Dylan in America |

reviews, news & interviews
Book Review: Bob Dylan in America
Book Review: Bob Dylan in America
Latest Dylanologist on a mercurial artist and his musical roots
Wednesday, 15 September 2010
The mercurial Bob Dylan: 'The image of Dylan that emerges from the book is that of trickster and masked marauder'
Capturing a "shape-shifter" – as the Irish musician Liam Clancy described Bob Dylan – is not a simple task. The object of the hunt is by definition elusive. Sean Wilentz's multi-dimensional series of essays on Bob Dylan chases its prey with a deftness and broad-ranging sweep that mirrors Zimmy's mercurial nature without losing overall coherence.
Dylanology is a discipline that has produced brilliant commentators, not least Greil Marcus, Michael Gray and Christopher Ricks, and historian Wilentz is a worthy addition to this learned and sometimes brilliantly inspired cohort.
In a book written with the clear advantage of creative hindsight afforded by Dylan's most recent work (the Theme Time Radio Hours, his memoir Chronicles Vol 1 and the last four studio albums and re-issues), Wilentz has put together a number of previously published essays and new material in a form that explicitly avoids completeness. The approach is closer to Marcus's attempt at placing Dylan deep in the context of the "weird old America" than it is to the encyclopaedic ambition that has characterised Gray's work.
"What does America tell us", Wilentz asks, "about Bob Dylan – and what does Bob Dylan tell us about America?" Dylan wrote in Chronicles Vol 1 that "America was put on the cross, died and was resurrected…the god-awful truth of that would be the all-encompassing template behind everything that I would write." Bob Dylan in America conjures in many different ways the chronic and recurring American conditions which mix tragedy and hope, darkness and light, seriousness and humour, and the ways in which a creative genius such as Dylan has provided a mirror to some of his nation's essential character, as well as transmute it through music and poetry.
Although Wilentz is an academic - and his profession sometimes makes for tortuous and over-argued advocacy of an interpretative line – this is a refreshingly personal and emotional book. Wilentz grew up in a world which nurtured Dylan's development as an artist, the left-wing Bohemia of Greenwich Village, where the author's parents ran a bookshop. He went to his first Dylan concert with his father in 1964. Wilentz's recollections and his more recent involvement with the Dylan "industry" as resident historian on the official website give the book an engaging quality, as well as relief from the material that drifts into the (perhaps inevitable) realm of the Dylan anorak.
In Wilentz's search for the deep structure of the "jagged art of a mercurial artist", a venture which takes him to the edge of the beaten track and beyond, he writes for those who are prepared to see in Dylan a "paradoxical and unstable combination of tradition and defiance". For him, Bob Dylan's years as a born-again Christian are neither betrayal nor surprise but fit into a larger – and characteristically American - picture. This fascinating and thought-provoking book will send the reader off to the recordings themselves, from the Minnesota Hotel bootlegs through to the recent (and, to some, shocking) Christmas album. And that is not all, as it had me dipping into re-issues of Charlie Poole, Sacred Harp groups recorded in the 1930s, Memphis Minnie, Charley Patton – and Frank Sinatra. As Wilentz points out, Dylan's radio shows (in which he played Sinatra most of all) have revealed a range of enthusiasms and influences that reaches far beyond blues and folk. As he points out, Dylan is not a baby-boomer. Born in 1941, he grew up in the 1940s and 1950s, absorbing a pre-rock'n'roll range of musical and cultural riches that, in turn, reach back into the early 20th century and beyond, as well as attitudes that might seem out of tune with the radicalism we associate with the 1960s.
Wilentz writes very well about music. The chapter which tells the story of the recording of the classic double album Blonde on Blonde, based on new material from master-tapes and help from Dylan's manager Jeff Rosen, is a gripping blow-by-blow account of the surprisingly creative encounter (given this is 1966) between "hip" Jewish New York and "good ole boy" Nashville. But he is above all a particularly intuitive historian, and this enables him to place Dylan - both broadly and deeply - in the context of American culture. Greil Marcus was the brilliant pioneer in this field and Wilentz is careful not to cover the same ground. Context here is not just a set of objective factors, but something alive, from which Dylan draws his inspiration and to which he has undeniably contributed.
Over the course of chapters which at first might seem a little disjointed, but which gradually reveal a pattern of underlying and interrelated themes, Dylan emerges as an artist who is almost uncannily connected to America's cultural and political past. He borrows extensively from poetry, literature and music, touching a timeless quality that defines unique American myths and archetypes, which he then alchemically transforms into something that illuminates the present and the future.
The book draws together seemingly disparate material including the American Popular Front movement of the 1930s, composer Aaron Copland, Allen Ginsberg and the Beat Poets, the Sacred Harp shape-note singing tradition, Blind Willie McTell, American Civil War History, Herman Melville and Edgar Allan Poe to evoke the world through which our shape-shifting hero has navigated. Without having to make definitive biographical statements, Wilentz paints a picture of a man tuned in, possessed and inspired, and who has always rediscovered himself after periods of creative depression through drawing once again from the extraordinary rich and contradictory source that is America. Dylan works, Wilentz writes, with "the dissolution of distinctions between past and present – as well as between high art and low, scholarly and popular, exotic and familiar".
The image of Dylan that emerges from the book is that of trickster and masked marauder
While the America in which Wilentz places Bob Dylan addresses the tangled relationship between African-American and white musical cultures, a creative dance of borrowings, influences and imitations, he remains trapped in a view of America blinkered by a benign form of ethnocentrism. The extent to which modern American music has been shaped by powerful aesthetic roots which have a source in African culture is incalculable – and often neglected by historians. If Dylan is, as Wilentz claims, an artist who has "dug inside America as deeply as any artist ever has", it is as if he has forgotten that so much American music - including Dylan's - draws inspiration and form from the drummers of Congo Square, the ethical admonitions of gospel and the raunchy sexuality of the Delta Blues.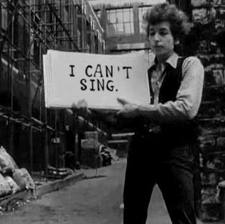 The image of Dylan that emerges from the book is that of trickster and masked marauder. The trickster – related to the Greek god Hermes, the ultimate go-between, linguistic virtuoso and thief – stands forever at the crossroads, opportunistically alert to every possibility. And the mask – a feature of all things Dionysiac, from death-and-rebirth scenarios to the essence of theatre and tragedy – allows the one who wears it to hide, to change his or her appearance and ultimately to speak more openly. The evocative portrait of Dylan on the book's cover – by Eugene Smith – presents Dylan as super-hip rocker (armed with a Fender guitar) plus a touch of the protest folkie (the harmonica on a rack). The Ray Bans provide the mask of ultimate coolness, and the joint on his lips a suggestion of the ecstasy and poetic vision offered by Dionysus.
Wilentz takes great pains to defend Dylan from the increasing accusations of plagiarism to which he has been subjected in recent years. There is of course an element of "thievery" in the lifting of lyrics from other people's songs or poems, but Dylan clearly does it playfully – just as Hermes steals his older brother Apollo's cattle as a dare and a jape. As Lewis Hyde has written in his masterly study of the trickster (Trickster Makes This World: Mischief, Myth and Art), sleight of hand (and mind) are essential to real creativity, and Dylan displays most perfectly this deeply human characteristic.
Not surprisingly, the section on Love and Theft (the title "stolen" by Dylan from a study on 19th-century black-faced minstrelsy, another masked mode) is crucial to the main theme of Wilentz's book, as well as a crowning achievement in the period of renewal which Dylan has experienced as a senior citizen. While Dylan the shape-shifter's many masks may have been deliberately used as protection and provocation in his youth, he is now at ease with the playfulness of his theatricality, as well as the theatrical quality of his play. Dylan's film, Masked and Anonymous, slated by most critics, is, according to Wilentz, misunderstood; it is flawed but a contradictory and revealing piece of work, part of the kaleidoscopic and theatrical whole that Dylan unfolds, year after year, before our eyes.
There are times when Wilentz seems surprised at the many connections between Dylan and the lives and works of others whose paths he has crossed – from the leftist composer Aaron Copland to songster Blind Willie McTell - as if such synchronicities and parallels were not the reflection of a world that is both chaotic and meaningful, not least when they are refracted through the prismatic genius of an artist such as Dylan. What has made Dylan so important over the years has been his deep attunement to the many streams of American culture and myth, an acute and wide-reaching sensitivity which is explored with real passion in Wilentz's searching addition to the field of inspired Dylanology.
A gripping blow-by-blow account of the surprisingly creative encounter (given this is 1966) between "hip" Jewish New York and "good ole boy" Nashville
Explore topics
Share this article