Britney Spears, O2 Arena |

reviews, news & interviews
Britney Spears, O2 Arena
Britney Spears, O2 Arena
Britney fronts a formidable song-and-dance spectacle that's also good for a laugh
Saturday, 29 October 2011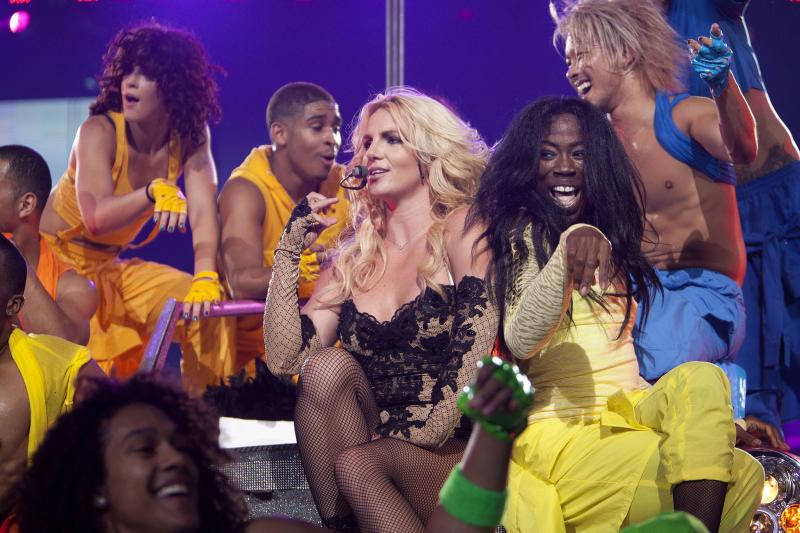 Britney Spears (centre): sexy and silly in equal measure
It's a long time since I laughed during a show as much as I did in this one. And not, I hasten to add, in a snarky, narky, sarky way, but simply because it was fun. In another illustration of just how deeply competitive the business of the arena pop show has become, Britney Spears's Femme Fatale tour is a formidable song-and-dance spectacle, with a full complement of dancers and hydraulics and epic visuals, and one that also features some damn fine music.
But what makes this one memorable is that it's sexy and silly in equal measure.
First, I laughed at the sheer campness of the opening scenario: as Britney sang "Hold It Against Me" ("If I said I want your body now, would you hold it against me?": yes, that old chestnut), her male dancers, dressed as some sort of pervy platoon of law enforcement officers, having hurled themselves around and flourished their enormous night-sticks, proceeded to handcuff the star of the show to a gigantic throne which looked alarmingly similar to an electric chair. I laughed during the Egyptian sequence, with a burnished barge that Cleopatra would have been proud of being wheeled across the stage and dancers making those wiggly hieroglyphic sideways hand movements. I laughed when Britney waggled her ample bottom in the audience's direction, a sight that was greeted, weirdly, by screams from many of the women in the crowd. And I laughed a lot more besides. It was a blast.
Written off a few years ago as a basket case following her infamous head-shaving episode, Britney Spears appears to be having fun again. And what's refreshing is that although she no longer has the body of a sylph-like schoolgirl, she is happy – nay, proud – to parade in various states of undress: she is by no means overweight, but she has a body that's real. Good luck to her. Similarly, and despite the fact that she began dancing lessons at the age of three during her Louisiana childhood, she's a pretty terrible dancer, but there's something endearing about her effortful movements, the Gary Barlow-esque deliberation with which she goes through her steps. Nor is she anything more than an average singer, but still: she didn't, as is often the way, "hide" her voice behind backing vocalists; it was Britney all the way.
I suppose what all this adds up to is that Britney is not like Madonna, who stands as a kind of role model for the can-do woman; nor is she like Lady Gaga, with her arty weirdness; nor is she like Kylie, the untouchable pop goddess. No; my guess is that Britney's appeal to her legions of followers is that deep down she's just like them.
What surprised me was just how stripped down, elemental and gut-rumbling the music was
Anyway, enough of the decoding; on with the show. What surprised me, and I speak as someone who saw Britney in her teen-pop prime, was just how stripped down, elemental and gut-rumbling the music was. This was no lightweight pop confection, this was hard stuff, and the hits of yore were either absent or heavily curtailed – "(Hit Me) ...Baby One More Time" had only a brief outing, while she didn't even bother with "Oops!... I Did It Again". Or they were remodelled: "Toxic" was radically, brilliantly, sexily revamped and re-energised. All this was performed by just two shadowy onstage musicians, whose job seemed to be to supplement what was essentially a pre-programmed soundtrack of wall-to-wall dance beats (drawn substantially from her recent Femme Fatale album) with bits of keyboardery and knob-twiddling.
As for the visuals: a narrative of sorts was played out on the video screens during the costume-change intervals which was something to do with pursuit and surveillance; and periodically a big subtitle introduced a new segment of the show which said something like "The Seductress", or "Sexy Assassin". Doubtless this all meant something to the creatives who came up with it in the pre-tour brainstorming sessions, but to me this show wasn't really "about" anything, except fun.
Watch the video for "Hold It Against Me"

Britney waggled her ample bottom in the audience's direction, a sight that was greeted, weirdly, by screams from many of the women in the crowd
rating
Share this article