Christine Tobin, EFG London Jazz Festival, World Heart Beat review - an enchanting ode to home |

reviews, news & interviews
Christine Tobin, EFG London Jazz Festival, World Heart Beat review - an enchanting ode to home
Christine Tobin, EFG London Jazz Festival, World Heart Beat review - an enchanting ode to home
A new song cycle from one of contemporary music's unique compositional voices
Saturday, 18 November 2023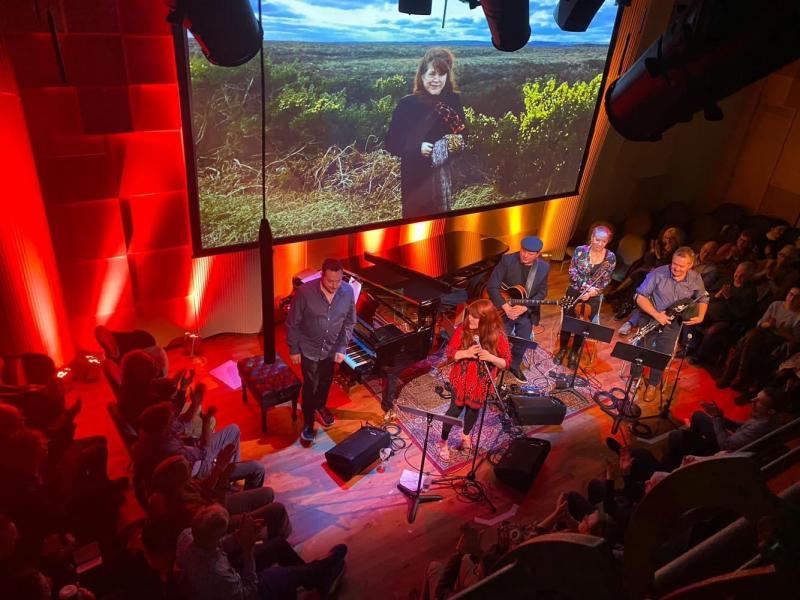 Returning Weather: a rich textural mix
This UK premiere of the award-winning, Dublin-born vocalist and composer Christine Tobin's latest project, Returning Weather, presented an otherworldly ode to finding home – casting multiple perspectives on our yearning for connection and human warmth.
Commissioned by The Dock, a multidisciplinary arts centre in Carrick-on-Shannon, Co Leitrim, the song cycle sees Tobin working for the first time with both traditional Irish musicians and jazz improvisers. As Tobin noted, it was also possibly the first time ever that uilleann pipes have featured as part of the EFG London Jazz Festival.
The piper in question was David Power, whose flowing, intricate playing provided the soulful cornerstone of the music. Power doubled on whistles to provide yet another layer in an already rich textural mix.
Whether contributing crystalline, ghostly false harmonics, heavily percussive ostinatos at the heel of the bow, or doubling the vocal line with beautifully legato playing, Aoife Ní Bhriain – depping for Cora Venus Lunny on violin and having had just a single run-through of the music – threw herself completely into the music.
Phil Robson on guitar and electronics provided everything from delicately looped melodic motifs to potent, overdriven solos. Pianist Steve Hamilton, performing on a Steinway Model D Concert Grand Piano handpicked for the venue by the great Julian Joseph, summoned up a gorgeous palette of sound with playing of enormous light and shade. At the centre of it all was the rich, wine-dark, engulfing beauty of Tobin's voice.
We heard all nine album tracks, and in the same order, with additional spoken word passages, a striking visual backdrop, the intimacy of the World Heart Beat Embassy Gardens venue and the stunning d&b SoundScape system combining to create a wonderfully immersive experience.
The scene-setting "Loch Glinne (part 1)" opened with the glorious polyphony of city life before segueing into an alluring slow air performed by Power. Utilising the full quintet, the touching "Gennie's Welcome" was inspired by the warm greeting Tobin received from her nearest neighbour in rural Co Roscommon ("However it falls, I am grateful to those who show me where home is").
Gently borne along by Hamilton's hypnotic piano ostinato, "Callow", the townland where Tobin now lives, strikingly depicted its varicoloured properties ("browns, yellows and greens, and all mustard hues"), while Tobin's joyous lilting offered a paean to the neighbouring "Mullach na Sí".
In addition to a wondrous setting of Eva Salzman's vivid poem "Still, Life" with its haunting depiction of staying in an abandoned house, and the sean-nós stylings of "Loch Glinne (part 2)" – a Power/Tobin duet – the largely improvised and multilayered "Hare & Crow" featured some hearty "cawing" from Tobin as one of two highly contrasting blocks of material. This called to mind John Cage's Joyce-inspired 1979 work, Roaratorio: An Irish Circus on Finnegans Wake, with its incredible mixed media collage of live recitation, prerecorded sounds, traditional Irish musicians (playing pipes, fiddle, flute and bodhráns), plus dancers.
With Robson's guitar enveloping Tobin's vocal line in "Sedges and Heather", the final song "July" returned to the full ensemble in a celebration of light, colour and reconnection ("I, too, am a newcomer, but already my heart dances to a fiddler's beat").
To end the evening, the quintet presented a spirited reading of the classic slip jig, "Kid on the Mountain", with Tobin lilting the five-part tune underpinned by Hamilton's ear-catching harmonies.
Listen to "Callow" from Returning Weather
At the centre of it all was the rich, wine-dark, engulfing beauty of Tobin's voice
rating
Share this article