The Cure, RFH review - sterling close-up show from alt-pop stalwarts |

reviews, news & interviews
The Cure, RFH review - sterling close-up show from alt-pop stalwarts
The Cure, RFH review - sterling close-up show from alt-pop stalwarts
The dons of smudged eye-liner and catchy classics deliver the climax of Meltdown 2018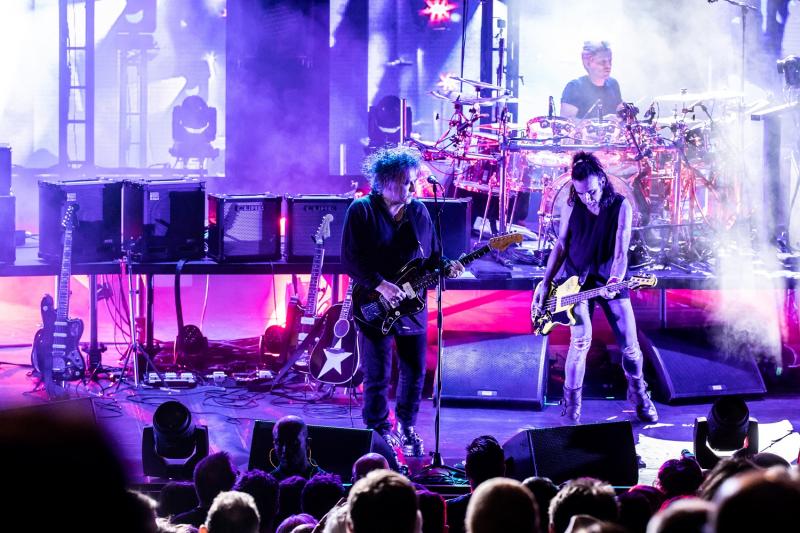 Robert Smith and company in action
The Robert Smith-curated Meltdown festival in London came to a close on Sunday night with a spectacular, concept-driven headline set by The Cure, or CUREATION 25, as the band was actually billed, presumably because of a previously contracted show at Hyde Park that's due to take place in two weeks' time.
Like Nine Inch Nails on Friday night at the same Smith-curated venue, seeing a band of this stature up close on such blistering form is a dream come true for fans, who have come far and wide to see Smith and his cohorts: bassist Simon Gallup plus Reeves Gabrels on guitar, Jason Cooper on drums and Roger O'Donnell on keyboards. And while there was widespread speculation that the show would feature spidery, silhouetted guests from the past – we wouldn't have been surprised to have seen Lol Tolhurst for example – in the end, what we got was a supreme and masterful two-and-half-hour performance that featured a two-set retrospective set that really did go there and back again, as their band leader said it would.
Opening with "Three Imaginary Boys', the show is a condensed version of the band's DNA with quite a few deep cuts interspersed with better-known hits: if you want the actual hits, you'll need to go to Hyde Park for their 40th Anniversary show. So while we get "Pictures of You" and exemplary 1992 single "High", we also get excellent album tracks like "Jupiter Crash" from their 1996 misstep LP Wild Mood Swings, which for all its parent album's faults, is still a great record. The performance is dreamy and pitch-perfect for a balmy Sunday night in London.
"And now for the end of the first part of the journey," says Smith, and they then launch into "It Could Never Be the Same" as a giant candle flickers behind them on the huge stage screen. It's one of two new tracks and a reminder that contemporary Cure songs can still packs punch. "…Same" packs much more power than the three songs which precede it ("39", "Us or Them", "It's Over"), none of which burn like this stadium-sized new Cure stomper. On keyboards, O'Donnell looks more Cure-like than ever with his black leather jacket and freshly-washed barnet. Aside from Gallup, he's the longest-serving member of Cure 2018. Guitarist Reeves, who shows his mettle on songs like "A Night Like This" and "...Deep Green Sea", still doesn't quite look like he fits. But at least drummer Jason Cooper seems to be having fun, with a joyous demeanour and a haircut straight out of The Lost Boys. He's also the youngest member of the band at 51.
During the second half, the band are in their element once again, but now the clock is going the other way as they continue to play one track from each consecutive album. "For all my dreams came true!' sings Smith on "Alt.end". "Yes. They. Did." Awesome stuff. It's followed by "The Last Days of Summer" ("It used to be so easy, and now you don't even try") from Bloodflowers, which sounds as bittersweet as it did when Smith birthed it back in 2000. Then "From the Edge of the Deep Green Sea" (again, from 1992's Wish album) crashes into action and all is well in the world, as the band interlock like never before. Interestingly, the star here is Reeves, who fires off a riff so explosive that Robert can only look on in awe: for this writer, probably the biggest and best moment of the evening. And still we rewind, back to 1984 with "Shake Dog Shake" from The Top, the screens behind the band now blood red. "One Hundred Years", "Primary", "A Forest" and their signature single "Boys Don't Cry" then close the night. Unusually for a Cure show, there's no encore: but with the band at such close proximity, no-one went home anything less than delirious.
A supreme and masterful two-and-half-hour performance
rating
Share this article