David Gilmour, Royal Albert Hall |

reviews, news & interviews
David Gilmour, Royal Albert Hall
David Gilmour, Royal Albert Hall
The spirit of Pink Floyd lives on as the 'Rattle That Lock' tour comes home
Saturday, 24 September 2016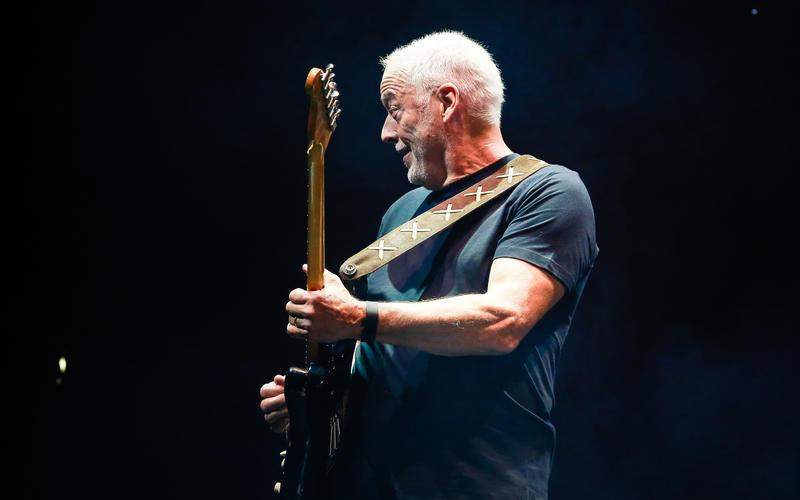 David Gilmour: mind-expanding
A single guitar note rang out over smouldering synth-chords. It was bent up a tone and then wavered in the air before gracefully falling. And so began the final residency of the Rattle That Lock tour. No hype. No support act. Just David Gilmour and his all-star band looking back on his long and prestigious career. At least that's how the programme described it.
For everyone else this was
Pink Floyd
resurrected.
Not the Nineties "stadium version", mind. This was more like early Floyd - a time when the band members were still totally immersed in the possibilities of making music together. Indeed, earlier in the tour, Gilmour even performed at the amphitheatre featured in 1972's classic "Live at Pompeii" concert film.
Last night, that Seventies sensibility permeated right through to the new material. Partly it was how the stage was dressed - clouds of dry ice and the iconic Pink Floyd circular screen hung up high for videos and light shows. But what really gave songs like "Rattle That Lock" and "Faces of Stone" their mind-expanding quality was the way in which they eventually morphed into extended guitar-jams.
Replacing Waters's vocal contributions in certain numbers proved tricky
Dressed all in black, Gilmour exuded a kind of Zen. What was going on with his fingers was another matter. Up on the screen we witnessed 10 thick digits explore the full gamut of guitar technique, from frantic attacks on the whammy bar to the unhurried acoustic phrasing of "Wish You Were Here". The band never missed a beat, nor did they intrude. The main man was happy to take a back seat when required, for instance quietly staying in the background while Lucy Jules performed a spine-tingling version of Clare Torry's famous vocal solo in "The Great Gig in The Sky".
The second half featured a richer mix of Floyd classics, prompting comparisons with Roger Waters from several slightly-frazzled Seventies survivors near me. One suggested that Waters was much madder than Gilmour and while a bit of madness could be a good thing in the studio, it rarely was on stage. However true, one thing was certainly noticeable – replacing Waters's vocal contributions, in certain numbers, proved tricky. Various members of Gilmour's band attempted to fill the second vocal lead on such tracks as "Run Like Hell" and "Time" but inevitably there was something missing.
Still, Gilmour's soulful pipes haven't changed a bit, and when he started to sing "Remember when you were young/You shone like the sun", the emotion in the room was as obvious as the dry ice. Video projections, up high, fast-forwarded through the life of a Syd Barrett figure, first as a boy running through the woods with a teddy bear and then as a happy teenager. Soon, though, the character takes to drugs and falls down a psychedelic Alice-style rabbit-hole. Eventually, he's seen sitting, lost and alone, at the bottom of an empty swimming pool.
Inevitably, after such a powerful climax, there was a slight loss of intensity. Moments, such as "Fat Old Sun" (from Atom Heart Mother) struck a particular chord, but more generally the room experienced a slight lull. Then, a full three hours after they began, the band re-appeared for the encore and the mood reignited. The evening ended with "Time/Breathe" from Dark Side of the Moon and a barnstorming "Comfortably Numb". The irony, of course, was that the song describes a fictional rock singer becoming burnt-out and unable to connect with normal life – the complete opposite, it would seem, of Gilmour himself.
Gilmour's face exuded a kind of Zen - what was going on with his fingers, though, was another matter
rating
Share this article