David Gilmour: Wider Horizons, BBC Two |

reviews, news & interviews
David Gilmour: Wider Horizons, BBC Two
David Gilmour: Wider Horizons, BBC Two
Eminent Floydsman keeps his powder dry in engaging but undemanding profile
David Gilmour: above-averagely eloquent when he wants to be
Had he not become one of the pivotal members of Pink Floyd, it's not difficult to imagine that David Gilmour might have become an academic like his father Douglas (who was a lecturer in zoology and genetics at Cambridge), or maybe a high-flying lawyer with leftish inclinations.
Despite having been at the vanguard of rock music in its greatest and most extravagant years, Gilmour was never a likely candidate for a dissolute life of rock'n'roll hedonism.
During this expansive TV profile, he pondered over this himself. Inspired back in the Fifties by Bill Haley's "Rock Around the Clock" and Elvis's "Heartbreak Hotel", he was conscious that some of his contemporaries went into pop music to get girls and take drugs, but knew he was always in it solely for the music. Good for him, though it doesn't necessarily make Gilmour the most thrilling subject for documentarians.
Since Floyd are one of the most successful bands of all time, it goes without saying that Gilmour doesn't have to worry too much about paying his council tax or getting the boiler fixed, and we were treated to extensive views of his quietly luxurious lifestyle (Gilmour, centre, with the Floyd, pictured right). There was his elegantly-appointed antique houseboat the Astoria, moored on the Thames near Hampton Court and kitted out as a state-of-the-art recording studio in which latterday Pink Floyd and recent Gilmour solo albums (including the new Rattle That Lock) have been coddled to fruition. And there was his delightful Sussex home The Farmhouse, a garden-of-England idyll of rambling old brickwork, waterways, meadows and gardens. There were languid scenes of Gilmour, wife and lyricist Polly Samson and their brood of kids (Gilmour also has four older ones from his first marriage) paddling canoes, cooking barbecues and having sing-songs with a guitar – or two, because guitarist/producer Phil Manzanera also sat in. In the background, invariably, loitered Gilmour's interrogator Alan Yentob.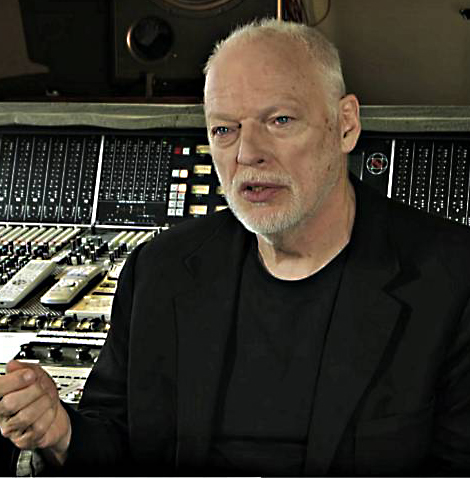 The latter did a pretty good job of drawing Gilmour out, insofar as he was draw-out-able. He roved amiably over his career with an air of amused detachment, lobbing in some nice anecdotes about his early days singing close-harmony cover versions with Jokers Wild, and how he inexplicably found himself in Paris recording four songs for the soundtrack of the Brigitte Bardot movie Two Weeks in September, but when Yentob tried to get him to talk about his hammer-and-tongs battle with Roger Waters for control of Pink Floyd, Gilmour politely declared this to be ancient history which had already been chewed over quite enough. Polly Samson suggested that for her husband, music is his primary form of expression, and floated the whimsical notion that the best way to have a conversation with him might be to ask him a question and then get him to reply by playing music. A shame, therefore, that we heard nothing about how Gilmour creates his soaring, hauntingly-sculpted guitar solos, where he uses the fewest possible notes to create enormous space and hair-raising drama.
Yet as far as I could tell, Gilmour is above-averagely eloquent when he wants to be. Some of his most telling moments were little more than throwaways, like when he was asked about his mother, who'd died of dementia. "Do I miss my mother?... mmm... no." Her attempt to get closer to him when she was old and ill, he added, might have been more appreciated if she'd done it when he was five years old. And I liked the bit when he said he had a memory block about playing "Shine On You Crazy Diamond", and had to spread pages of notes on the floor in front of him to get through it.
But there are several other Gilmours we didn't get to meet – the staggeringly generous benefactor to a swarm of admirable causes, a supporter of and collaborator with numerous other artists, and a keen pilot and historic aircraft enthusiast. I suppose he doesn't like to talk about all that either.
Gilmour roved amiably over his career with an air of amused detachment
rating
Explore topics
Share this article