Pink Floyd: Wish You Were Here, BBC Four |

reviews, news & interviews
Pink Floyd: Wish You Were Here, BBC Four
Pink Floyd: Wish You Were Here, BBC Four
Seems there's still no love lost between David Gilmour and Roger Waters
Pink Floyd reunite for Live 8 in Hyde Park, July 2005
We now know that David Cameron's favourite album is Pink Floyd's Dark Side of the Moon, although there is a theory that he only picked it to avoid having to give the true answer, which is The Queen is Dead by The Smiths. Clearly this would have been a tactless selection in Diamond Jubilee year.
But perhaps the smarter choice would have been 1975's Wish You Were Here, the follow-up to the monstrously successful but patchy Dark Side..., and the favourite Floyd album of band members David Gilmour and the late Rick Wright. Once again, Wish... was the product of a band caught in the steely grip of the monomaniac Roger Waters. However, where Dark Side... was mostly useful as a reference disc for testing hi-fi systems, Wish... was not only a marvel of Abbey Road sonic engineering, but benefited from a sombre thematic unity.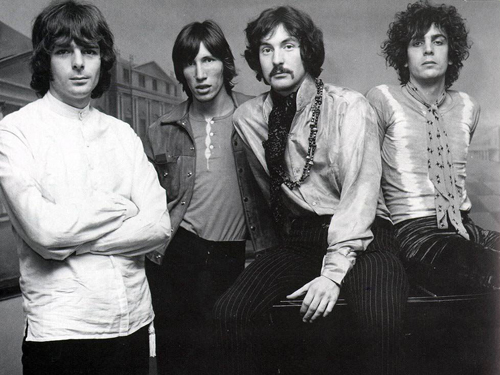 Topped and tailed by the two halves of "Shine On You Crazy Diamond", the band's unusually emotional ode to poor, mad and AWOL Syd Barrett (pictured with band, far right), the album was about loss, regret, hatred of the record industry and frustrated ambitions. Quite how Waters managed to turn the Floyd into his private laboratory of psychoses is one of the more fascinating questions in rock history, but perhaps he was simply the clenched-jawed obsessive in a band of fairly laid-back characters. Interviewed here, Waters explained that in the track "Welcome to the Machine" he was trying to express "all our experiences of this monstrous, grinding thing", but the idea that his lyrics were about anything other than his own demons and private obsessions is laughable.
The film-makers had done a decent job of rounding up band members and other interested parties. Photographer Jill Furmanovsky recalled how, as a naive 21-year-old, she'd managed to bag some memorable candid snaps of the Floyd in the studio, while sound engineer Brian Humphries sat at the Abbey Road mixing desk and rifled through sections of the multitrack tapes. He'd been struck by the anger in Waters's songwriting, and how it sounded like "someone getting something out of their system." American backing singer Venetta Fields admitted that when she was hired she "didn't know them from a bar of soap," but had been impressed by their fanatical attention to detail in the studio. There was even an interview with American stuntman Ronnie Rondell, who was the man on fire in the sleeve photo (pictured below).
But as ever, it was the stuff you had to interpret between the lines that was the most intriguing. Though Waters played with Pink Floyd at Live 8 two decades after his acrimonious split from them, the separate interviews with Gilmour and Waters made it feel as if they were frozen in a perpetual stand-off, like rival factions facing each other across the negotiating table at Panmunjom. Try as he might, Waters isn't capable of giving anybody else much credit for anything, so discussions of the songwriting ran along the lines of Gilmour saying how he'd created the music, then Waters describing how he'd alchemised it with his own titanic genius. There was a droll account of how folk singer Roy Harper had stepped in to sing on "Have a Cigar" after Waters's efforts fell short ("I said 'I can do that, for a fee'," Harper remembered). Gilmour thinks Harper's performance was brilliant, while Waters is still moping about his own failure and how Harper didn't do it the way he wanted it.
Gilmour and Waters were, at least, united in expressing dismay and sorrow at the fate of Barrett, whose brain was apparently short-circuited by a deluge of LSD. Barrett, long gone from the band, mysteriously turned up at Abbey Road during final mixes for the album in June 1975, but his appearance was so catastrophically altered that it was ages before anybody recognised him. Very sad, though keyboardsman Rick Wright, who died in 2008, surely deserved some sort of tribute in this film too.
How Roger Waters turned the Floyd into his private laboratory of psychoses is one of the more fascinating questions in rock history
Explore topics
Share this article