EFG London Jazz Festival round-up review - great moments in London's tiny clubs |

reviews, news & interviews
EFG London Jazz Festival round-up review - great moments in London's tiny clubs
EFG London Jazz Festival round-up review - great moments in London's tiny clubs
For live jazz events small - surely - is the most beautiful
Tuesday, 22 November 2022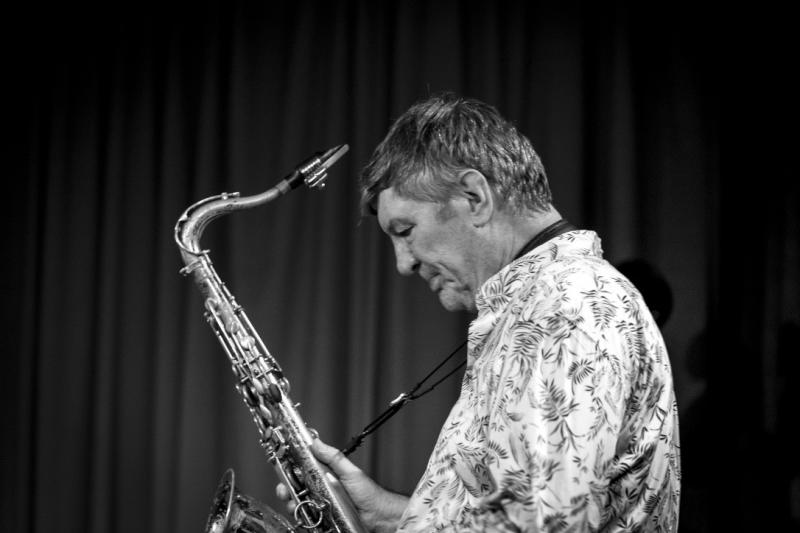 One of the greats on spellbinding form: Stan Sulzmann in Turin, 2019
There are moments when a very great jazz musician makes her or his ideas flow naturally, unstoppably and with complete conviction. And when one is in a tiny venue and can feel the joyous intensity with which every single person in the room is listening… there are few if any musical experiences that can match it.
Yes, improvisation is by its nature that most unpredictable of crafts. Charles Mingus said that "trying to play the truth of what I am" was difficult because he was changing all the time. Pianist Keith Jarrett would complain about the pressure of having to be simultaneously both the ventriloquist and the dummy.
There were no such barriers here. Stan Sulzmann's quartet were playing at an outlying festival venue, the Assembly House, looking out over the mainline railway tracks in Kentish Town. He played two absolutely unforgettable sets, and gave a very true account of exactly who he has been and who he is. Sulzmann will be 74 in just a few days' time and was born in nearby Islington. After the saxophonist had played the first number, George Shearing's "Conception", he mused that not only had his father been an accordion player, but two very great jazz pianists from south London had also played the accordion as teenagers: Shearing himself, and also Stan Tracey. Sulzmann seemed to be telling us his life story through his playing too. We heard pieces by two of the greats with whom he had a very close association, Kenny Wheeler ("Old Times") and John Taylor ("Ambleside"). And when he played Johnny Green's "Body and Soul" it was the polar opposite of the hewn granite of Coleman Hawkins. Stan's way is pure lyricism, arabesque, with another teasing counter-melody lurking in the wings and ready to make its entrance.
Can you judge the likely musical quality of a gig by the number of instrument cases in the room? Maybe. This marvellous gig had drawn an audience of younger sax players. As ever, they could admire the total balance of Sulzmann's tone production on the instrument. His tone is never forced; there is nothing to stand in the way of the music. His quartet consisted of one of the most fluent young pianist improvisers in London, Will Barry, reduced to playing a portable electric piano, but nonetheless communicating joy. Stalwart bassist Steve Watts always plays infallibly, courteously, and with infinite subtlety and imagination, and we were also introduced to Kai MacRae, a young drummer with a fine touch and a super sense of texture and time.
This was one of the most intimate gigs of the festival, but a truly great one. It is to be hoped that the 2023 Festival will bring Stan Sulzmann into a more central venue to celebrate his 75th birthday. He deserves it. He is an absolutely pivotal figure in British jazz, and there will be no shortage of players from several younger generations who will want to queue up to show their respect, gratitude and admiration.
The gigs I mention here are a highly personal selection, and mostly drawn from the programme in London's regular clubs. I have done this partly for the reason that the odds of hearing something special – like Sulzmann's gig – are higher, but also for the practical reason that the team of writers at London Jazz News, which I edit, has produced over 20 reviews (see link below). We provide the most comprehensive coverage of the festival by a country mile. We have many of the larger gigs covered, notably the largest gig of the Festival, mostly a series of DJ sets at Printworks London which was a 6,000-ticket sell-out. I admit, I unashamedly followed my enthusiasms.
One highlight was the fruition of a very bold idea from courageous Milan-born, London-based singer Francesca Confortini (pictured above by Jonathon Cuff). Confortini has assembled her own songbook, songs by what she calls "contemporary female composers of the millennial generation". Confortini shows a well-placed belief in songs by Esperanza Spalding ("I know you know") from the bassist's 2008 breakthrough album Esperanza, or Jazzmeia Horn's "Free Your Mind" from 2019, and she brings such energy, drive and musicianship to the task of bandleader that it all works. To get the rights sorted will presumably be tricky, but this deserves to become an album.
I also heard two more vocalists. I headed to the 606 Club to witness the phenomenal craft of vocalist Anita Wardell. She has been missing from London for the past four years while holding a teaching post in Adelaide, but now she has relinquished it and is is back here. Wardell's Betty Carter celebration was a joy, and she has the skill and the jazz chops to do it. The room was packed with other singers, all seemingly awe-struck. And to anyone who comes out with the lazy trope that they don't like scat singing, there is a simple answer: if there is any current singer who can change minds, it is Anita Wardell.
Catherine Russell gave the last two of the 50 gigs which Pizza Express Live put on at their three venues. Russell is jazz royalty and carries a deep sense of the tradition from her father, Panama-born Luis Russell who was Louis Armstrong's bandleader. Her connection to the music of the 1920s and 1930s is profound. Her days as a backing singer for Donald Fagen/ Steely Dan and for David Bowie have been replaced by a deep exploration of early jazz. A strong band, too.
Harpist Edmar Castaneda, who played a duo concert at Wigmore Hall with Geneva-born harmonica genius Grégoire Maret (pictured above by Ralf Dombrowski), once had another duo with pianist Hiromi. They used to give the kind of gig where so many notes were played that – as the late great Eddie Harvey would say – they would need someone to come around afterwards to sweep them up. His duo with Maret is very different from the earlier one. Yes, Maret is a virtuoso, but he also has a way of shaping the melody of a tune like Charlie Haden's "Our Spanish Love Song" which could melt any heart. It certainly affects mine. Castaneda these days plays facing the audience rather than side-on, and the flickering of emotions across his face as he plays is totally compelling. The Maret/Castaneda duo has a fascinating back-story. Given there was no published programme, it was a shame that the announcer at the concert hadn't taken the trouble to do any homework other than learning to pronounce the names right.
Announcements and context were in short supply again at the Chucho Valdes concert (pictured above by John Watson) on the closing night of the festival (a trend here?). The band assembled to play Valdes's new work "Creacion" is packed with stars such as percussionist Roberto Vizcaino Jr and drummer Dafnis Prieto, and Valdes's medley flowing and dreaming his way through about two dozen jazz standards was mesmerising. We just needed more information...
The Vortex and Hans Koller, Head of Jazz at Trinity Laban, had put together a marvellous project. They had taken the initiative to invite the great Mike Gibbs, and to play four different programmes from his vast back catalogue for jazz orchestra in celebration of his 85th Birthday. Whereas in sport the idea of bringing in "ringers" to strengthen the team is outlawed, here the combination of experienced professionals – Tom Challenger, Julian Siegel, Tom Walsh, Gene Calderazzo, Lewis Wright and Koller himself – worked brilliantly. These players transformed a student jazz orchestra into a band which could do justice to the alchemy and variety of Gibbs as arranger. Is there anyone who can write quite so well in quite so many idioms as Mike Gibbs? Josephine Davies conducted and brought it all together brilliantly.
Manchester-born pianist Julie Sassoon was over from Berlin and gave a rare London solo show on a very good piano at Theatro Technis in Crowndale Road in Camden. She plays intensely with long arcs and structures, and the audience took a good while to settle.
There are interesting new developments. Jazz festivals inevitably branch out to chase a bigger younger demographic. So this year the most tickets sold (6,000) for a single event were for the final Saturday at Printworks London, a programme dominated by DJ sets rather than music played live. The economically inconvenient truth needs, somehow, to get out: for live music, and for improvised music in particular – surely – small is not just beautiful, it is essential.