Fela!, National Theatre |

reviews, news & interviews
Fela!, National Theatre
Fela!, National Theatre
An incendiary tale of an activist, polygamist and musical genius
Wednesday, 17 November 2010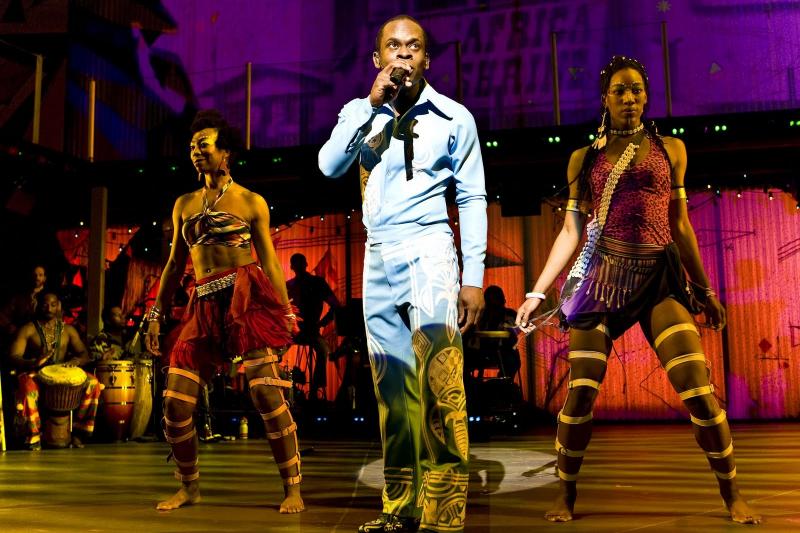 'Fela!': 'A revolution on Broadway' comes to London
For me there is a trinity of black musicians, visionaries who reshaped music in the last half-century: James Brown, Miles Davis and Fela Kuti. And just as it's hard to imagine a biographical musical of James Brown or Miles Davis coming off - because which mere actor is ever going to have their charisma, attitude or moves - likewise it seemed a stretch to imagine Fela! being much more than sophisticated karaoke. Karaoke with a message and some groovy dancing, no doubt.
But somehow this production pulled off the impossible. Near as dammit anyway.
One immediate plus of the show, transferring from Broadway where 400,000 people will have seen in before it closes there in January, is that Kuti is finally getting his due as a major global artist and composer. A spin-off being a bonanza of rereleases including a 27-CD box set being put out in the UK by Wrasse Records. The rather busy set was of the Shrine, Fela Kuti's nightclub in Lagos in 1978, when the activist, polygamist (he married 27 of his dancers on the same day) and, it is fair to say, genius, was at the peak of his powers.
The band were as sharp as could be desired and warmed up the audience as they took their seats on a packed press night. Musically, while the power of some of Kuti's music tends to unfold in 20-minute segments, even the short bursts had considerable wattage. And there were some clever reworkings - for example his most famous song, "Zombie", a critique of the mindlessness of the Nigerian police and military, rather than trying to absolutely copy the original, broke down into effective a cappella.
Another immediate positive was the bevy of dancers, choreographed by Bill T Jones, who managed to be athletic, sexy, but elegant and proud. This may be one of the advantages of such a show as compared to the real thing at the Shrine - the dancers were actually better than the originals. The actor who played Fela, Sahr Ngaujah, had a large weight of the show to carry, being on stage most of the time, and he pulled it off with charm and vivaciousness, even though he looked nothing Fela himself.
The two main female protagonists were his American lover Sandra Izsadore (played with aplomb by Paulette Ivory) who turned Fela on to the Black Power movement in the late Sixties and got him to write "conscious" lyrics, and his mother, the feminist activist Funmilayo Anikulapo Kuti (played by a funkily transcendent Melanie Marshall) - the "first woman in Africa to drive a car". (Both mother and son changed their names from the colonial Ransome.)

Both actresses had rich, expressive voices and the thread of his relationships with them gave the musical its emotional drive, ending with some magical scenes of Fela in the spirit world meeting his mother again, after she had been killed by the military when they raided his Kalakuti ("rascal") commune. The list of atrocities committed were chilling, even if mercifully not shown on stage. These were the least Broadway moments of the evening.
It didn't mention AIDS. Fela died of it claiming that condoms were "un-African"
But a Broadwayish show it remained, with the positives of energetic pizzazz and the perhaps inevitable simplification and sanitising of a complex man. Perhaps in deference to modern liberal mores the show soft-pedalled his self-confessed sexism (songs like "Mattress") and his homophobia. A criticism levelled at the show - that it didn't mention AIDS (Fela died of it claiming that condoms were "un-African") - was anachronistic as the show was set in 1978. But it was also true, as the show focused on, that he was a courageous fighter against injustice and corruption and a musical giant.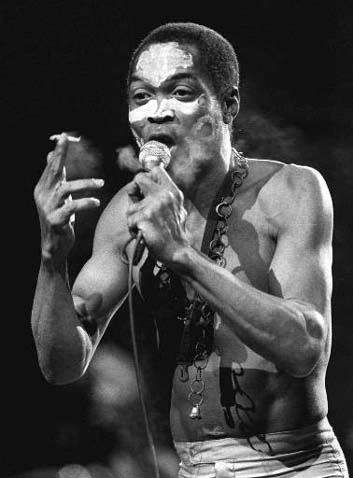 When I met Fela's friend and cover designer Ghariokwu Lemi who had known him since the Seventies, he said: "They have done a great branding job on Fela - and brushed off some of the rough edges. When I left the theatre I thought, he's getting away with it again. He's coming clean." Lemi still went to see the show 15 times on Broadway and said he cried the first time he saw it. Those of us who met Fela (pictured right), a truly singular man who had an air of danger about him - may empathise with both those reactions. The night felt, anyway, like a cultural shift - somehow the idea of a major show about this radical musical figure would have been unthinkable even a decade ago.

There was some sharp political writing in amongst the brilliant spectacle - Fela had one effective riff about how the colonialists were like guests; amusing to start with but then they outstay their welcome. The ashtrays and towels disappear. Then it's diamonds, petroleum and people. Another set piece was for his song "International Thief Thief", against the corrupt corporations - which added some modern bad guys like RBS to the list to give it some contemporary resonance.

There was an unusually receptive atmosphere for a press night - the audience seemed to be willing this to succeed. The drama hacks perhaps because they were fed up of formulaic music shows of bands like Abba or Queen which have become a (usually turgid) commonplace in the West End in recent years. Others were friends of the cast or even family - Fela's son Femi, also a considerable musician in his own right, was a few rows away from me. The audience participation (we were all being instructed to dance from the first few minutes) was heartfelt and genuine, even if by its nature this was not a typical audience and possibly rather stressful for the cast. My guess is the show will further gel with its new but truly accomplished cast (only Sahr Ngaujah was in the Broadway show) and be more relaxed and even hotter later in the run. It was a terrific, joyful night that mixed life-affirming dance, music and radical politics - a potent brew that's hard to resist.
Sahr Ngaujah singing "Zombie" in the Broadway version: