Friendly Fires, Brixton Academy |

reviews, news & interviews
Friendly Fires, Brixton Academy
Friendly Fires, Brixton Academy
Nice boys from the Home Counties play big, shiny dance grooves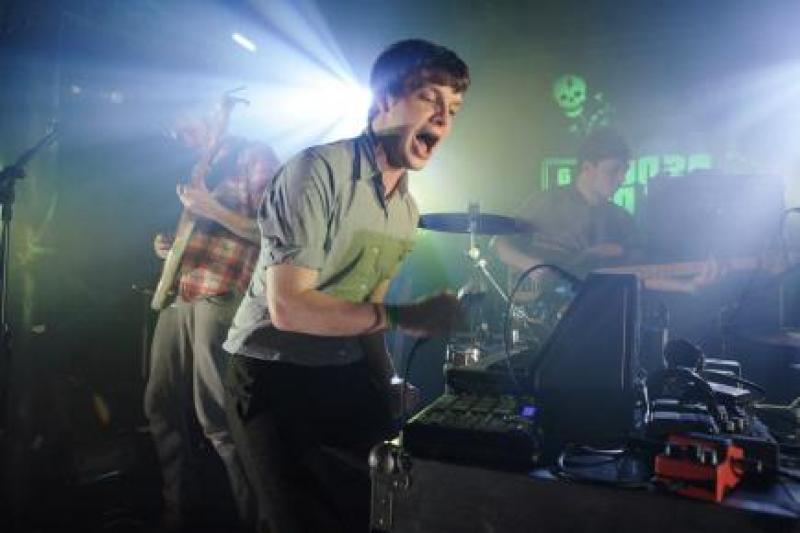 Friendly Fires: putting St Albans on the musical map
The Hertfordshire market town of St Albans has not hitherto been renowned for its buzzing music scene: its hall of fame contains but a handful of names from the pop pantheon, most notably Enter Shikari and Lowgold (unless you count the fact that David Essex lives there). It's not exactly Chicago in the 1950s or Liverpool in the 1960s. But now the citizens of this former Roman stronghold can hold their heads high, thanks to the emergence of Friendly Fires.
The band's three core members met at St Albans School in their early teens, and whatever they were playing and listening to in their formative years in bedrooms and scout huts, it's stood them in good stead because today they are an extremely well-honed musical unit, serving up dense, deep, dance-based tunes to an appreciative young audience.
Now, two albums into their career, they are in a position to sell out two nights at Brixton Academy – next stop, surely, arenadomes such as the O2 – and this gig, the first of those two shows, was a thumpingly loud demonstration of their strengths. Chief among these is that they have rhythm coming out of their very marrow: the trio, augmented here on stage by a fourth member on bass and also by a brass section, forged some slamming grooves, with the propulsive drumming of Jack Savidge pushing the beat forwards, driving his bandmates on, giving the sound a relentless urgency, especially on the super-percussive "Jump in the Pool", with its clattering hybrid soca-Brazilian rhythm.
Their sound has a glossy, unashamedly commercial sheen, like an aural equivalent of a Mario Testino photograph
And second, they have some neat tunes and memorable hooks, notably on "Paris", "Kiss of Life" and "Hawaiian Air" (this last from this year's Pala album). Their sound has a glossy, unashamedly commercial sheen, like an aural equivalent of a Mario Testino photograph; all in all, it brings to mind 1980s bands such as Spandau Ballet, or more recent dance-based acts such as Daft Punk. They're young, vibrant, energetic and seemingly nice boys (a backstage photograph of them which I spotted on the internet shows them playing some kind of Nintendo Wii driving game; no bowls of cocaine or groupie-salads for these boys!). So far, so good: this was upbeat fun, with fab visuals to boot.
There were downsides, too; nothing major, but nevertheless worth mentioning. First, it was too loud, window-rattlingly so. Now, having been brought up on Black Sabbath and suchlike, I know about loudness, but this was just overwhelming, and it meant that the sound lacked any kind of detail; it all became agglomerated into an amorphous blast of noise. There's a wealth of detail in their recorded songs that was just buried in the haze of sound.
Second, they are funky, but they've got a long, long way to go before they get anywhere near the peerless funk of Parliament or Prince or Jamiroquai. Funk should be crisp, sharp, hard, precision engineered, but this was more blurry around the edges (not helped by the aforementioned volume issue).
I could also mention that frontman Ed Macfarlane is not the world's most natural mover – at times his dancing brought to mind Max Wall's comic walk – but actually this was quite endearing, accentuating as it did the fact that these are not spangly showmen, but regular lads from the Home Counties.
Anyway, it was all over in little more than an hour, a concentrated blast of sound and light that sent the crowd buzzing into the night - and doubtless with ringing in their ears.
Listen to "Live Those Days Tonight"
Ed Macfarlane is not the world's most natural mover – at times his dancing brought to mind Max Wall's comic walk
rating
Share this article