Johnny Marr, Royal Festival Hall review - rock royalty having the time of his life |

reviews, news & interviews
Johnny Marr, Royal Festival Hall review - rock royalty having the time of his life
Johnny Marr, Royal Festival Hall review - rock royalty having the time of his life
The prince of Manchester pulls out all the stops in blistering set for Nile Rodgers' Meltdown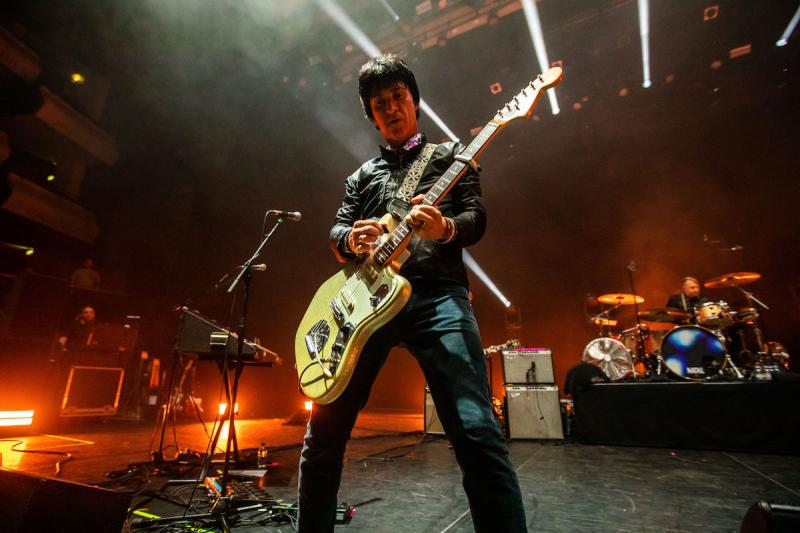 Making a stand for rock: Johnny Marr on stage at the Royal Festival Hall
Nile Rodgers, the beaming, beret-sporting curator of this year's splendidly eclectic Meltdown, strolls on to the Royal Festival Hall stage tonight to introduce his "dearest friend in the world".
The appearance of the CHIC maestro is not entirely unexpected given that he was, earlier this evening, at an event across the way in the Queen Elizabeth Hall, but it's still a delight. And when Johnny Marr makes his entrance, he greets Rodgers with a powerful hug that shows the feeling's mutual (he did name his son Nile in Rodgers' honour, after all).
A compact, tanned figure in black bomber jacket, jeans and very black shaggy hair, Marr goes straight into "The Tracers", from his superb current album Call the Comet. Everyone's seated – the serene vibe of the Festival Hall was commented on by the excellent and perhaps miffed support act Mystery Jets ("you lot are a bit quiet, aren't you?") – but as soon as "Bigmouth Strikes Again" kicks in it's a different story. Everyone's on their feet, and they stay there for the duration.

Recent single "Armatopia" follows – a synthy, bouncy earworm full of "na na na nas" – and then Marr bellows a marvellously Mancunian "HELLO!" before setting out to "have some fun". And it really looks like he's doing just that: throwing cocky poses, shimmying here and there, graciously accepting the next guitar (we lose count, there are so many) from a roadie who presents each one, kneeling, like a sacred offering, and strutting around the stage. There's a twinkle in his eye, though – for all his camera-pleasing posturing, Marr is incredibly self-aware and doesn't push it too far. He looks great, sounds awesome and is backed by an impressive and extremely dapper band (shout out to the sparkly-shirted drummer).

Things take an electronic turn with the hypnotic, pulsating "New Dominions", a real highlight of the set that sees the stage drenched in red light and the drummer standing, furiously pounding away at electric drums. "Hi Hello" follows, with its jangly, Smiths-evoking guitar paving the way for "You Just Haven't Earned It Yet, Baby". It's eerie how Marr's voice sometimes morphs into an echo of Morrissey's during the Smiths songs – and while it's wonderful to hear them it does feel a little bit weird, slightly less so when Marr puts a new spin on them, like in the case of the extended, ragged guitar solo for "How Soon Is Now?".

A brace of Electronic songs is a pleasing turn of events – especially when Marr introduces "Getting Away With It" by hollering "Let's go to the disco – Manchester-style!", then chanting "MCR! MCR!" (presumably not in tribute to those late, lamented kings of emo My Chemical Romance). It's great to see that twinkle in the eye again, and a quartet of mirrorballs puts the jazzy-shirted (the bomber's long gone), hilariously pouting Marr in a dazzling wonderland before he continues the theme with "Get the Message".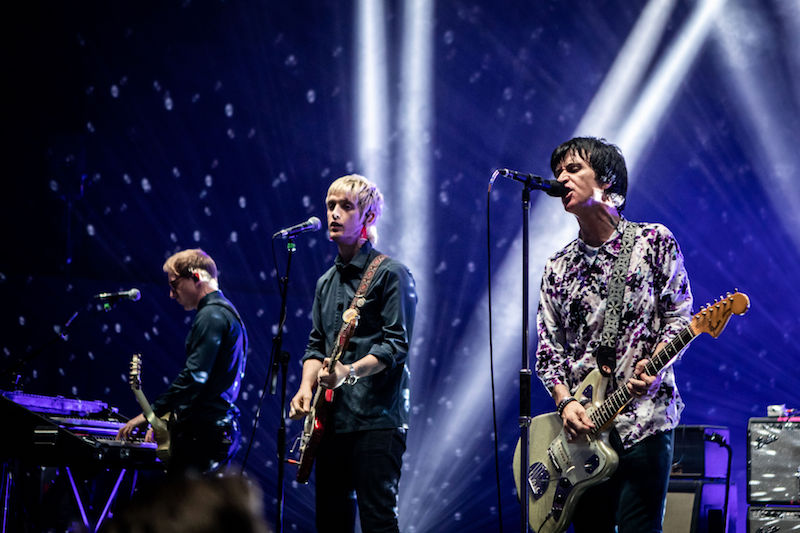 "Fine young feller" Marr Junior – the aforementioned Nile, on guitar (pictured above, centre) – joins his proud dad on stage ("that's my boy!") for "Please, Please, Please, Let Me Get What I Want" and A Certain Ratio's "Shack Up", the fiendishly funky latter seeing Marr unable to resist indulging in a few more disco moves and a bit of Jagger swagger. "How Soon Is Now?" brings the main set to an emotional close before an encore of "Rise", "Last Night I Dreamt That Somebody Loved Me" and a glorious, epic "There Is a Light That Never Goes Out" that reduces the audience to shreds before turning us out – passing Marr's hero Peter Perrett as we leave – to clatter down the stairs and into the dark.
For all his camera-pleasing posturing, Marr is incredibly self-aware
rating
Share this article