Lady Gaga, O2 Arena |

reviews, news & interviews
Lady Gaga, O2 Arena
Lady Gaga, O2 Arena
She's like Madonna - but a much better singer
Lady Gaga: genuinely a bit odd
If the power-generating companies in the London area noticed a sudden surge in electricity consumption late on Sunday afternoon, I think I can explain why: many thousands of hair-straighteners and other beautifying devices were doubtless being put to use in the run-up to Lady Gaga's show at the O2 Arena, the first of two nights in London.
This was one of those shows that people got dressed up for, made themselves glamorous for; it was a big night out, and the result, as the O2 Arena filled up, was a sea of very straight and very shiny hair, often decorated with bows and flowers (though I also noticed a couple of platinum-blonde wigs), plus sparkly tops and babydoll dresses, lots of cleavage, and, occasionally, strange make-up.
In a very short space of time, Stefani Germanotta, the New York recording artist now known as Lady Gaga, has stamped her distinctive musical and visual identity on the world of popular music: a blend of 1980s synth-pop with 21st-century dancefloor grooves coupled with an approach to fashion and make-up that's genuinely idiosyncratic. For this show, for instance, her outfits included: a spangly jacket with Blade-Runner shoulders and a leotard underneath; a swimsuit; a PVC bikini; a Cubist tinfoil dress and an extraordinary feathery winged creation with oscillating headdresses.
The upside of all this was that when Lady Gaga was on stage there was always something to look at, not to mention some terrific pounding music. The downside, as it always is in shows of this magnitude and complexity and ambition, was that she spent long periods of it off stage, preparing for the next set-piece performance or just getting her breath back. The result, predictably, was a show that suffered from a lack of momentum; indeed, there were periods when I got a bit bored, waiting around for Stuff to Happen. Several minutes would go by, during which there was nothing more to observe than a big white screen with a bit of nondescript video footage (though these interludes did once deliver an arresting scenario, in which Lady Gaga was vomited on by a companion).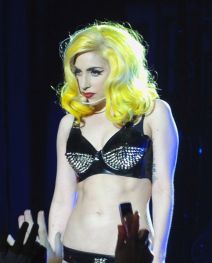 But when it worked, this was an extraordinary event. The arena pop show has been a developing form of entertainment for more than 20 years now, and new arrivals on the scene such as Lady Gaga are pushing it further into newer and more spectacular realms: the hydraulics, the lights, the costumes, the sets, the secondary stages, the dancers, the gut-rumbling sound, the video screens – when it all works, when it all comes together, as it did on many occasions in this show, most notably on her 2008 debut single, "Just Dance", and on "Teeth" and "Bad Romance" (both from last year's The Fame Monster album), it was sensational. All this, and a piano that caught fire during "Brown Eyes". As for my favourite costume: it had to be the transparent plastic dress teamed with nude-coloured underwear and a wimple.
Of course, all of this was at times strikingly reminiscent of a similarly bleached-blonde Italian-American pop star by the name of Madonna, especially the preoccupation with vaguely transgressive sex, and the messing-around with religious iconography (a statue of an angel standing on a fountain that spouted blood, and whose wings gushed forth flames, was the visual interest in "Alejandro"). But here's the thing: of the two, Lady Gaga is easily the better singer, and indeed has more musical talent – she plays a mean guitar and keyboard, and writes all her own stuff. And, actually, because she seems to be genuinely a bit odd – this whole show was themed around the notion of "outsiders" and "monsters" having the courage to affirm their individuality – she's more interesting, too. I just wish she could change costumes a bit more quickly.
My favourite costume: it had to be the transparent plastic dress teamed with nude-coloured underwear and a wimple
Share this article