Lives in Music #1: Rod the Autobiography |

reviews, news & interviews
Lives in Music #1: Rod the Autobiography
Lives in Music #1: Rod the Autobiography
In which we introduce a series on the year's best music memoirs with a heroic tale of Rabelaisian excess
Tuesday, 18 December 2012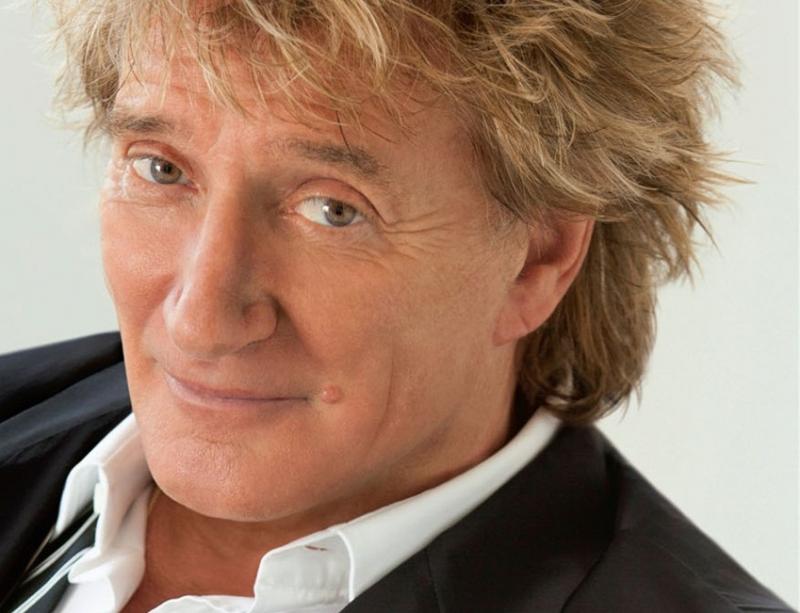 There is an entire chapter here on the owner's iconic feathery barnet
What makes a good rock biography? Sex, naturally. Drugs, frequently. Rock'n'roll, obviously. None of the above are in short supply in Rod Stewart's account of a long life spent howling into microphones and knocking up blondes. He came, he snorted, he conquered across four decades, in a variety of outfits from tartan to spandex, from the Eel Pie Island to Vegas. And the way he delivers it, this tall tale of wine, women and song has the flavour of a splendid lock-in down the boozer.
But there's more to Rod: The Autobiography. The best books about stardom are able to explain how it feels to occupy that strange hinterworld, somewhere between Kansas and Neverland, when a lifelong nobody becomes a sudden somebody. Rod Stewart negotiates this stretch of the story better than most, partly in fact because he did not quite awake and find himself famous. His long apprenticeship for celebrity began when he was taken on as a throaty backing singer with a touring blues band called Steampacket in the early Sixties. His first single was all the way back in 1964. It tanked, consigning its star to several more years of rope-learning in other people's bands – first under Long John Baldry, then Jeff Beck – until finally he and Ronnie Wood were gathered into the spent shards of the Small Faces.
There is a sense, however, in which Rod was always a star. He casts himself as a lucky hero dodging Hitler's doodlebugs even before his birth in 1945. Duly delivered into the bosom of a family as much the youngest of a sizeable brood, he grew up pampered and loved at precisely the moment in history when young men could give expression to their sense of self-worth by attending to hair (pictured right) and dress. There is an entire chapter here on the owner's iconic feathery barnet (other digressions take in football, cars and, most amusingly, hotel high jinx overseen by an outfit known as the Sex Police).
And then Rod, as the Sixties give way to a less idealistic age when the music business went up to 11, becomes a massive star, twice: there may be other rockers who have run consecutive careers as the singer in a band and as a soloist, but none have done it quite like Stewart in the early 1970s. No matter that, as he explains here, he found songwriting extremely taxing, there was a heady moment when he was number one in both the album and single charts in both the UK and the US. That's when he gave himself permission to take full advantage, in the form of motors, homes, cocaine (sometimes, to protect that lucrative rasp, ingested anally) and women.
History notes that this gentleman preferred blondes (pictured left: Stewart with Britt Ekland). The unassailable fact is that Rod has a dreadful human rights record as a womaniser, and if this narrative risks leaving a slightly sour taste, it's because he seemed incapable of planting his seed in a leggy model without spotting another one across the room and doing the same to her (final score: eight children, four mothers). For many of his 67 years he has essentially been a child trapped in a crooner's body. But hey, let's not disapprove. This reliably funny account of Rabelaisian excess has quite enough self-mockery to still the reader's wagging finger.
And it is told not only with wry relish but masterly control. A life as unruly as Rod's needs some sort of literary structure. While contracts are always signed to keep these things quiet, it is no secret – indeed thanks are duly offered in the acknowledgements – that Stewart's confessor is Giles Smith. As a writer on music, sport and cars, he would seem uniquely well positioned for the gig. A qualification less widely recorded is that Smith knows most of what needs knowing about Samuel Johnson, and he makes a very fine Boswell for Rod's priapic, picaresque adventures. It's an apt and lovely flourish that each chapter is introduced in the style of Tom Jones (the fictional 18th-century hero, not the Pontypridd Elvis), in which Rod tells you what he's going to tell you next. And then tells you.
The pictures are fun too, the captions even better. In one, Rod is onstage outdoors some time in the Seventies, kicking up a satin-clad leg expressively as he sings. "Attempting to reach a high note," he explains, "which was unavailable."
Rod The Autobiography is published by Century in hardback
For the record, Rod's very finest hour (or one of them, anyway)
The unassailable fact is that Rod has a dreadful human rights record as a womaniser
rating
Explore topics
Share this article